As a resident of our internal medicine program, you will interact with a diverse patient population and learn from our numerous faculty, who encompass the spectrum of subspecialities. One of the best ways to learn about a program is hearing from the people who live and work in it every day.
Get to know our...
Tinsley R. Harrison Professor and Chair
It is an honor to welcome you to the Department of Internal Medicine at Wake Forest Baptist Medical Center. The Department, which recently celebrated its 75th anniversary, enjoys a rich heritage. Our founding chair, Tinsley Harrison, MD was an icon in American medicine. His prescient vision for excellence in the core missions of academic medicine – teaching, patient care and research – is deeply woven into the fabric of all that we do and serves as an inspiration for our medical students, residents and fellows.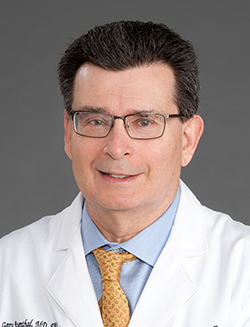 I am particularly proud of our residency program and clerkships, which emphasizes core clinical problem solving skills and prepare learners for lifetime learning and professional growth. The cornerstone of our educational programs is a commitment to teaching excellence among our faculty, who consistently win institutional and national teaching awards. Our programs provide trainees with exposure to the entire spectrum of subspecialties, while becoming highly competent in the skills and judgment required of the general internist. In many ways, our educational programs are the glue that bind faculty and staff across their diverse professional interests and that creates a strong sense of family.
Our faculty also conduct groundbreaking research to elucidate the mechanisms of disease, to translate these findings to novel treatments and to develop innovative healthcare delivery models to improve patients' health and wellbeing. Many of our faculty have led large national trials that have defined our current treatment of cardiovascular disease, diabetes and many types of cancer.
The Department of Internal Medicine at Wake Forest is firmly committed to preparing trainees to thrive in a changing health care landscape and to shaping that landscape in ways that promote patient-centered high value care. Perhaps most importantly, the Department is committed to fostering an academic environment that embraces diversity, eliminates healthcare disparities and treats patients with the utmost respect and dignity.
I encourage your to explore our website and to know our faculty, trainees and staff and the resources that are aligned to support each of our missions.
Program Director, Internal Medicine Residency
Welcome to the Wake Forest School of Medicine Internal Medicine Residency Program website! I hope that the information provided here will give you a glimpse into the exceptional education provided here and of the amazing residents, faculty and staff who call our program home. We are so fortunate to be part of a cutting-edge academic medical center well known for high-quality and patient-centered care, educational innovation and translational and clinical research. In this environment, we are privileged to support residents during the most formative years of your careers. During these years of residency, you will meet patients who inspire you, attendings who mentor you in the career of your dreams and colleagues who support each other unconditionally.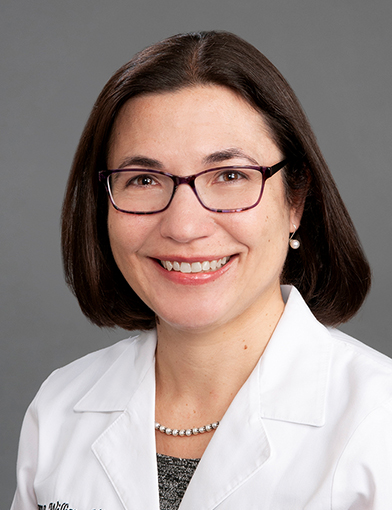 We have a long tradition of comprehensive training in internal medicine at Wake Forest. Our faculty are top-notch teachers who role model the history, physical exam, clinical reasoning and communication skills that are critical for excellent patient care. We also realize that medical knowledge is ever-evolving, and we teach you how to critically review the literature and apply your new knowledge to patient care. Lifelong learning is necessary for all internists, and our program embodies this concept through our innovative teaching strategies which include point of care ultrasound training, simulation lab, Learning Health Systems seminars, Academic Half Day sessions and faculty-mentored quality improvement projects to name just a few opportunities for learning. All of these experiences add to the vast clinical exposure that our residents obtain across our clinical settings, including our large, tertiary care medical center here at Wake Forest, our community hospital in High Point and the VA in Kernersville.
Throughout your training here at Wake Forest, we provide unparalleled mentorship and guidance to promote your personal and professional growth as you build your career. We take pride in nurturing each resident as an individual with unique goals and interests. One way that we accomplish this is though our pathways in medical education, global health, research, clinical informatics, hospitalist training and point of care ultrasound, as well as our Primary Care Track. Each of these pathways provide opportunities for individual growth and mentorship outside of the comprehensive clinical education you receive. Additionally, we have an exceptionally rich academic environment where our residents find many opportunities to partner with faculty and fellows on research projects. Because of our unique research and pathway opportunities and the excellent clinical care provided here, our graduates are sought after for subspecialty fellowships, academic medicine positions and community practice.
Resident wellness is also critically important to our success, and we have multiple recurring programs, including those sponsored by our women in medicine interest group and our wellness committee, which ensure that you are supported by your residency family throughout your training. So, if you are looking for a program with a family feel, comprehensive clinical training, abundant research opportunities and an opportunity to personalize your training through participation in specialized pathways, you are in the right place! I invite you to read on and learn more about the Wake Forest Internal Medicine Residency Program and how we can help you achieve your goals.