After receiving a diagnosis of type 1 diabetes, Dana Cumberworth was given a new routine to follow.
Several times a day – as many as 10 or more – she had to prick her finger and check her blood sugar. Then, as necessary, she had to give herself insulin injections.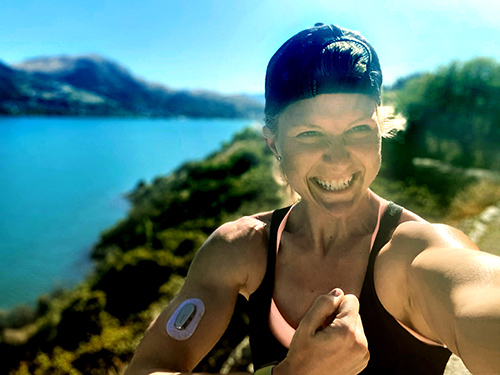 It wasn't the routine that bothered her. As an athlete and fitness enthusiast, she thrives on routine. She follows a strict exercise regimen – running, biking, swimming, weight training – every day.
Instead, Cumberworth had deeper concerns, wondering if she would be able to continue being an athlete.
She also had practical concerns about constantly having to draw blood and give herself injections. "You only have so much skin and so much scar tissue," she said adding that the endless injections cause soreness and bruises. "Frankly, it's embarrassing."
Unfortunately, it was her reality – a routine she had to follow if she was going to live her life with her disease. She followed that daily routine for years.
Not anymore.
Today, Cumberworth wears a continuous glucose monitor on her arm and can easily monitor her blood sugar using an app on her phone and on her watch. She takes just one insulin shot per day and uses inhaled insulin as she needs it.
It's a far more convenient way for Cumberworth to manage her diabetes. It's also a constant reminder of the power of advocacy.
A Life-Changing Day
Of all the ways a person can learn they might have diabetes, Cumberworth's was unlikely. She was a first-year student in the Wake Forest PA program, and she was learning how to test blood sugar levels.
"It was the endocrinology and hematology block," Cumberworth recalled. Her lab instructor, Janie McDaniel, had just remarked that it was her greatest fear that someone gets diagnosed with diabetes in her lab.
"'There are no diabetics in our class,'" Cumberworth remembered joking with her instructor. "Famous last words."
When Cumberworth's lab partner tested her blood sugar level, it read 700 mg/dL.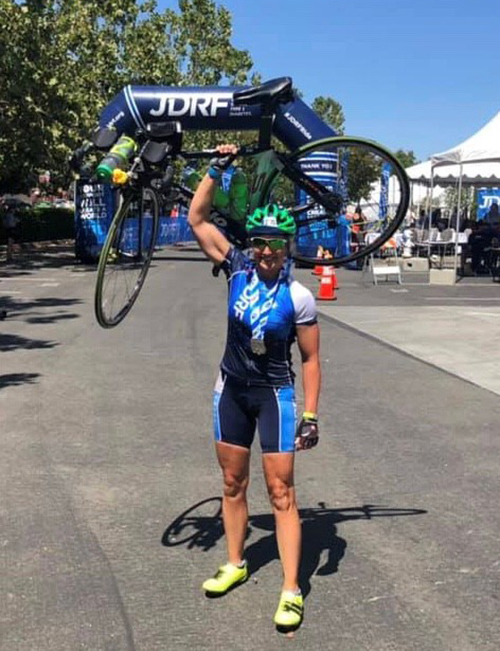 The next morning, Cumberworth went to the doctor's office and was told she had type 1 diabetes. "It was definitely a life-changing day," she said.
Cumberworth admitted that before her diagnosis, her knowledge of diabetes was limited. "I just thought of people who were overweight or sedentary," she said. "I never knew anyone who had it."
Cumberworth used her position as a PA student to her advantage, learning everything she could about the disease. "I just submerged myself in knowledge and took the lead of being an advocate for my own health," she said. "No one was going to do it for me."
With her innate discipline, Cumberworth was able to manage her diabetes pretty well, constantly monitoring her levels, taking insulin shots and eating properly. At first, she didn't tell anyone about her disease. "I didn't want anyone to feel bad for me," she said.
Eventually, she came to realize that she needed to stop hiding the fact she had diabetes and become a voice for others with the disease.
Improving People's Lives
One of the biggest frustrations about type 1 diabetes (and other chronic autoimmune diseases) is that there is no reliable way to predict who can contract it. And there is no cure.
Patients simply have to live with the disease, managing it as best they can while maintaining their quality of life.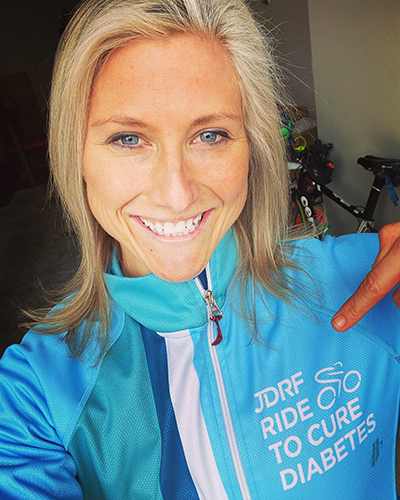 From the beginning, Cumberworth was not going to let her diagnosis keep her from doing what she loved. In 2014, determined to "prove diabetes wrong," she competed in her first Iron Man race. She did two more, still keeping her diagnosis to herself.
Then, she decided she needed to go public. "I wanted to start doing something to be an advocate for type 1 diabetes," she said. She became involved with the Juvenile Diabetes Research Foundation (JDRF) and began participating in bike rides around the country.
Through her efforts, she raised tens of thousands of dollars to support diabetes research. While most diabetes research is centered on finding a cure, a seemingly lofty, distant goal, there have been more immediate developments to help diabetics manage and live with their disease.
Cumberworth points to her continuous glucose monitor and inhalable insulin as examples of the benefits of diabetes advocacy. "The money I helped raise goes to clinical trials for new ways to manage diabetes," she said. "That helped create this thing I wear on my arm so I don't have to prick my finger 10 times a day anymore."
She added that advocacy is critical to developing new treatments. "Without advocacy, we don't have any forward movement," she said. "If we can bring awareness and support for diabetes, we're doing all we can to make people's lives better."
Inspiring Others
In addition to advocating through athletics, Cumberworth also brings her advocacy to work. As an orthopedic PA, she doesn't deal directly with diabetes, but her knowledge of the disease has proven to be an asset.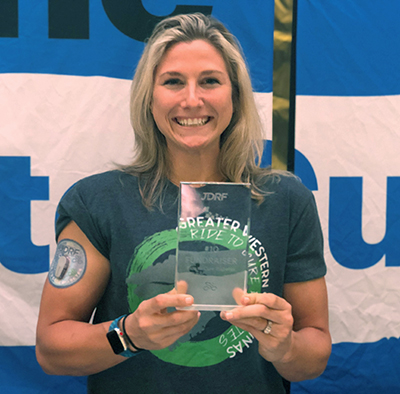 Cumberworth said her knowledge of the disease helps her advise patients who also have diabetes. "I have patients actually come see me because I have type 1 diabetes," she said. "They appreciate that I'm going to be mindful of the medicines I give them or the way I treat them."
While Cumberworth is happy to help fund diabetes research and help her patients who also have the disease, she said her main goal is to inspire others.
Too many people, according to Cumberworth, assume that a diabetes diagnosis means they can't enjoy an active, normal, healthy lifestyle. "Part of my drive is to prove you can be super healthy and have an awesome life," she said.
Through her advocacy, Cumberworth hopes she is an example to other diabetics. "Just because you have a disease, it doesn't have to hold you back."