Fun is a Must
Trevor Downs, PA, is a planner, made evident by his accomplishments in his personal life as well as professionally. By day, he works at Burlington Pediatrics, where he has practiced ever since graduating from PA school at the University of Colorado Child Health Associate / PA program. Downs has been a preceptor for Wake PA students for more than 20 years, and he has a system in place to ensure quality results from each student.
"I treat all of my students to lunch on their first and last days of the rotation," he said. "I have a structured schedule of goals for each student, so that all the material for testing is reviewed, but the most important thing is having fun."
Downs enjoys seeing how young patients open up for an exam when he makes it fun, such as by incorporating a game called "blow out the light" with an otoscope to reveal the patient's magical powers. His passion for being a preceptor comes from observing his students' excitement for treating children, often for the first time. Many of the students have never held a baby who is just 2 days old, and the energy that the students exude from this experience is contagious.
Downs equates treating small children to being a veterinarian, as many of the kids are not always able to communicate their symptoms verbally, so he focuses on teaching his students to observe other physical and emotional clues throughout the examination.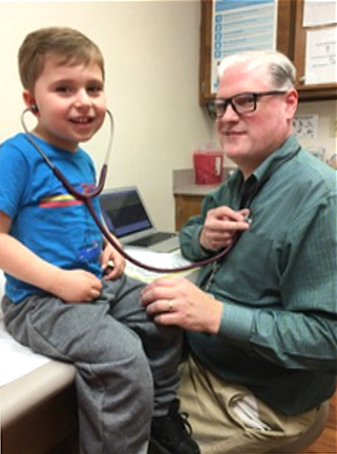 Downs notes the progress his students make throughout their rotation by observing their communication with the young patients. In the early stages of a rotation, students may come into an exam and pose standard questions for a child such as if they have abdominal pain, constipation or vomiting. The child may say "no" to each of these. Upon further questioning of the patient -- "Do you know what the words abdomen, constipated, or vomiting mean?" -- the student may discover that answer is also "no." He allows the students to learn from these encounters, not by stepping in to correct them immediately but by having them think through different ways to communicate to young patients in the future.
For Downs, the road to where he is today took a few unexpected turns. In his junior year at Wake Forest University, Downs was diagnosed with non-Hodgkin's lymphoma. He took a year off school to be treated, going through chemotherapy, radiation and a bone marrow transplant. Upon graduating, he moved home to Maryland to earn a master's degree in biology, during which time his wife started pharmacy school. He was then at a point of indecision about his future, and friends encouraged him to look into being a PA after they had gone through Wake Forest's PA program.
Downs and his wife moved across the country to Colorado, where he attended PA school and found his passion for pediatrics. Throughout this time, they also decided they wanted to have a family and move to back the east coast, but they were unsure of where exactly they wanted to settle. Together, they decided to move back to North Carolina, which Downs calls "the best state to be a PA."
In addition to his role as a preceptor, Downs spends his free time planning and taking trips across the globe. His bucket list consists of a visit to every country, and he has already been to more than 50 countries, all 50 states and each of the seven continents, including Antarctica. He loves to visit James Bond filming locations as he travels the world. Just like he does in his role as a preceptor, Downs is sure to incorporate fun into every aspect of his adventurous travels.