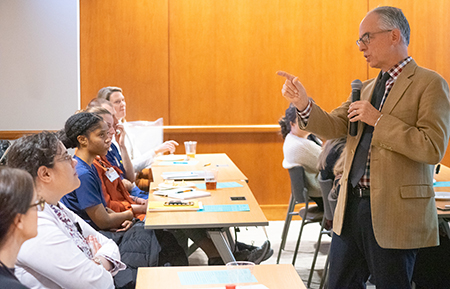 The Office of Philanthropy and Alumni Relations has identified multiple resources within Wake Forest School of Medicine, Wake Forest Baptist Health and Wake Forest University that offer medical alumni a variety of lifelong learning opportunities. Whether for professional development, maintaining licensure requirements or merely for personal enrichment, these resources are offered for the lifelong student in you.
Check back often as new opportunities are regularly added. If you have an idea for programming or if you have questions about the offerings presented here, please contact the alumni office.
Continuing Education
Through a partnership with Northwest Area Health Education Center (NW AHEC) and Wake Forest School of Medicine Office of Continuing Medical Education, alumni may access continuing medical education programming to earn CME credits at no charge.
Expert Podcasts
The Regeneratively Speaking® Podcast is brought to you by Wake Forest Institute for Regenerative Medicine and is a registered trademark of Wake Forest University Health Sciences. In each episode, we bring you interviews with guest researchers and our Institute's faculty covering the latest cutting-edge research in regenerative medicine.
FacDev4me is a faculty development podcast series featuring interview-style episodes on topics addressing a wide range of issues pertinent to faculty in a health professions education setting. The season features 12 topics, one released twice a month.
BestHealth is an educational health and wellness podcast series produced by Wake Forest Baptist Health featuring interviews and discussions with top physicians, faculty and staff on the latest trending health and wellness topics.
Neurology podcast produced by WakeMeducation
FaithHealth podcast with host Emily Viverette explores answers—or at least well-informed questions.

Non-credit Courses
Join the Wake Forest University Lifelong Learning Program that offers spring, summer and fall courses taught by Wake Forest teacher/scholars. These non-credit courses are academic in nature without any requirement or grades. Although all are welcome, course fees are discounted for alumni.
Travel
School of Medicine alumni are welcome to participate in the Wake Forest University alumni travel program, which features a variety of trips and experiences available at an exceptional value.
Note: Due to the coronavirus pandemic, travel is currently suspended. We plan to resume in the future, when it is safe to do so.