Featured Resident Reflection
Julio Narbaiza, MD – Reflections from CA-3 Year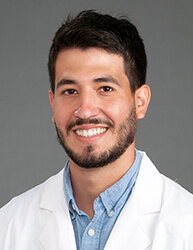 Why did you choose anesthesiology as a career path?
Becoming an anesthesiologist has been a natural fit for me due to my inherent love for problem-solving and hands-on procedures. The ability to swiftly establish a patient's trust through effective communication and interpersonal skills, mere minutes before surgery, is both a privilege and a skill I deeply value. What truly captivates me is the immediate impact that drugs have on a patient's physiology, observing the intricate interplay firsthand. The blend of science, critical thinking and the human touch in anesthesiology aligns perfectly with my passion for problem-solving and connecting with patients. As I take on this path, I am driven by the rewarding experience of being able to make a tangible difference in patients' lives, not only by effectively managing their anesthesia but also by forming meaningful connections in those crucial moments before surgery.
What was your deciding factor for choosing Wake Forest University School of Medicine for your residency?
I selected Wake Forest's anesthesiology residency program due to its robust curriculum, which promises a strong foundation in anesthesiology. The blend of approachability, intelligence and professionalism displayed by faculty and peers makes for an enriching learning environment. The extensive variety of surgeries performed at Wake is a standout feature, setting this program apart from others. This breadth of exposure is a rare opportunity that has contributed to my growth and expertise. What truly resonated with me, however, was the sense of community and camaraderie amongst Wake Forest's people and colleagues. This supportive network creates an environment where I am confident I will emerge as a well-rounded anesthesiologist, fully prepared for any future career path. Ultimately, my choice was driven by the belief that the people and connections at Wake Forest will shape me into a successful professional, regardless of where my journey takes me.
List two aspects that make Anesthesiology at Wake a unique educational experience.
Training at Wake offers a distinctive educational journey, primarily shaped by the extensive range and diversity of cases that you will encounter. The sheer volume of cases, spanning various complexities, enriches our learning experience exponentially. Additionally, the exposure to a multitude of critically ill and high-acuity patients from the local and surrounding areas is a remarkable facet of our training. This exposure hones our skills for even the most challenging scenarios an anesthesiologist could face, having some of the sickest patients in the entire country. If you can safely take care of these patients, which by the time you are done with residency all of us will, you can take care of anybody the rest of your career no matter where you are. Secondly, what sets this experience apart is the culture of camaraderie and support. The genuine willingness of everyone to extend a helping hand and share their knowledge creates an environment conducive to learning and growth. In essence, Wake Forest's anesthesia residency molds us through a dynamic blend of quantity, variety and acuity in cases, coupled with the invaluable support of a knowledgeable faculty.
What has been the biggest surprise about your residency?
My most striking revelation during my residency at Wake Forest has been the immense influence I wield in patient care, which is usually underappreciated by most of us when we are brand-new CA1s. It's astonishing how a patient's surgical journey, even in critical life-or-death scenarios, can hinge on our decisions as residents. With attending doctors as guides for those more complex life-death instances, I've come to realize that the seemingly inconspicuous details, that perhaps to someone outside of our world of anesthesia would deem insignificant, often hold the key to a patient's well-being, both during the procedure and in their recovery. Those little "insignificant" details about the choices you take as a resident doctor are what usually shape a patient's stay in the hospital, along with the actual surgical outcome, of course. Being in the room, making vital choices, has underscored the depth of my responsibility. This realization, magnified through residency, has fundamentally transformed my perspective on patient care, unveiling a level of impact I never fully grasped before residency.
What is unique about living in Winston-Salem?
What's truly amazing about Winston is how conveniently everything is situated – no matter where you live, you are a short drive from the hospital and to most places around town. It's not uncommon to even see some residents walk to work every day. If you love the outdoors, the mountains are within a 20-minute drive from downtown, and if you'd rather the beach, the Outer Banks are just 3 to 4 hours away. On the local scene, there's something for everyone as well. If you enjoy drinking a cold, local beer, several choices in the town's breweries will have you in hops heaven. Foodies won't be disappointed either, thanks to the diverse culinary landscape that caters to all tastes. What I personally enjoy the most is the weather. The town experiences all four seasons, but they're pleasantly mild. Summers bring warmth without scorching temperatures, while winters are gentle and accommodating. Plus, there's an abundance of sunny days throughout the year, adding an extra dose of cheer to the town's appeal. All in all, Winston Salem offers the essence of a nice living destination, combining a cozy community feel with nature's beauty and an array of fun experiences!
Resident Perspectives
Anesthesiology residents discuss their experiences on various rotations and share what life is like as a resident in the program at Wake Forest University School of Medicine.