The Cardiothoracic Anesthesiology Section provides anesthesia for cardiac, thoracic, and other types of major vascular procedures. Our residents get experience in a variety of cardiac anesthetics, including
Coronary revascularizations (CABG)
Valve repairs and replacements
Percutaneous valve implantations
Left ventricular assist device placements (LVADs)
Cardiac transplantation
Thoracic aortic surgery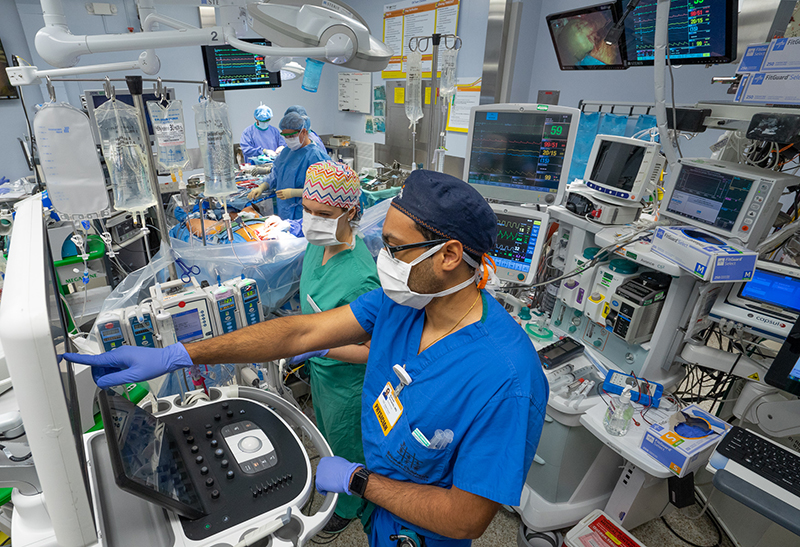 We also provide anesthesia for thoracotomy, video-assisted thoracoscopic surgery (VATS) and robotic thoracic procedures. A majority of our thoracic surgical procedures require one-lung ventilation and many also involve thoracic epidural catheters for postoperative pain management.
We supervise the cardiac catheterization laboratory in select situations including
High-risk percutaneous interventions for coronary artery disease
Valvuloplasties
Ranscatheter valve interventions
We also cover the electrophysiology laboratory for procedures such as pacemaker placements, lead extractions, and catheter based ablations.
Clinical experiences include
Invasive monitoring of arterial and central venous pressures
Transesophageal echocardiography (TEE)
Cerebral oximetry
Experience with administration of inotropes, vasopressors, vasodilators, and antiarrhythmic drugs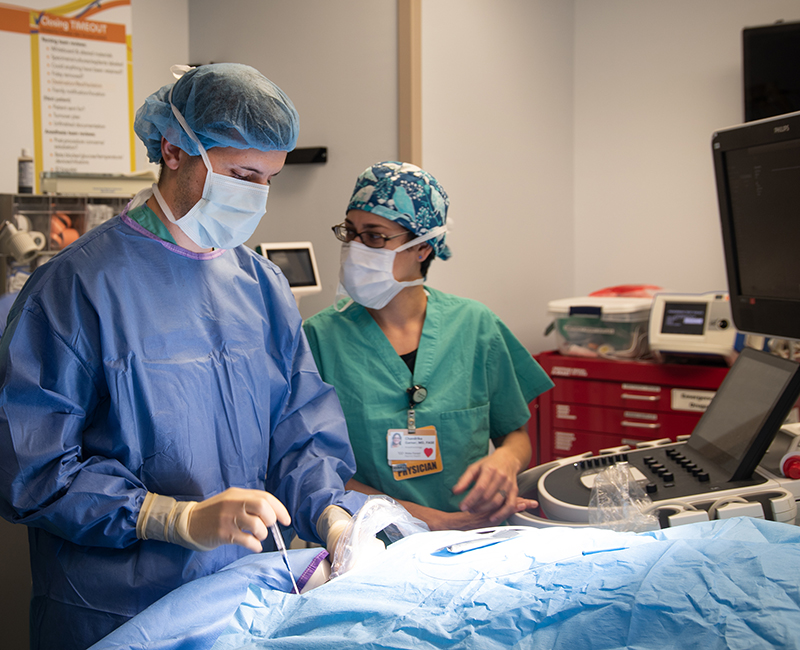 Residents spend a total of 3 months on Cardiothoracic Anesthesia during their residency. During the CA-III year, we offer additional advanced experience in cardiac anesthesia as well as specialized training in TEE, meeting the requirements to sit for the Basic Perioperative TEE Exam. CA-III residents may participate in collaborative research efforts with one or more of our faculty. Following completion of residency, we offer a highly competitive 1 year ACGME accredited fellowship in Adult Cardiothoracic Anesthesiology.
Eleven faculty and 2 fellows participate in clinical activities of the section with commitments to Adult Critical Care Medicine and the Pre-Anesthesia Testing Clinic. Current faculty research interests relate to TEE, perioperative hemostasis and thrombosis, and multicenter outcomes research pertaining to perioperative management of steroids as well as the patient undergoing percutaneous aortic valve implantation.
Much of the teaching during this rotation is performed in perioperative settings. We also offer a weekly Wednesday morning didactic conference, which covers basic topics in cardiothoracic anesthesia and an afternoon TEE lecture series for residents seeking basic perioperative TEE certification.
The Cardiothoracic Anesthesiology Section remains productive from a scholarship standpoint with our faculty participating in numerous scientific presentations, chapters, and peer-reviewed publications. Areas of focus have included intraoperative cerebral protection and mechanisms of brain injury, effects of aging on myocardial function and ischemia, perioperative pharmacologic therapy, transesophageal echocardiography (TEE), perioperative hemostasis, thrombosis, and coagulation monitoring. Questions regarding Adult Cardiothoracic Anesthesiology may be addressed to Thomas F. Slaughter, M.D., M.H.A., Professor and Head, Section on Cardiothoracic Anesthesiology, at (336) 716-3118.