The section of Regional Anesthesia and Acute Pain Management (RAAPM) was founded in 2003 and is made up of nine board-certified anesthesiologists with fellowship training or special interest in regional anesthesia and acute pain management who work with four CA-2 or CA-3 residents rotating on service each month. The RAAPM section is responsible for the provision of regional anesthetics and acute pain management throughout our 800-plus bed inpatient hospital as well as our ambulatory surgery areas. Our department performs 15,350 blocks annually. Of this total, the RAAPM section performs almost 7,000 annually, which includes 2,000 neuraxial blocks, 3,600 peripheral nerve blocks (10 percent are continuous - i.e., nerve block catheters) and more than 1,000 truncal blocks.
Our routine practices include the use of
Nerve stimulation catheter techniques
Ultrasound guidance
Epidural infusion therapies
Ambulatory peripheral nerve block pumps
The list of surgical subspecialties for which we provide regional analgesia and/or anesthesia consist of a variety of fields, including orthopedic, gynecologic, thoracic, general surgery, vascular, surgical oncology, and many others.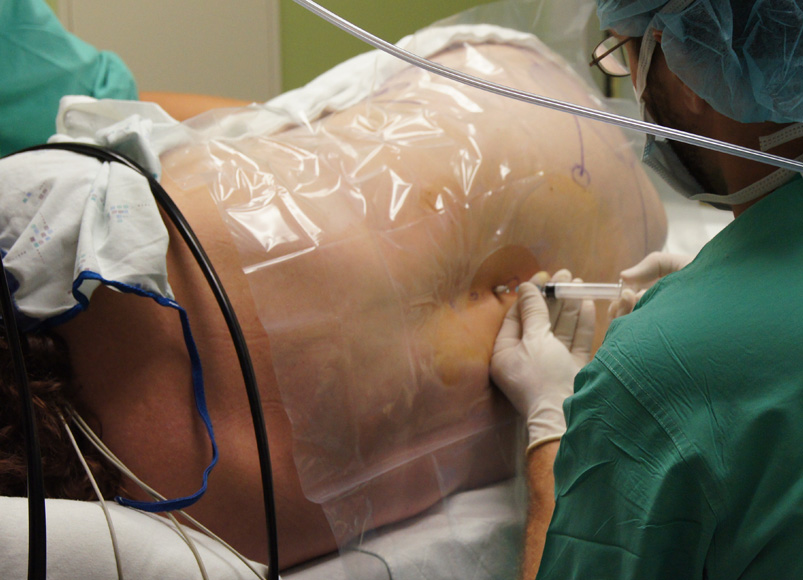 The RAAPM Procedural Area
All of these regional anesthetics are initiated in a dedicated, six-bay Regional Anesthesia Area staffed by specially trained nurses. Medical direction is covered by both a regional fellowship-trained attending anesthesiologist and a general anesthesiologist who have a special interest in regional anesthesia.
Postoperatively, the on-call resident manages patients using a foundation of multimodal analgesia and regional techniques. It is during this experience that residents are able to gain exposure to the management of thoracic epidurals, peripheral nerve block catheters and multimodal analgesic management. In addition to providing care for inpatients recovering from surgery, the RAAPM section also maintains an active census of outpatients managed with continuous peripheral nerve blockade at home and a small subset of chronic pain patients managed in the hospital.