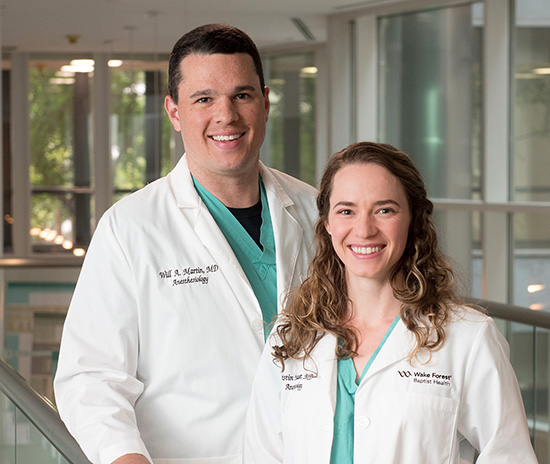 Welcome to the Wake Forest Anesthesiology Residency website! We truly appreciate your interest. We feel that our residency is uniquely suited to facilitate the development of incoming residents into exceptional anesthesiology consultants.
This process begins with a well-planned categorical intern year that exposes our residents to the diverse areas of medicine, foundational to their future career in anesthesiology. While becoming acclimated to our large hospital and the system, we rotate through multiple critical care units, surgical subspecialties, internal medicine rotations, and pediatric wards. The year also includes two months of anesthesia-related training where we can shift our focus to our specialty. Further, we allow all interns to rotate through particularly high yield consult services, such as arrhythmia consults and the Blood Bank, that prove incredibly useful later on in training. Each rotation is intentionally chosen to help prepare our interns to be ready to hit the ground running on July 1st of their CA-1 year.
While our program has many focuses, we place a particularly high premium on education. Structured didactics, rotation-specific study guides, and protected time for study all play an important role. This starts with an introductory lecture series to help the CA-1's to assist in their transition, with an emphasis on foundational concepts in anesthesiology such as pharmacology, physiology, and pre-operative evaluation. Focus later shifts to more advanced topics in each subspecialty. These lessons are also reinforced with ample experiences in our state-of-the-art simulation suite, mock oral board exams, and journal clubs.
The clinical instruction extends naturally into the OR environment with our approachable and knowledgeable faculty. With a catchment area encompassing hundreds of miles, complex and challenging cases in all subspecialties are the norm. This allows each resident to build an unparalleled skill set, ranging from the basics to the most advanced airway techniques. These experiences all combine to produce our program's excellent board exam track record and ultimate success beyond residency.
One of the best aspects of our residency involves the recognition that everyone has unique career aspirations. The culture at Wake Forest prioritizes the resident experience, affording a well-rounded training in preparation for any career. Residents are matched early on with a mentor who is there to help them navigate that journey. After mastering the basics and various subspecialties, residents can tailor their schedules to best prepare them for whichever path they pursue post-residency. Ultimately, we routinely place residents in a variety of premier fellowships, academic, and private practice jobs around the country. There is naturally some variability from year to year, but it averages out to nearly a 50:50 split between residents that choose to pursue fellowships versus immediately entering practice.
We can also say with the utmost confidence that you will be surrounded by caring residents, faculty, and staff who recognize the importance of life outside of residency. Beyond the hospital walls, the city of Winston-Salem has something to offer everyone. Residents have an opportunity to train at one of the largest academic medical centers in the country, which also happens to be nestled in a charming, safe, and affordable neighborhood. Because of this, many residents comfortably live within walking distance of the hospital. Minutes away, the thriving downtown offers all the amenities of typical city-living. Titled "The City of Arts and Innovation," Winston-Salem has no shortage of social offerings from stadium concerts to the latest culinary trend. Venturing beyond the city, one can find the scenic Appalachian Mountains or beautiful North Carolina beaches, all within a reasonable drive. In summary, we believe the city provides a perfect backdrop for some of the most formative years in one's life.
We encourage you to look further into our residency and contact us with any questions. With our foundation in intentional education, diverse research opportunities, and superior clinical instruction, we believe Wake Forest will continue to be one of the top anesthesiology residencies in the nation for years to come.
Kristin Davis Hauser, MD, and Will Aaron Martin, MD
Chief Residents 2023-2024
aneschief@wakehealth.edu