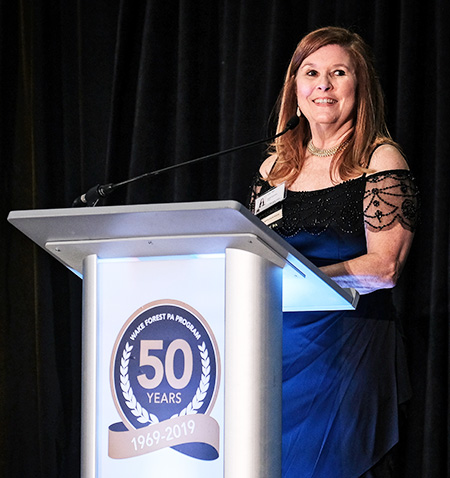 In the 50 years since the Wake Forest PA Program welcomed its first students, the program has come a long way.
That was a prevailing sentiment expressed during the program's 50th Anniversary Celebration, held Oct. 19 at the Benton Convention Center in Winston-Salem, N.C. But of the more than 700 people in attendance, no one knows how much things have changed more than Nancy Dennis does.
"When we first started, we really had to work to put our name on the map," said Dennis, who was one of the program's first lab instructors.
In 1969, the new program was formed at what was then the Bowman Gray School of Medicine to serve an entirely new profession. Naturally, forging a new pathway for medical trainees came with some resistance and doubt.
But Dennis remembers the day the PA program began to gain some respect. She recalled being in a faculty meeting when the medical school's head of pediatrics, who had a surly reputation, burst in.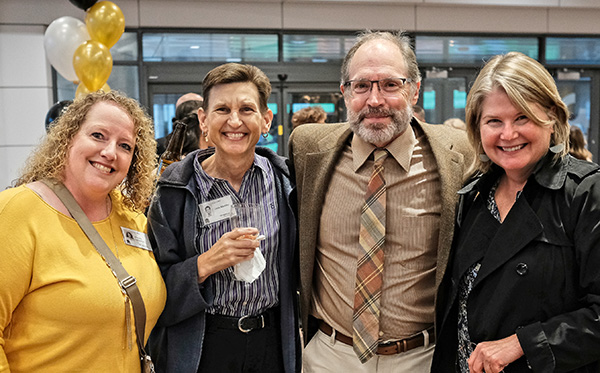 "'Tell me what you're doing! Your second-year students are making mincemeat of our third-year medical students,'" she said with a smile.
Having taught at the PA program for 25 years, Dennis retired in 1995. She and her husband remained in Winston-Salem, however, and she's continued to watch from a distance as the program grew.
To her, it's nothing short of amazing. "To look around and think, 'This is the Wake PA program,'" she marveled. "I mean…wow!"
Seeing Old Friends
Dennis was one of the most popular people at the anniversary celebration, as alumni lined up to say hello to their old lab instructor. To them, she was more than a lab instructor.
Leanna Gottlieb ('82) recalled Dennis encouraging her students not to feel inferior to the MD students. "At that time, PA students kind of felt like stepchildren," Gottlieb remembered. "She said, 'You better step up to the plate and make sure you get what's coming to you.'
"She was an amazing mentor to us."
The anniversary celebration was a reunion of sorts, and alumni cited reconnecting with old classmates and teachers as the reason for attending.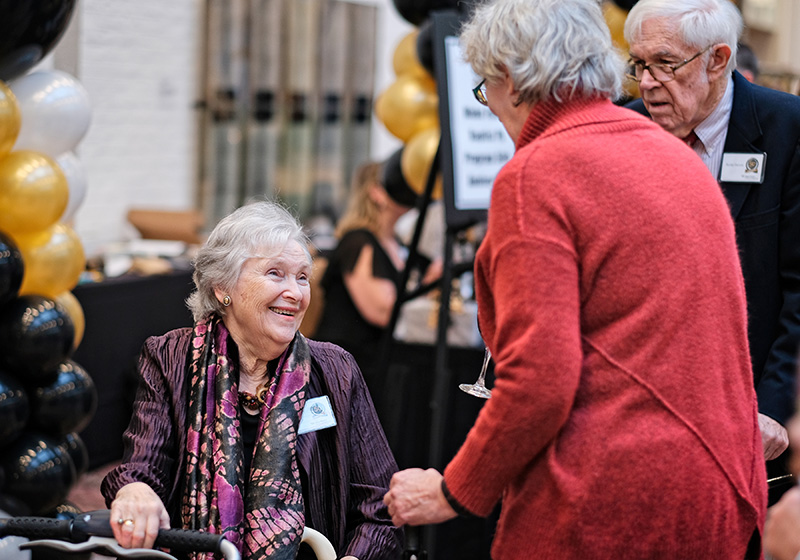 That was the primary goal of the event, according to Dorothy Carter, director of operations of the Department of PA Studies, who oversaw planning for the event. "We just wanted to bring our alumni back together, for no other purpose than to show that the program appreciates them," she said.
"I have not seen any of my classmates in 36 years," said Darrell Elrod ('83). "I'm looking forward to reconnecting with people."
Justin Brewer ('09) echoed that sentiment. "I just wanted to come back and be a part of this so I could meet my peers that I graduated with, and meet new people," he said.
In addition to seeing old friends, many alumni were interested in seeing how the program has changed since they were there.
Glen Harvey ('77) said the tour of the new facilities was impressive. "We just had these dinky little classrooms back in the day," he said. "It's great to see the program growing, pushing themselves."
Robert Williams ('80) also couldn't help but compare the program's facilities today with what he experienced as a student. "This is amazing. It shows that the program is alive and well and moving ahead," he added. "It's just beautiful."
Celebration and Recognition
The Wake Forest PA Program's 50th Anniversary event was at its heart a celebration. It was an opportunity to recognize and applaud the program's growth and accomplishments, and all the people who made it possible.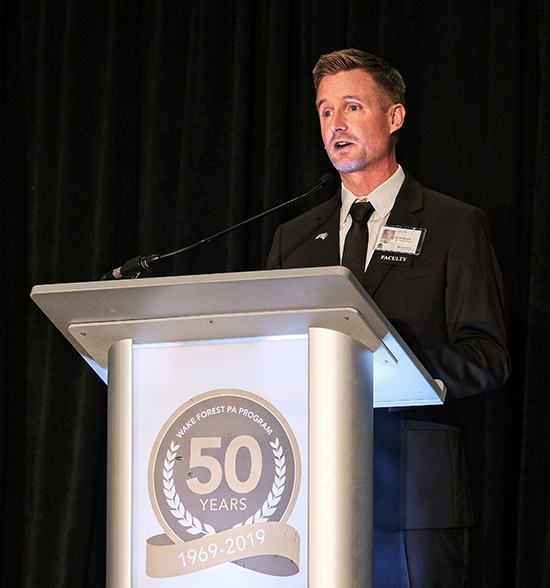 During his presentation, Erich Grant ('04), assistant professor and vice chair of the Department of PA Studies, asked several groups of people to stand and be recognized. As they stood, alumni from every decade, program faculty and staff, preceptors, and current students all received thunderous applause.
The most notable recognition of the evening came during a presentation by Julie Freischlag, MD, CEO of Wake Forest Baptist Health and dean of Wake Forest School of Medicine.
Each year, the Wake Forest School of Medicine's Bowman Gray Society honors alumni from the MD program on the occasion of their 50th class reunion. "Today, we're going to start a new tradition," Freischlag said, explaining that the recognition is being expanded to include alumni from the PA program.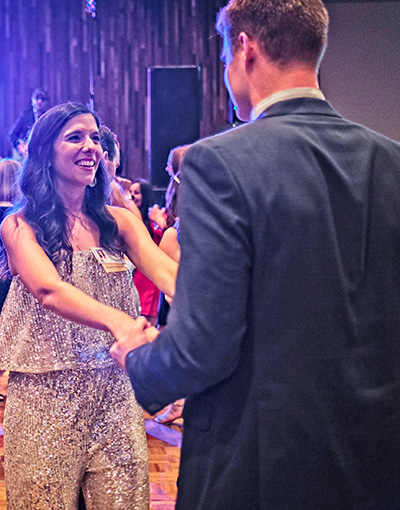 "For this once-in-a-lifetime event, we make this presentation two years in advance of their 50th class reunion, and honor the class of 1971, the first graduating class, with induction into the Bowman Gray Society."
A medallion symbolizing the Bowman Gray Society was to be presented to Kelly Taylor from the inaugural PA Class of 1971. Unfortunately, he was unable to attend, but that didn't dampen the celebratory spirit of including PA alumni in the Bowman Gray Society.
"We're going to give a medallion to the 50th reunion of every PA class as well as every MD class," Freischlag said, excitedly. "Of course, we should!"
The inclusion of PAs into the Bowman Gray Society makes perfect sense, Freischlag said, because PAs play a critical role in the practice of medicine. "They're an integral part of how we're going to deliver care," she said, citing the growing need for healthcare providers, especially in rural areas.
"We need more providers to be able to take care of patients."
A Special Place
Throughout the evening, the Wake Forest PA Program 50th Anniversary Celebration had the feeling of a family reunion. Gail Curtis, associate professor and chair of the Department of PA Studies, said there was a good reason for that.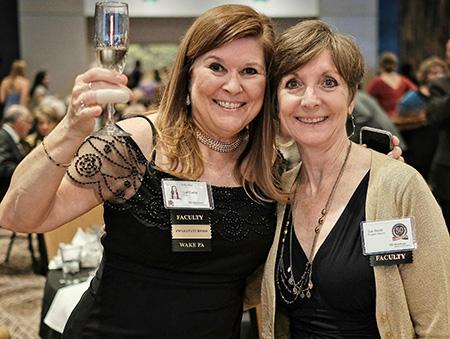 "There's something magical about Wake PA," she said. "Once you become a student here, you become part of a family."
Curtis echoed the feelings of all in attendance that Wake Forest is a special place because of all the people who have been involved over its five decades. "It's the people who are here, who are on the faculty, who have been through the program," she said.
Every class from the program's 50-year history was represented at the event, a fact that left Curtis in awe. "To have somebody from every single class, the people who led the way and the people who are going to lead us into the future, all in the same room together," she said. "It's more than I can express.
"It brought tears to my eyes."