Jennifer Nelson, MD
Jennifer Nelson, MD, has been in the role of "teacher" since she began her medical career in emergency medicine by instructing residents and medical students. Now, as an emergency medicine physician at Watauga Medical Center in Boone, NC, and Cannon Memorial Hospital in Linville, NC, she serves as a preceptor for Wake Forest PA students and is an assistant professor of emergency medicine at Wake Forest School of Medicine.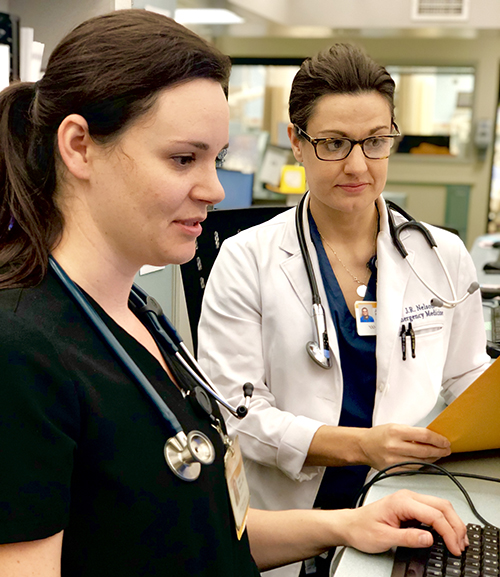 Originally from Texas, Nelson attended The University of Texas in Austin to pursue a degree in nutrition. Upon graduation, she set out to do clinical research in nutrition and weight management. After working for a brief time as a clinical research coordinator for Austin Heart, a cardiovascular group on the cutting edge of cardiac care, she decided to pursue her dream to become a physician. Nelson attended Medical School at the University of Texas Health Science Center at San Antonio, where she earned an MD with Distinction in Research. She completed her residency at Allegheny General Hospital in Pittsburgh, Pa., where she became board certified in emergency medicine.
Commenting on her experience as a mentor, she said, "I have had students at all of my sites, so NOT having students [would be] somewhat foreign." The most rewarding part about being a preceptor is that "the residents and students keep me on my toes. I have to be sure what I am teaching is correct and have to be able to clinically justify decisions I make at the bedside."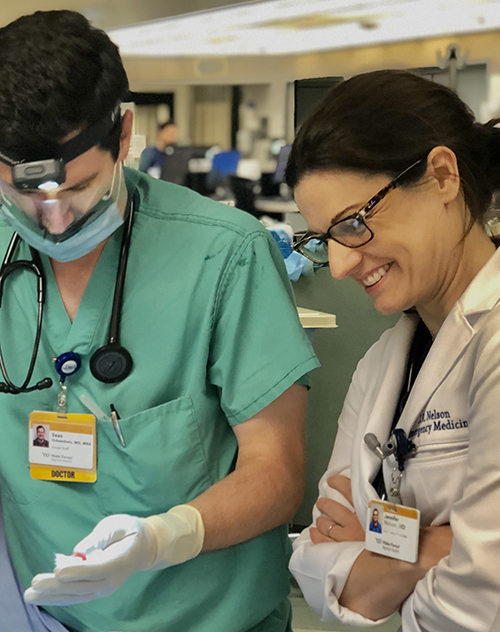 One of the biggest challenges she faces as a preceptor is "keeping up with all of the mundane aspects of medicine – such as charting and paperwork – when I have a student, because I would rather be discussing the thought processes behind a patient's management than staring at a computer."
What has helped Nelson to avoid burnout is finding a passion within her field – teaching. She came from a family of teachers and has always enjoyed it herself. She encourages all her students to find their passion. "For some, it is the business or administration of medicine. Some enjoy EMS or working with rescue squads. Some avoid burnout by regularly doing mission or charity work abroad. I think it is important to find a specialty that sparks your passion for medicine and patient care. Find what you would love to do in medicine even if you weren't paid well or at all."
Although teaching has been the main driver sustaining Nelson's passion for emergency medicine, she also notes the few cases where "you know you did something extraordinary and the family/patient does well because of it. No recognition needed – just the knowledge on the inside of a job well done" also helps keep her going.
Outside of practicing medicine, Nelson enjoys hiking with her dogs, road biking and traveling. She also tells students to "find your one 'thing' outside of medicine you love and hold on to it dearly. This will be what keeps you sane. Painting, biking, hiking, roller derby, etc. Do your thing, and treat it as a top priority."
"Eventually," Nelson says, "I would like to get my own local wellness program in place incorporating fitness, nutrition and mindfulness for weight loss, chronic disease prevention and treatment—going back to where it all started."