Having witnessed deeply compassionate care provided during his brother's last days,
Fred Trivette
chose to help the medical providers who gave so much to their family.
Trivette's brother, Baine Trivette, died in January 2016 at Wake Forest Baptist Medical Center following a long period of declining health, including 18 years as a quadriplegic. Trivette says his brother "had always been a fighter" during numerous hospital stays over many years, but this stay in intensive care on a ventilator was different.
The medical team informed the family that Baine appeared to lack the lung capacity needed to survive his sepsis infection. Trivette says the compassion shown by the medical team helped Baine direct his own care: Knowing he wouldn't survive, Baine gave direction to have his breathing tube removed.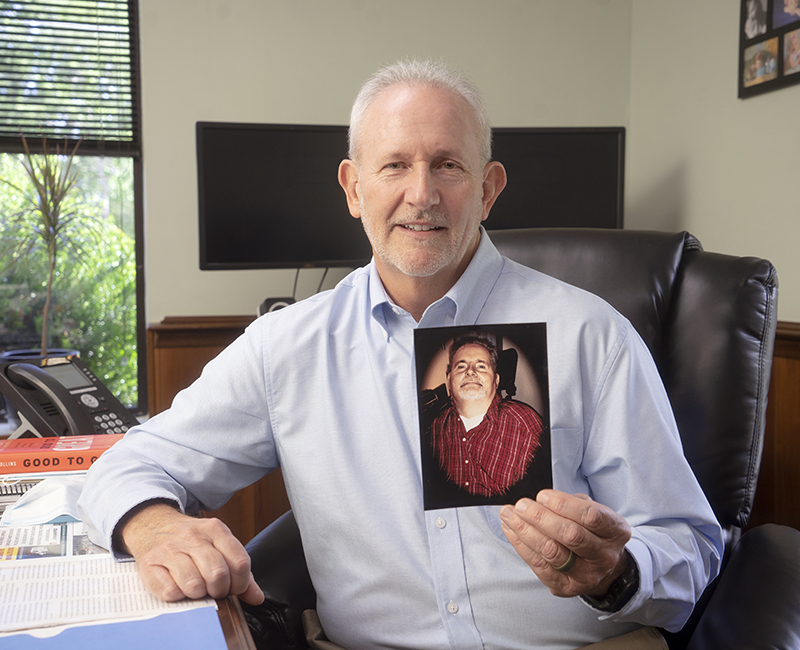 "I asked him if he was sure about wanting to remove the tube, to make sure he understood what it meant. He looked at me and said, 'I understand. It's OK,'" Trivette says in a voice steeped in emotion. "The compassion they showed him made the difference. It gave Baine the peace he needed to make that decision for himself when he was ready."
Through the experience, Trivette gained an appreciation for all that health providers must do.
"I don't think people fully understand how health professionals have to do two things at the same time – practice the art of medicine while they also continue to learn," Trivette says. "It's amazing when you see how much providers give of themselves to do both of those things each and every day and yet act with such compassion with each and every patient."
Realizing caregivers are frequently required to give of themselves emotionally, in addition to delivering healing care with their knowledge, Trivette decided to invest in continuing medical education (CME) through the Northwest Area Health Education Center (NWAHEC), part of the Wake Forest School of Medicine. He funded an annual CME activity focused on compassion fatigue, which is broadly defined as the emotional, physical and spiritual toll that can occur when providing care. It can result in exhaustion and a diminished ability to feel compassion for others. It's also associated with burnout among medical professionals.
Additionally, Trivette got involved personally. When NWAHEC opened its CME committee for community members to participate, he volunteered to join. Michael P. Lischke, EdD, the Richard Janeway, MD, Distinguished Director of NWAHEC and associate dean for continuing medical education, describes Trivette as "a truly inspirational gentleman" who contributes his finances, time and talent.
"Fred has faithfully served and has helped us keep our focus on the patient in the mix of our CME activities," Lischke says. "He doesn't have a medical background, yet he's active and helpful."
Trivette is president of Dorsett Controls, a Yadkinville, N.C., company that provides industries with software and hardware to help with water, wastewater, stormwater, energy management, air quality, security and intelligent building control. He joined the company in 1979 as an electrician and HVAC technician and rose through the ranks to become president in 2019.
His success and life experiences have allowed him to give back in a personal way to the medical professionals who left an indelible impression on him and his family.