The Delivering Equal Access to Care (DEAC) Clinic is Wake Forest School of Medicine's student-run and physician-staffed free clinic. It serves those who have no insurance and are ineligible for Medicaid. In March, the DEAC Clinic reopened at a new location at the Highland Avenue Primary Care Clinic at 650 N. Highland Ave., Suite 120, in Winston-Salem. The DEAC Clinic had been housed in the School of Medicine's Bowman Gray Center for Medical Education in downtown Winston-Salem's Innovation Quarter.
The new location is more convenient for many of the patients who need access to free care.
"We were excited to welcome patients back to the DEAC Clinic," says second-year MD student Stephanie Snyder. "Now that the clinic is in east Winston-Salem, those we serve can access the clinic more easily. Since our new space is right along a bus line, many of our patients without consistent transportation can now come to the clinic. This year has been challenging for everyone, and we are honored that the DEAC Clinic continues to provide safe, convenient and high-quality health care to those who may not otherwise receive it."
After modifying its hours during the height of the COVID-19 pandemic, the clinic is now open every Monday from 5:30 to 9 p.m. by appointment only for uninsured residents of Forsyth County as well as Davidson, Davie, Stokes and Yadkin counties.
The clinic provides:
Routine office visits
Limited free lab work
Referrals for social services
Mental health screening
Chronic disease education and medication management
Spanish interpretation services
DEAC Clinic leaders are making plans for specialty clinics in cardiology, dermatology, psychiatry, pulmonology and rheumatology, which were put on hold due to COVID, to resume in the near future
The clinic also gives students valuable clinical experience and provides a teaching opportunity for faculty. It opened in 2008 and is staffed by students enrolled in the MD, PA and other School of Medicine programs who work together under the supervision of licensed physicians, PAs and pharmacy residents who volunteer at the clinic.
In 2020, the clinic provided care for 380 patients, and the most common conditions treated included diabetes, heart disease, hypertension, hyperlipidemia and tobacco abuse.
Telehealth: A Learning Opportunity
The COVID-19 pandemic gave students the opportunity to learn something new as telehealth visits replaced many in-person visits.
"I followed a patient every two weeks for two months straight regarding their chronic health concerns, and it was greatly rewarding to hear updates, check relevant labs and fine-tune the treatment plan for the patient right over the phone," says Bea So, a fourth-year MD student. "I know if it weren't for telehealth, this patient would need to request an evening off from work, organize transportation and risk infectious exposure to travel to us during a pandemic. Because of telehealth, we are able to maintain continuity of care and provide effective health care all while ensuring patient safety and comfort."
So says telehealth has helped the students learn the value of new technology, resources and different communication styles.
"We can't know for certain what our patient populations will look like 10 years or even one year from now but learning how to navigate a patient encounter outside of the doctor's office during our medical training will surely expand our preparation for whatever comes next," she says.
Fundraising Keeps DEAC Going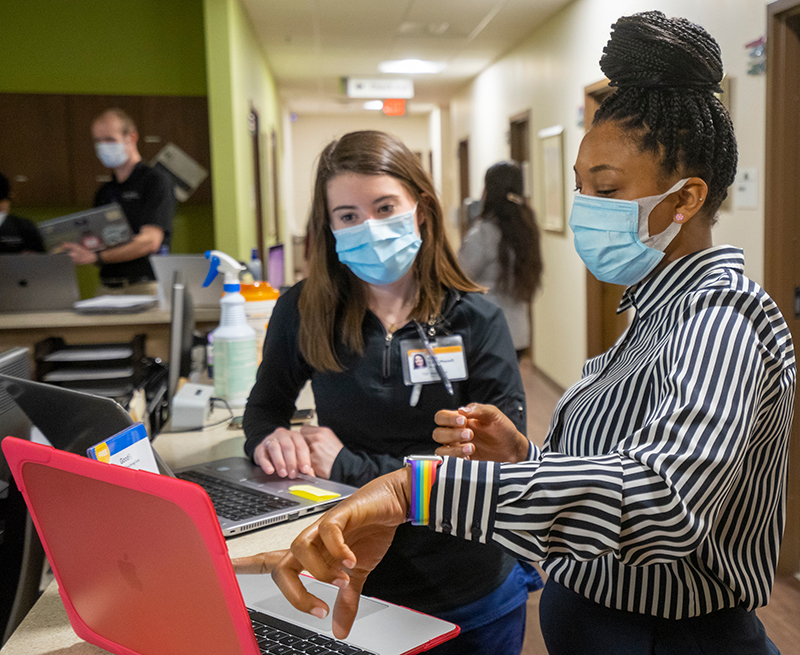 The DEAC Clinic depends on philanthropic donations to fulfill its mission. Gifts of all amounts make a real difference for the clinic's work and for the patients who rely on it for care:
$250 can help the clinic cover yearly costs for labs. A basic blood draw can cost hundreds of dollars, which could prevent an uninsured patient from getting needed tests.
$100 can provide lifesaving breathing treatments. For uninsured patients, a nebulizer can cost two to three times this amount.
$50 can allow the clinic to help patients monitor diabetes.
$25 can help the clinic open its doors each day to treat a patient for a routine visit.
Gifts can be made online at WakeHealth.edu/Give by selecting DEAC Fundraising from the pull-down menu.