Covering a wide range of research from mind-body mechanics to sports medicine as well as research for NASA, the women of Wake Forest School of Medicine are making significant strides to advance the field of medicine.
Because at the end of the day, better research means better care. And these women know that firsthand.
Use the links below to move down the page:
Because pelvic floor disorders are not life-threatening, they are misunderstood and understudied—but still significantly impact a woman's quality of life.
Urogynecologist Catherine Matthews, MD, helps her patients get back to being themselves—whether their issue is female incontinence or complications caused from labor and delivery. Through a marriage of her renowned robotic surgery skills and a focus on individual goals, she uses cutting-edge research and medical technologies to restore her patients love for (and quality of) life.
"I've learned that involving patients in the medical decision-making and centering the medical care on patient goals and expectations is really fundamental to what we're doing when we're caring for women," says Matthews.
One of her recent studies compared two different suture types that are used to attach vaginal mesh that is typically used in women undergoing robotic or laparoscopic vaginal surgeries. This suture comparison also explored postoperative symptoms of pelvic floor disorders, including urinary incontinence, voiding dysfunction, pelvic organ prolapse, sexual dysfunction and quality of life.
While Matthews is tackling pelvic floor disorders (PFDs) through surgery, Candace Parker-Autry, MD, also a pelvic floor surgeon, is working to enhance the care of older women with urinary incontinence.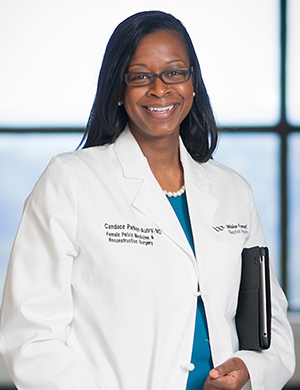 Urinary incontinence among older women is often ignored and considered "a normal part of aging." It is considered normal because more than 50% of older women will suffer with urinary incontinence. However, less than 10% are referred to a specialist for evaluation and treatment. Because research in this area is still burgeoning, Parker-Autry's work is aiming at closing gaps in knowledge of the incontinence that plagues older women by understanding the impact of aging on the pelvic floor.
"I plan to change the minds of my colleagues to recognize that geriatric incontinence among women should be a priority, and to change the lives of my patients by developing effective therapies to decrease the impact of incontinence on their daily lives."
Can yoga help cancer recovery? How can we address distress in cancer survivors who live in distant rural areas?
Suzanne Danhauer, PhD, a clinical health psychologist, has built her career on exploring the potential benefits of behavioral and integrative medicine approaches for cancer patients and post-treatment survivors. This exploration ranges from conducting a trial to explore the value of gentle yoga in women with cancer to telephone-delivered cognitive behavioral therapy for rural cancer survivors to examining the psychological adaptation to cancer—specifically how survivors often report a variety of positive changes in their lives following cancer.
Danhauer is funded by the National Cancer Institute to examine a variety of medical modalities such as:
A telehealth intervention for depression and anxiety in post-treatment with rural cancer survivors
A device-guided breathing intervention to reduce anxiety in post-treatment lung cancer survivors
The nuances of returning to work for young adult cancer survivors
"Cancer diagnosis, treatment and survivorship are often the times people experience many physical and emotional symptoms and a great deal of uncertainty," Danhauer says. "My work focuses on ways to empower cancer survivors to experience a greater sense of control as they undergo cancer treatment and transition to life after treatment."
As an educator, Danhauer teaches our future medical professionals about the scientific findings around "positive psychology," such as happiness, positive emotions, strengths and gratitude and why they matter.
Like Danhauer, Rebecca Erwin Wells, MD, MPH, also knows that the healing process sometimes starts with the mind. Wells' research focuses on mechanisms within the brain that affect pain and cognitive reserve and how mindfulness meditation influences these processes.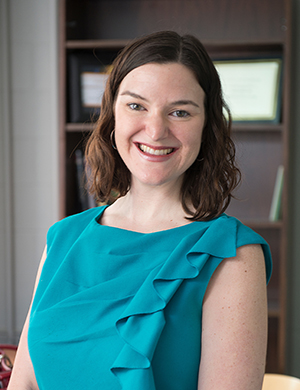 "Patients with migraines suffer so much pain and disability. While medications can be helpful, we are striving to better understand how mind/body approaches may also alleviate some of this suffering. By doing so, we may help recognize what it is about stress that sets off headaches," says Wells.
Many of these patients are seeking non-drug treatments to help for migraines, and Wells' experience as a headache specialist and integrative medicine expert has resulted in leading innovative research on the efficacy and mechanisms of mindfulness meditation in adults with headache and mild cognitive impairment.
Through clinical trials, Wells hopes to better understand how the mind/body connection may help patients with migraines by studying the impact of an eight-week mindfulness meditation/yoga program called "Mindfulness Based Stress Reduction" (MBSR). She conducted a pilot study that showed that adults with migraine who took an MBSR course had decreased headache duration and less disability. A current study also explores "self-efficacy" or the patient's ability to feel in control of their migraines—with the aim of understanding how this treatment could help adults with migraines, who often feel powerless over their condition.
Karen Winkfield, MD, PhD
It may be Women in Medicine Month, but working to discover the best treatments for women is a year-round passion of our researchers including Karen Winkfield, MD, PhD. Winkfield specializes in the use of radiation therapy for the treatment of breast cancer and blood cancers such as lymphoma, leukemia and multiple myeloma. In a recent study, she was able to combine her expertise to evaluate a rare cancer subtype.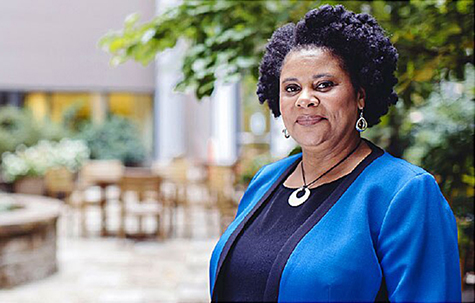 Primary breast lymphoma (PBL) is an uncommon condition comprising less than 1% of breast malignancies and less than 3% of lymphomas—leading to a lack of data to better inform management. Winkfield evaluated the management and outcomes of women diagnosed with PBL to study the relationship between type of treatment and risk of reoccurrence to ensure patients are not undergoing unnecessary treatments.
Winkfield also studies the effects of radiation on different skin types. Most of the cutaneous radiation injury data is focused on white (Fitzpatrick Type I/II) skin. As a woman of color who sees radiation injury in all patients, including those with highly melanated skin, Winkfield sought to develop an animal model that will help better understand how different skin types respond to radiation. Her interest has garnered a pilot grant from the National Institute of Allergy and Infectious Diseases to support this work. Her hope is to develop care plans tailored to the unique needs of people of color.
What do Wake Forest School of Medicine and NASA have in common? The answer is Ashley Weaver, PhD.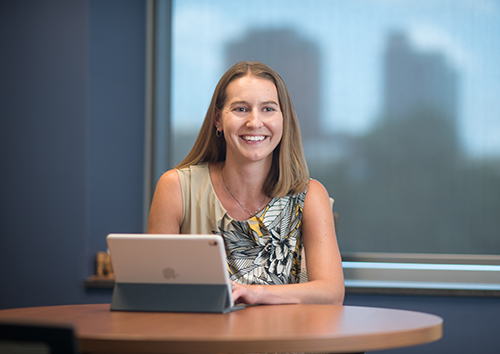 Weaver's primary area of expertise is the intersection of medical imaging and computational modeling. She performs image analysis and computational modeling to develop models that can be used to predict injury and evaluate and develop medical devices.
She is particularly interested in bone quality and fracture prediction, analyzing and mapping bone mineral density and cortical thickness changes relative to weight loss and exercise interventions. Her work with NASA includes measuring vertebral and spinal musculature degradation and dynamic vertebral strength changes in astronauts pre- and post-flight, predicting strength and injury risk based on individual anatomy and spinal health.
"We tune computational models of the human body to represent an astronaut's pre-flight versus post-flight musculoskeletal anatomy to study how deconditioning of the spine may put astronauts at risk of injury during spacecraft landings. It is important to understand how deconditioning affects injury risk as astronauts are already embarking on longer, one-year space missions, and the future Mars missions NASA is planning will be nearly three years long," says Weaver.
She is also actively involved in research studies that investigate simulated reconstruction of real-world motor vehicle crashes and postural changes to predict injury risk and improve safety—with applications ranging from motor vehicle crashes, trauma, military and sporting scenarios, space flight and disease.
Cristin Ferguson, MD
After years of participating in sideline coverage of athletic events and helping athletes return to full sport participation after injury, Cristin Ferguson, MD, has developed a distinct passion for knee reconstructive surgery and cartilage restoration. In sports medicine, an area long-dominated by research of males, Ferguson wants to create orthopaedic treatments with long-term positive impact for women.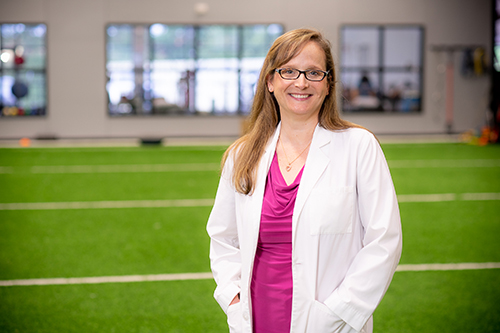 Although some types of injuries are the same as in the male athlete, the female athlete is at higher risk for certain types of injuries. In the domain of athletics, women are two to four times more likely to sustain an ACL tear, and this injury raises the risk of developing premature osteoarthritis. Ferguson is working to examine these differences between the male and female athlete.
"Women today train and compete at levels comparable to male athletes. Application of up-to-date key knowledge of the female athlete helps me provide the best care for our youth and adult patients to support successful surgeries and recovery from injury," Ferguson explains.
Her most recent research has examined the role of the meniscus as an active biologic contributor to the pathogenesis of osteoarthritis of the knee. Additionally, she has moved forward to investigating the specific interaction of inflammatory and anabolic (bone morphogenetic protein) signaling pathways with effort to identify areas for therapeutic intervention. Long term, her research may help find ways to prevent the progression of premature osteoarthritis in athletes following injury and to better manage naturally evolving osteoarthritis.