We appreciate you taking the time to visit the Wake Forest School of Medicine Anesthesiology Residency website. We feel and hope that you will agree that our residency is uniquely suited to transform incoming residents into exceptional consultants in the field of anesthesiology.
This process begins with an integrated, categorical intern year that exposes our residents to critical care, surgical subspecialties, internal medicine, and pediatrics. Toward the end of this year, each resident has a one-month anesthesia elective where foundational learning of anesthesia begins. Each clinical-base-year rotation is specifically chosen to help prepare our interns to be ready to hit the ground running on July 1st of their CA-1 year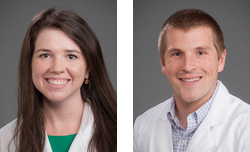 While our program has many focuses, one of the most apparent is the intentional emphasis on education. Structured didactics, simulation experiences in our state-of-the-art simulation suite, subspecialty journal clubs, and hands on learning with advanced airway equipment are at the forefront of the residency education from day one. As our residency winds through the "seasons of academia," the didactic focus shifts to up-to-date topics that round out the basis for clinical decision making. Topics range from the basics of pharmacology, physiology, and pre-operative evaluation to advanced cardiac anesthetic management and regional anesthetic techniques; a dedicated review of Basic Exam topics occurs in the weeks leading up to the ABA exam. All areas of anesthesia are covered in detail, and throughout the three years important topics are continually revisited, advanced, and integrated. The clinical instruction to prepare our residents to become exceptional anesthesiology consultants is unparalleled and extends naturally into the intraoperative environment. As national leaders in the field of anesthesiology, intraoperative teaching with our approachable and knowledgeable faculty occurs naturally.
One of the best aspects of our residency involves the realization that everyone is unique and has different needs. Many of our residents choose to pursue fellowships while others enter straight into practice. Some of our residents pursue academia; others attain successful careers in private practice. For those interested in research, there is ample opportunity to get involved in ongoing research or to design, implement, and perform original research. Opportunities abound in becoming facile in advanced regional anesthesia techniques during dedicated regional anesthesia rotations, managing complicated obstetric anesthetics, reading basic TEE, learning multiple advanced airway techniques, caring for unstable pediatric patients in the operating room, and so much more. Regardless of what your ambitions are for your career, the Wake Forest Anesthesiology Residency will prepare you to step into that role on the very first day after residency. While becoming a consultant anesthesiologist, you will be surrounded by friendly residents, faculty, and staff who recognize that while learning all of the above is important, life outside of residency is equally vital!
We encourage you to look further into our residency. With our foundation in intentional education, abundant clinical and basic research opportunities and superior clinical instruction, we believe Wake Forest will be one of the top anesthesiology residencies in the nation for years to come. We think you will agree!
Ashley Hodges, MD, and Chris McLaughlin, MD
Chief Residents 2019-2020