Some might view an ultrasound machine as one of many tools available to healthcare providers. But to PA Class of 2020 students Geoff Jones and Jason Carter, it's more than that.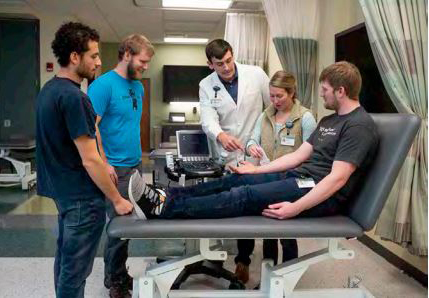 When they hold the ultrasound probes in their hands and are able to peer inside the bodies of their patients, they're inspired. They want to learn more about what ultrasound can do, and how to do it.
And the possibilities seem limitless. "Just when you think you know all there is to know, your mind gets blown," Jones said.
The appreciation Jones and Carter share is what led them to form an ultrasound student interest group in November of 2018. The purpose of the group is to give students an opportunity to supplement their education and become more familiar and comfortable with the technology.
Although ultrasound training is built into the Wake Forest PA Studies curriculum, Jones and Carter wanted to go deeper into the nuances of what the technology can do and how to use it. And they wanted to give that same opportunity to their classmates.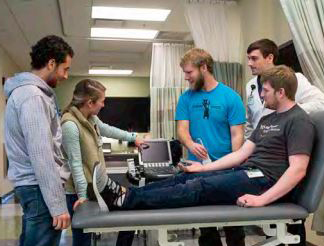 "We wanted to create this group so we could get practice," Jones continued.
The group holds half-day workshops every other month, allowing students to use get a better feel for the technology and its possibilities. Workshops focus on different applications and uses for the technology, as different ways to use it. The group also offers additional educational resources students can read on their own.
The formation of the group is based on more than just a passing interest in ultrasound technology. Both Jones and Carter believe they and their classmates will encounter ultrasound machines with increasing frequency as their careers progress.
Despite being more than 60 years old, ultrasound technology is becoming more commonplace. Fast, inexpensive and versatile, it is oftentimes more useful than more advanced imaging technology like MRI or CT.
Jones sees the use of ultrasound only continuing to grow, which is why he feels it's important to learn as much about it as possible. "It's becoming an increasingly vital skill," he contended.
It's also tricky to use. "There are a lot of subtleties in how you position the probe, differences in tissue texture," Jones continued. "It takes a lot of practice."
By getting that practice, Jones and Carter believe they and their classmates will be more prepared for their clinical rotations and, ultimately, graduation and working as PAs. "We wanted to equip ourselves with a broader set of skills going into next year," said Carter, "and ultimately, going into practice in a couple years."
They also had another motivation for forming the ultrasound student group – one more grounded in a pursuit of learning about human anatomy.
To explain, Carter recalled using the ultrasound in a musculoskeletal workshop. "The first time I saw someone's shoulder, the rotator cuff finally made sense to me," he remembered. "It didn't matter how many times I looked at the pictures in a textbook. Seeing living tissue moving on a screen – somehow it clicked."
Having that window into human anatomy lies at the heart of Jones' and Carter's shared fascination with ultrasound technology. "You actually see what's going on inside a living human being in real time," Jones said. "It's all moving there in front of you!"
The ultrasound student group consists of about 60 students from the PA program, though nursing and medical school students also attend workshops. Jones and Carter are pleased with how the group has grown in its first few months of existence.
"We've had really good responses for a first-year club," said Jones, adding that he hopes that next year's incoming students will pick up where he and Carter left off. "It's been a lot of fun, and I hope it continues to grow."