On Monday, February 4, 2019, the Appalachian Association of PAs (AppAPA) hosted a CME event titled Airway Management Considerations. Wake Forest PA assistant professor Ian Smith ('11), MMS, PA-C, taught the session. Smith is also a trauma PA in the Department of General Surgery at Wake Forest Baptist Hospital in Winston-Salem.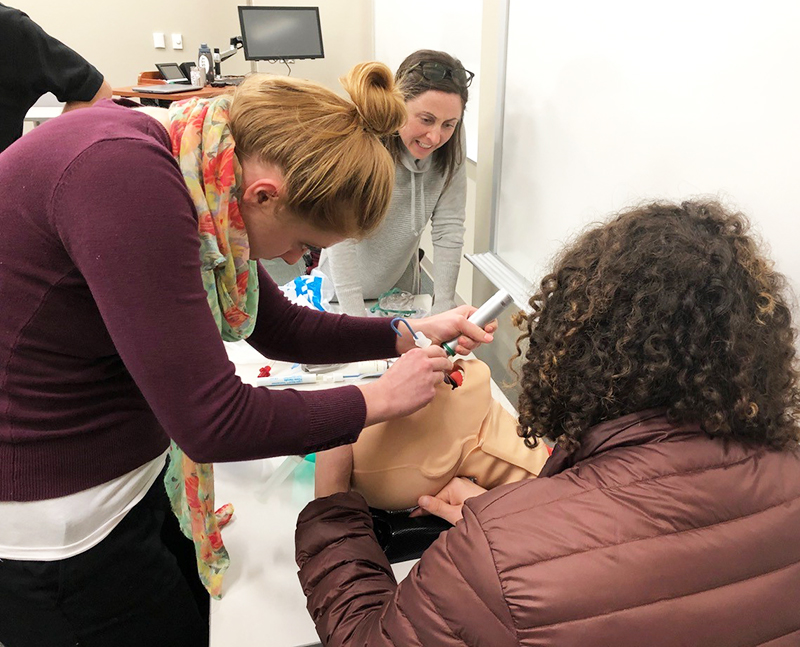 Smith's session summarized the features of a difficult airway, pharmacologic therapy in airway management, equipment needed to stabilize a decompensating patient, and strategies for emergency airway management. Participants included seven practicing PAs from the community and five Wake Forest PA students. Emergent airway management is relevant to many rural clinicians, who may encounter a decompensating patient in their office. Participants practiced intubation skills on a training simulator using various types of airways to reinforce the teaching.
Josh Newton, a 2011 graduate of the Wake Forest PA program and AppAPA vice-president, expressed his appreciation for such events. "As a rural family medicine provider, our clinic, which is 20-plus minutes from the closest hospital, is often used as a critical access site where high-risk emergencies present themselves to be stabilized while we wait on EMS. As such, it is crucial for our providers to be comfortable with airway management, even though most of us have little to no emergency room experience and may have never completed a live intubation. Ian Smith did a wonderful job making a stressful topic approachable and giving us all a solid foundation to work from."
AppAPA is one regional chapter of the North Carolina Academy of PAs (NCAPA), serving northwestern North Carolina including Madison, Yancey, Mitchell, Avery, Watauga, Ashe, Wilkes and Alleghany counties. Founded in January 2018, AppAPA serves the 80 plus licensed and active PAs practicing in this area. It also serves NPs and Wake Forest School of Medicine PA students. It is one organization in the region providing Category 1 CME opportunities.
Several Wake Forest PA faculty and alumni serve in AppPA's leadership. Brian Robinson, MS, MPAS, PA-C, is president; Sarah Garvick, MPAS, PA-C, is secretary; and first-year student Joanna Hope ('20) is the student representative.
The regional chapter will continue to expand and provide high-quality Category I and II CME to medical professionals in the community and beyond. Plans involve collaborative CME symposia, continued regional CME events, networking opportunities and support for the region.