Bryan Geigler MMS, PA-C
Bryan Geigler MMS, PA-C, is the newest addition to the PA Studies faculty. Bryan joined the department in early December as an assistant professor and is a Wake PA graduate. He grew up in Wisconsin and despite his love for cheese, the Green Bay Packers and an overall strong pride for his home state, he and his wife have resided in Winston-Salem since he began PA school in 2013.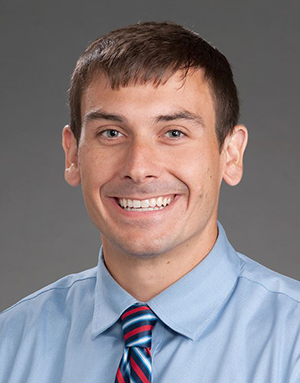 Bryan attended the University of Wisconsin Madison for his bachelor's in Kinesiology and achieved his master of medical sciences from Wake Forest in 2015. He has a passion for preventive medicine and has worked in Family Medicine in Lewisville, NC for the past four years. Bryan also actively practices as a PA in urgent care and in local free medical clinics around Winston-Salem.
Since graduating from the PA program, Bryan has enjoying precepting PA students over the past few years, which has sparked his interest in education and academics. Bryan also has an interest in global health and is now involved in leadership with the new PA Global Health pilot program at Wake Forest School of Medicine.
"I know the reputation of excellence that the Wake Forest Department of PA Studies maintains. I could not be more excited to be a part of, and contribute to, this reputation," Bryan says.
Bryan is a proud husband and father. He and his wife, Elizabeth, have a one-year-old boy at home and are active in their church. His favorite hobbies include hiking, camping, basketball and running.