Sam Pendergraft ('18) MS, MMS, PhD, PA-C
No on can say Sam Pendergraft is a stranger to higher education. Prior to enrolling in the PA program, he completed an MS then went on to earn a PhD in molecular medicine and translational science. He became a PA through Wake Forest PA's sequential degree program, offered in conjunction with the Graduate School of Arts and Sciences.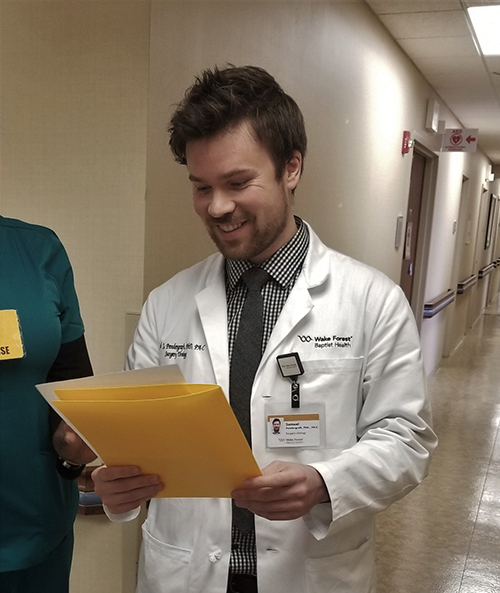 Reflecting on all of those programs, Sam says, "I can definitely say that I learned more and was challenged more thoroughly in my two years of PA school than I ever was during my prior PhD and MS degree programs, combined."
How is he using the knowledge acquired in those programs? Following graduation in 2018, Sam began working in urology at WFBH. "Our department functions as a major referral center for the region, incorporating patient-centered-care, active research and expertise in general urology, urologic cancer, female pelvic health, men's health, and kidney stones," he says. "I was brought in last year to be a full-time presence at our primary ambulatory clinic and to see patients spanning the entire spectrum of general urology."
Sam is currently the only PA in the urology outpatient clinic. Although his primary responsibilities are to see patients in the walk-in clinic, he has also assisted with procedures such as cystoscopy and vasectomy. Sam describes himself as a more compassionate and opportunistic provider as a result of his education at Wake Forest PA. "I remember very vividly one particular lecture by one of our professors regarding PSA screening for prostate cancer. The overall message of this lecture was to never underestimate the value of screening tests and their critical role in patient-centered-care. I have always heeded this advice in my short time as a urology PA."
Sam has used preventive screening tests to ultimately aid in detecting prostate cancer that otherwise may not have been found. He appreciates the influence and impact he can have on patients. "Knowing that every day will be a new and different challenge sustains my passion for being a medical professional," he says. "We work in a high-risk, high-reward profession, and few things are as exciting to me as seeing our efforts positively reflected in our patients."
Sam shared the following words of wisdom for current students: "Enjoy and make effective use of your time as a Wake PA student. The program goes by quickly but will provide all of the tools necessary for you to excel as a PA and be a strong contributor in whatever primary care or specialty role you pursue."
Away from work, Sam enjoys the outdoors through hiking, backpacking, camping and trail running. His bucket list includes visiting and experiencing some our great national parks. Acadia, Yellowstone, Denali and Big Bend are at the top of his list.