If the crucible of crisis reveals character, the COVID-19 pandemic revealed core traits imbedded within Wake Forest Baptist Health and the Wake Forest School of Medicine: collaboration, resilience, ingenuity, trust, leadership. It has taken all of those qualities and more for leaders, faculty, students, staff and alumni to withstand the challenge.
"Wake Forest has always been a collegial, collaborative place to work, but the role that plays in a crisis like this is phenomenal," says health system President Kevin P. High, MD, MS '98. "Some work doubled during this time and some work was cut in half or dropped to almost nothing. Regardless of where employees were in that spectrum, they rolled up their sleeves, changed roles and took on new tasks. That resilience is just incredible."
Amid crisis, trust among colleagues and across the system became more important than ever. Before the COVID-19 pandemic struck, High had coincidentally encouraged everyone to read Stephen Covey's "The Speed of Trust" as a framework for organizing conversations. Little did he know how relevant the book's topic would be for the health system's front-line medical personnel. Such conversations were needed because of the speed at which key decisions had to be made to:
Keep patients and front-line providers safe.
Ensure enough personal protective equipment (PPE) and supplies.
Make sure education and research priorities kept moving forward.
Ramp down elective surgeries and certain in-person care, and later, resume those activities.
Address potentially significant negative economic impacts from reduced clinical volumes.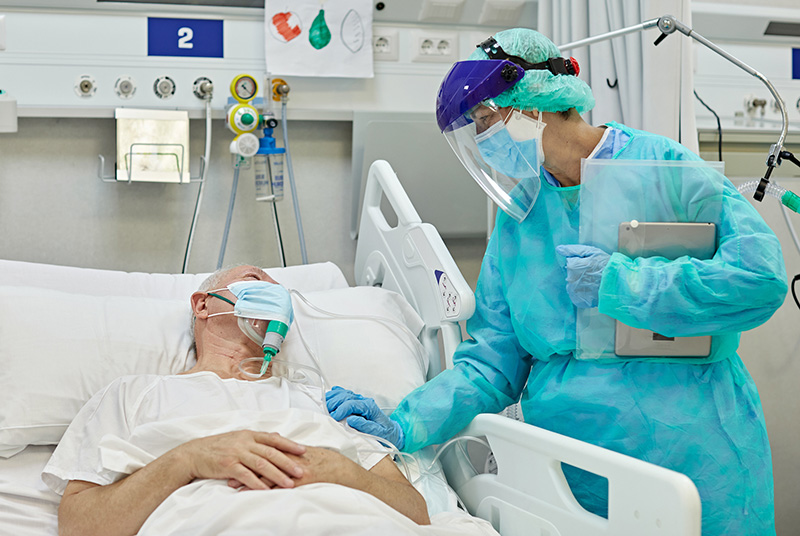 J. Wayne Meredith, MD '78, saw strong leadership at work within the institution's culture.
"Our culture is so collaborative on a normal day that it was not a stretch for our people to step up as a team, collaborate and focus on the problem—not on my problems, but on the problem. Everybody really did that," says Meredith, professor and chair of the Department of Surgery.
The health system's response reinforced something Meredith says he has long known: The institution he loves across its clinical, educational and research missions is immersed in work that is "more in our heart than our head."
"It's not what we teach our students, it's the kind of people we teach them to be," Meredith says. "It's not just the science and discovery that we make, it's the understanding that discovery is there to make the world better. For the people who are delivering health care, it's not about delivering a product to a customer, it's about delivering solace to another human being."
That culture has inspired individual efforts during the pandemic that have made a difference within the health system, the school and—through alumni and researchers—across the nation.
Persevering in Education
Educational leaders and students across all programs were forced to change course quickly. Those changes hit just as Aman M. Irfanullah and his MD classmates were beginning fourth-year classes that moved online almost overnight. Certain clinical rotations were shortened to preserve PPE for frontline providers and to get core rotations done in time for residency application deadlines.
"The school wanted to make sure we continued our education and that our course credits were appropriate to keep us on track to graduate on time," he says.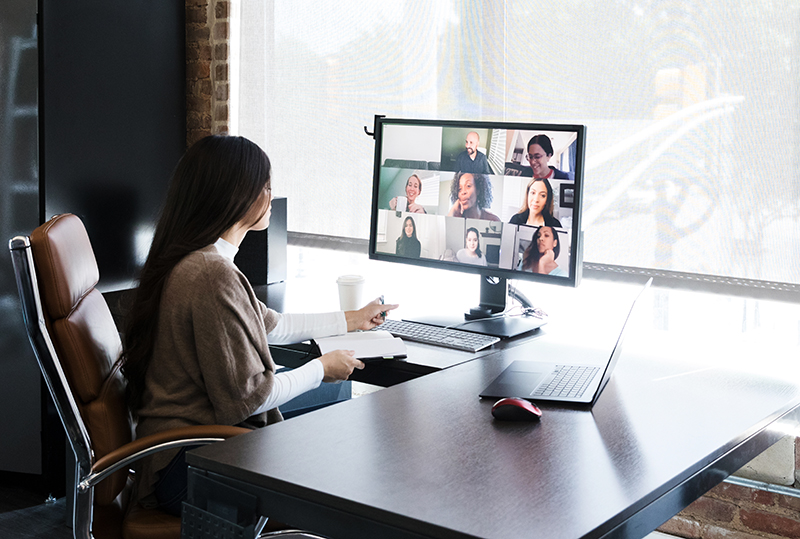 Irfanullah and his classmates are now in a residency process unlike any in history, with video interviews and virtual tours. Students also may not be able to meet current residents during less formal social interactions that can prove valuable in determining whether a residency program may be a good fit.
"It's a little murkier how students can evaluate how much a program wants them versus programs being able to evaluate how much students want to be there," says Irfanullah, who is planning to pursue anesthesiology.
Nurse Anesthesia Program leaders scrambled to keep required clinical work in place for students like Audrea N. Nolan, CRNA '20, who would soon graduate.
"As it looked like keeping PPE in stock was going to be a problem, our director and our faculty members really went to bat for us," Nolan says. "We needed the education, and we needed to finish clinical. They did not want us to graduate late and didn't want to put us in danger. It was a challenging line for them to walk."
Nolan was able to try out a new technique for intubations in operating rooms. Using a combination of masks, a plastic shield and a plastic bag, the technique creates a smaller atmosphere around the patient to help avoid the spread of particulate matter during intubations. Staff would disinfect the device between patients and reuse it.
"The whole experience was highly valuable because COVID doesn't seem to be going away as quickly as we thought it might," Nolan says.
A Different Match Day and Graduation
At least graduating MD students were able to finish their residency interviews in person, says Ivory J. Shelton, MD '20. Now a pediatrics resident at Vanderbilt University Medical Center, Shelton remembers how effectively school leadership communicated with students, how the school rapidly pivoted to video conferencing and other technology, and how student leaders helped make tough decisions about Match Day and graduation ceremonies.
"It looked very futuristic," Shelton says. "For Match Day, it wasn't a paper letter we opened, it was an email. For graduation, it wasn't an in-person ceremony, it was a Zoom link. It felt like an episode of 'The Jetsons.' Those days were still special, but they looked very different.
"The most disheartening part were those final moments with peers you've been with for four years. These are people I'm going to have in my wedding and invite to girls' trips every 10 years. Not getting to say goodbye to those people because of quarantine and going off to residency was the saddest part."
Through it all, she recalls feeling supported.
"I remember feeling genuine empathy from the people planning these events for us and how disappointed they were that we wouldn't have some of the things other classes had for their celebration," she says.
Volunteering to Lead
With her third year of MD studies interrupted by COVID-19, Abby Peoples focused on volunteer work. She approached school administrators about safely involving student volunteers and ended up being the administrative point person in getting projects approved, posted online and available to students from all programs.
Those student-driven projects have included assembling COVID-19 screening kits, staffing entry-point screening locations at the medical center, compiling relevant academic literature on COVID-19 for faculty and students to review, and allowing qualified students to serve as reserve EMS personnel.
"It's important for future medical professionals to know and understand what the needs are during these kinds of acute crises," says Peoples, who in her first two years in school started the Deacon Doulas childbirth support program through an Albert Schweitzer Fellowship. "Eventually as our careers develop, we'll be the ones in charge of managing these acute responses and coordinating efforts."
At a time when senior living communities were among those hit hardest by COVID-19, Charles H. Duckett, MD '57, volunteered to lead in Winston-Salem's Arbor Acres retirement community. Duckett serves on a committee of independent-living residents that has advised administrators there. As of August, Arbor Acres had reported only one resident case of COVID-19 and a couple among staff, although by early fall, a handful of additional cases were reported, according to Duckett.
"We have worked with the administration to deliver a consistent message to our residents and staff," Duckett says. "COVID-19 is a deadly viral illness, and only careful, consistent action is going to protect us. That's the message we've attempted to get across while also utilizing input from experts on the outside such as Dr. Chris Ohl, who is professor of infectious diseases, from our own medical center."
The committee has designed a checkpoint system to allow residents to visit with family members safely from a distance at one of the community's gated entrances and has worked to make sure that widowed, single or homebound residents are able to have safe social interactions. By early fall, family members and special visitors such as ministers were being allowed to visit residents.
Tales from a COVID-19 Epicenter
The New York/New Jersey area emerged as an early epicenter for COVID-19 in the U.S., and school alumni there found ways to lead.
Kristen Lo Sicco, MD '09, FAAD, assistant professor of dermatology and director of the Skin and Cancer Unit at New York University's Langone Health, treated COVID-19 patients after surviving the disease. She worked from home while sick, running the hospital-based dermatology clinic from her apartment during her two-week recovery.
She later worked several weekends on the inpatient service at Langone's NYU Brooklyn Hospital. "Fortunately, my internal medicine prelim year at Wake Forest Baptist prepared me well for my short time as an inpatient attending," she says.
She also joined members of her dermatology department in starting Masks4Medicine, a nonprofit organization created by a group of dermatology residents and attendings at NYU to collect and distribute donated PPE to health care workers. It evolved into an international effort that received donations from around the world and supplied more than 150,000 masks and tens of thousands of gloves, gowns, face shields, and other items to frontline providers in New York City during the height of the crisis there.
In New Jersey, Joanna P. Blondeau, CRNA '03, MSN, had been furloughed from her job when elective surgeries were cancelled due to COVID-19. When practice restrictions on CRNAs were lifted, a critical care nurse manager asked Blondeau to join a team of APNs and CRNAs to work as intensivists in COVID units. Blondeau worked the night shift with a physician to manage ICU patients.
"It is different than the role I normally have, but CRNAs are ideally suited to meet this challenge," Blondeau says. "We manage airways and ventilators, and we all have critical care experience. As a CRNA in this role, I'm also available to teach and mentor many of the younger nurses who have not dealt with the ventilators and medications we use every day."
At one critical juncture, the care team had to decide which patient got the last ICU bed.
"I used recommendations from a webinar I had just seen to prevent one patient from being intubated, and the ICU bed was used for the more emergent patient," Blondeau says. "We worked as a team that night to support patients and avoided three more intubations."
In Phoenix, Ariz., Robert D. Riley, MD, House Staff '00, was part of a care team that helped save a COVID-19 patient's life using extracorporeal membrane oxygenation (ECMO) therapy. Riley, chief of cardiothoracic surgery at HonorHealth, performed the surgical procedure on a 53-year-old man who was on a ventilator and dying. The patient became the first American with COVID-19 to survive the disease through ECMO.
"On this case, I collaborated with another Wake Forest School of Medicine graduate, Ace A. Ovil, MD '12, and was privileged to work with the entire ECMO team at HonorHealth here in Arizona," Riley says.
Leading in Research
About 20 faculty are leading 30 COVID-19-related projects while keeping prior research going. The most significant new study may be the COVID-19 Community Research Partnership, a broad, epidemiological study of patient volunteers being led by Wake Forest Baptist. It links to patients' electronic health data and allows for daily tracking of symptoms and contacts.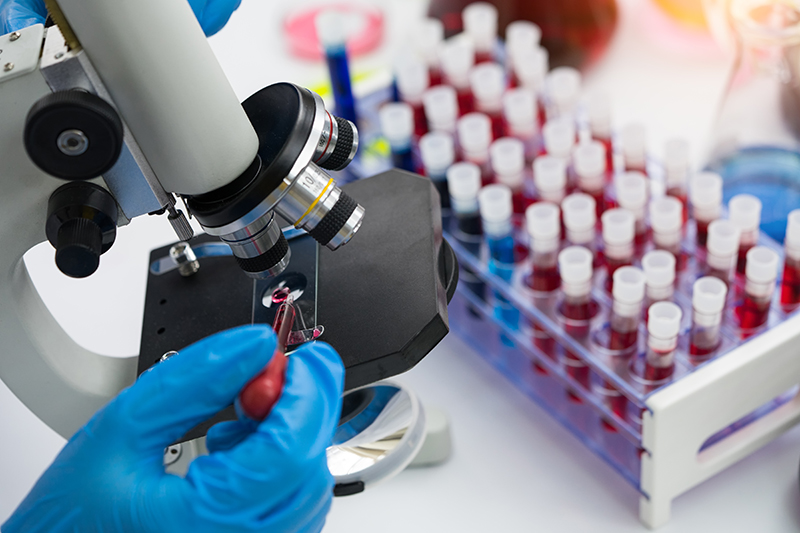 The study had more than 18,000 volunteers and more than a million data entry points on its system dashboard by late July. The real-time data is shared with the state and the Centers for Disease Control and Prevention (CDC).
David M. Herrington, MD, MHS, professor and the Dalton McMichael Chair of Cardiovascular Medicine, says the study was built in partnership with Atrium Health, LabCorp, UPS and Oracle, among others. With funding from the CDC, the study is being implemented at sites in the Washington, D.C., area, and the South.
"These sites are essentially replicating the model we created here," says Herrington, who is also vice chair for research in the Department of Internal Medicine. "Collectively, this will provide a tremendous amount of data about this epidemic very broadly across a wide range of geographic regions, including rural and metropolitan areas." With more than 100 faculty and staff involved in the project, he says, "It's a testament to what an amazing institution this is and what amazing people we have."