EDITOR'S NOTE
Catalyst requires thorough planning and months of work in advance of its distribution. Unfortunately, during our lengthy production cycle, the world around us changed rapidly and continues to do so as we all adapt to the spread of COVID-19 and the response to contain it.
In this issue and in our feature story "Wake to the World," we are pleased to share the great work of our alumni who serve the underserved around the globe. Wake Forest Baptist Health and the Wake Forest School of Medicine continue to take every precaution to ensure the safety of our patients, their families, our students, faculty, staff and alumni. When it is again safe to do so, our alumni, faculty, students and staff look forward to resuming their life-changing work around the world.
---
Taking Wake Forest into the World
It is inspiring to know the ways in which the Wake Forest School of Medicine touches the world.

Many people across the globe certainly know our name because of our renowned research or because of our reputation for providing outstanding medical education. There are many others, though, who may or may not recognize our name but know that their lives have been improved by a medical student, a physician or an educator from our school who cared enough to come to their corner of the world and help.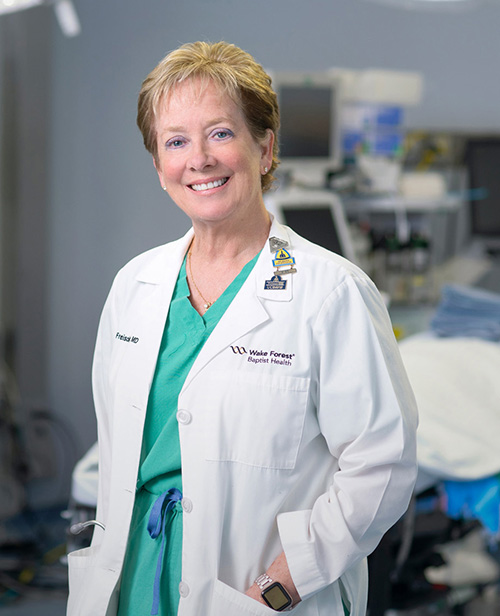 Our cover story in this issue of Catalyst looks at some of the ways that our medical school reaches out into the world to help others. We have alumni, faculty, students and staff who regularly travel to various parts of the globe providing clinical care and teaching others to provide care.

While many of our students seek out a global health experience as part of their education and a number of our faculty are involved in regular international service trips, it is our alumni who are truly the face of our medical school around the world.

We have so many alumni who work abroad full-time or volunteer for medical outreach efforts that we could not possibly capture everyone's experience or perspective. But you know who you are, and we hope this glimpse into work done around the world is representative of what you strive to accomplish.

For those of you who are committed to this work, you are fulfilling a long and proud tradition within our school of reaching across international boundaries to help those in need. As you do that, we hope you are as proud of your medical school alma mater as those of us here are in having you carry our banner out into the world.

Thank you for the lives you touch and the amazing work that you do!

Julie Ann Freischlag, MD, FACS, FRCS, ED (Hon), DFSVS
Chief Executive Officer, Wake Forest Baptist Health
Dean, Wake Forest School of Medicine