Maynard Honored with Emeritus Academy Award
C. Douglas Maynard, MD '59, received the second annual Emeritus Academy Award for outstanding service to the Wake Forest School of Medicine during the emeritus faculty holiday brunch in December.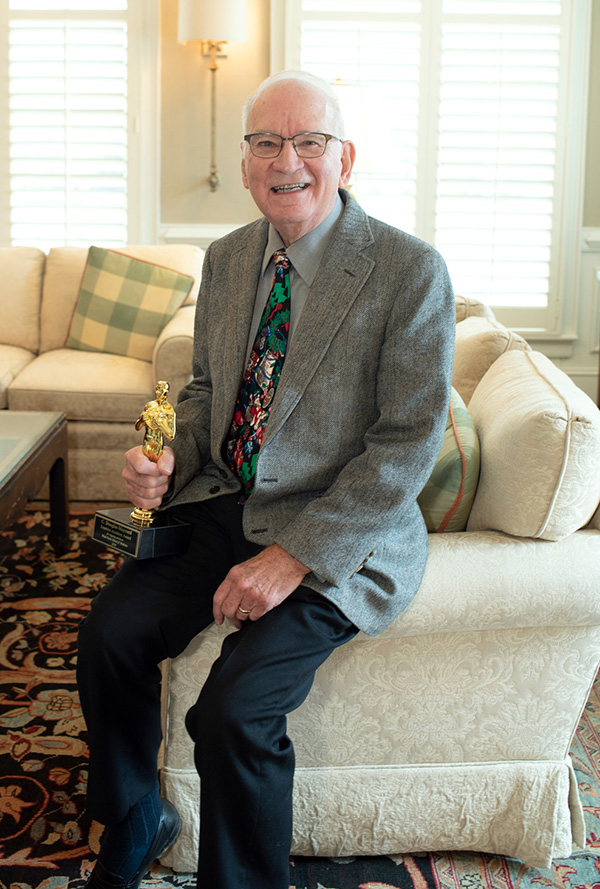 The award honors a faculty alumnus for outstanding and ongoing contributions to the school, for making a meaningful and lasting impact, and for embodying the spirit of giving through teaching, mentorship, research, outreach and philanthropy.
Lynn Anthony, MD, House Staff '01, senior associate dean for faculty affairs and professor of radiology and pediatrics, presented Maynard with the award. She described him as a visionary both in his field and for helping to develop the school and the region.
"His accomplishments are inspiring and have changed our community by making our city and school stronger, smarter and brighter," Anthony said. "What is truly unique is that Dr. Maynard puts the same compassion and energy into his everyday connections that he puts into his many large-scale achievements.
"He made the Medical Center feel like a family to many, including me, and he has made our community more than a thriving city. He has made it a place that students, educators, clinicians, researchers and our families want to call home."
Maynard spent his career as an academic radiologist and chaired the Medical Center's Department of Radiology for 23 years. During nearly four decades in practice, he directed the nuclear medicine lab, authored or edited 12 books and two book translations, published 113 articles and 45 abstracts, served on multiple editorial boards and delivered over 300 oral presentations, including numerous honorary lectures. He also served as assistant dean for admissions and as associate dean for student affairs.
After retiring from practice in 2000, he has remained active. He was the school's acting dean in 2001-02 and also served as special adviser to the president of Wake Forest University Health Sciences.
As president of the Radiological Society of North America, he led the pre-eminent international society of radiologists, medical physicists and other medical professionals with more than 54,000 members from 136 countries across the globe.
Maynard was instrumental in the 2003 establishment of the joint Virginia Tech-Wake Forest University School of Biomedical Engineering and Sciences and was among the earliest champions of downtown Winston-Salem's Piedmont Triad Research Park, now known as Innovation Quarter.
Locally, he has served in leadership positions with the Winston-Salem Chamber of Commerce, the Winston-Salem Business and Technology Corp., Forsyth Technical Community College, Senior Services, the University of North Carolina School of the Arts Foundation and the Downtown Development Corp., among other organizations. Maynard currently serves on the MAA Board.
---
Three Tie for Peacock-Plonk Award

Students Darryl Kalil, Alex Powell and Ivory Shelton (left to right above) tied for the highest clerkship grades in the MD Class of 2020 and each received the Peacock-Plonk Award for Outstanding Student Clinician.
The clerkships include emergency medicine, family medicine, internal medicine, neurology, Ob-Gyn and women's health, pediatrics, psychiatry and surgery.
The award was established in 2017 in honor of James E. Peacock, MD, professor of infectious diseases, and George W. Plonk, MD '73, associate professor of vascular surgery, who are widely revered for their clinical expertise, diagnostic acumen, bedside manner and humility.
Kalil plans to pursue internal medicine, Powell emergency medicine and Shelton pediatrics.