The residency is an ACGME-accredited seven-year program that matches two residents per year via the National Resident Matching Program (NRMP). We endeavor to proide a diverse and inclusive training environment, which take place entirely at Wake Forest Baptist Medical Center.
At the completion of their training, residents will have attained a depth and breadth of knowledge and experience that will allow them to pursue academic, research or private practice opportunities.
The Neurosurgery Residency program at Wake Forest School of Medicine offers trainees a substantive and varied experience in all subspecialties within neurosurgery.
Clinical Training Overview
In fiscal year 2019, we saw 4,736 cases, which broke down in the following ways: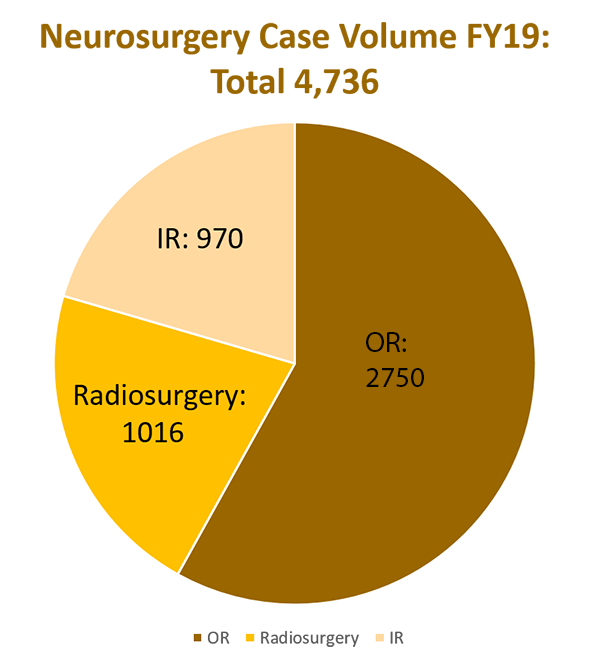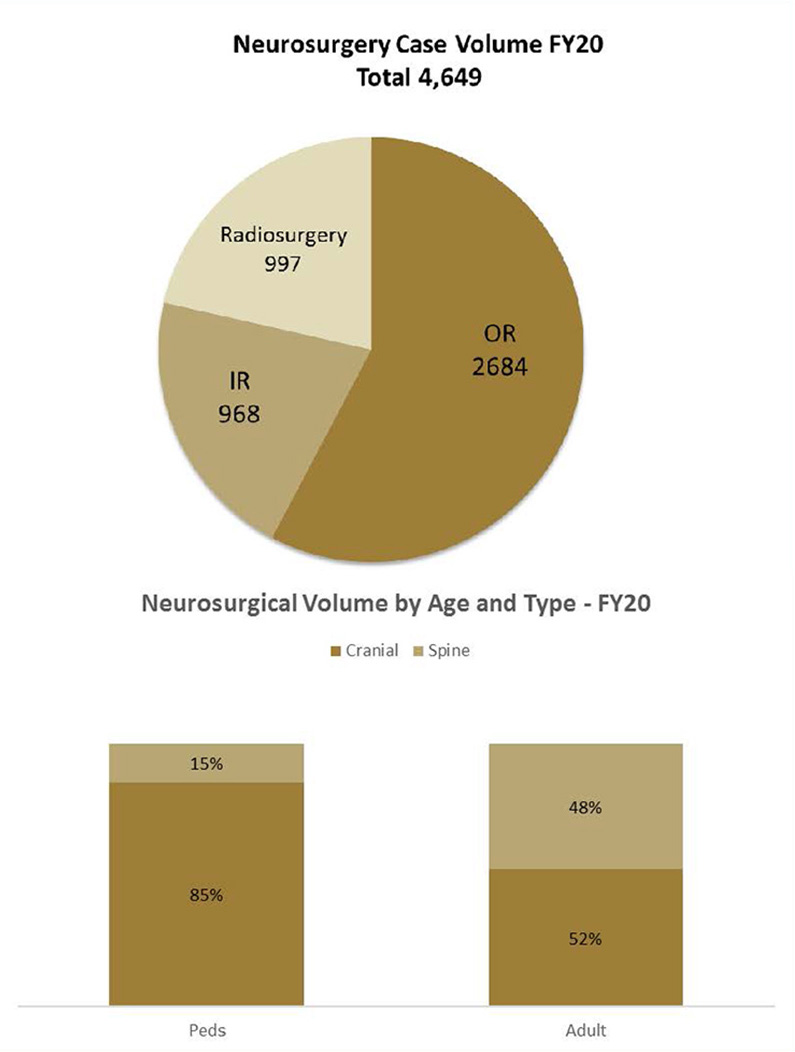 Chief residents log an average of 1,900 cases by the completion of their residency.
Why Train at Wake Forest?
Our goal is to provide residents with a well-rounded education in neurosurgery and the neurosciences in an environment that offers the opportunity for graduated independence in neurosurgical technique and neurosurgical decision-making. We also foster the advancement of our field through scientific inquiry and application.
Residents work with a supportive faculty that is committed to resident education, advancement, and achievement in neurosurgical practice. The high-volume regional referral center creates a richly rewarding experience for neurosurgical residents.
Where Are They Now?
Robert Wicks, MD (2018) – Endoscopic Skull Base Fellowship, Barrow Institute, Phoenix, AZ
Adam Mathes, MD (2018) – Private Practice, Greenville, SC
Analiz Rodriguez, MD, PhD (2016) – Neuro-Oncology Fellowship at City of Hope in Los Angeles; Assistant Professor University of Arkansas
Hirad Hedayat, MD (2016) – Cerebrovascular/Endovascular Neurosurgical Fellowship at Drexel Neurosciences Institute, Philadelphia, PA; Assistant Professor, Drexel Neurosciences Institute and Director of Cerebrovascular and Skull Base Neurosurgery, Vassar Brothers Medical Center
Kunal Shah, MD (2015) – Private Practice in Washington
Mark Witcher, MD, PhD (2015) – Functional Fellowship at Emory, Atlanta, Ga; Assistant Professor, Virginia Tech Carilion School of Medicine
Matt Neal, MD (2014) – Complex Spinal Surgery Fellowship at Barrow Neurological Institute, Phoenix, AZ; Mayo Clinic, Phoenix
Dennis Campbell, MD (2014) – Private Practice, Winston Salem, NC
Jonathan Wilson, MD (2013) – Assistant Professor, Wake Forest School of Medicine
Amritraj Loganathan, MD (2013) – Private Practice, Michigan
Neurosurgery Resident Benefits
In addition to the standard resident benefits offered by the medical center, Neurosurgery residents will receive:
Loupes are provided and maintained by the department
Monogrammed lab coats, and dry cleaning is provided by the department
PGY 3 residents attend the RUNN (Research Update in Neuroscience for Neurosurgeons) and funded by the department
USMLE Step 3 reimbursement
Funded attendance at national meetings
On-call resources (rooms, meals, etc.)
Annual book fund of $600 which can be applied to texts, journals, neurosurgical courses and neurosurgical supplies. Other requests will be reviewed by the program director.