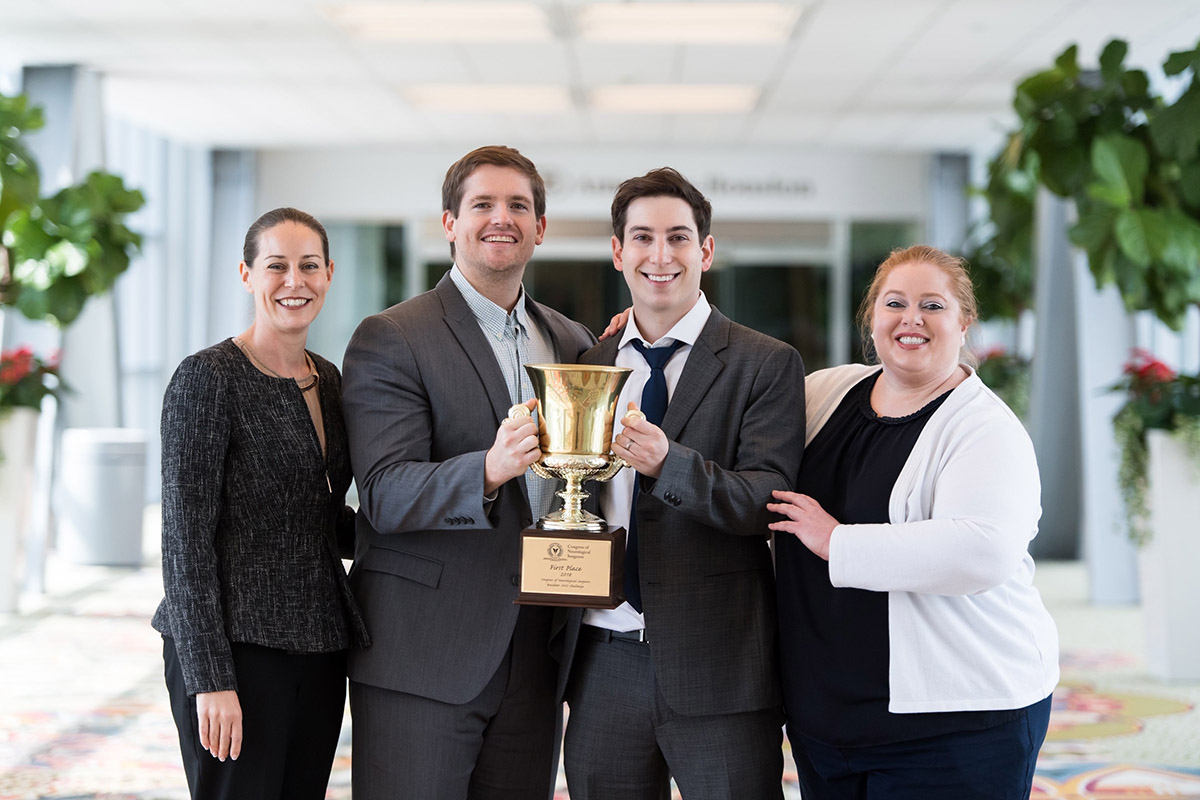 Program director Dr. Stacey Wolfe (far left) and resident Jackie Renfrow (far right) celebrate with neurosurgery residents James West (l) and Mark Frenkel (r) as they display their first-place trophy from the 2018 Congress of Neurological Surgeons SANS (Self-Assessment in Neurosurgery) Challenge
Clinical and Subspecialties Rotations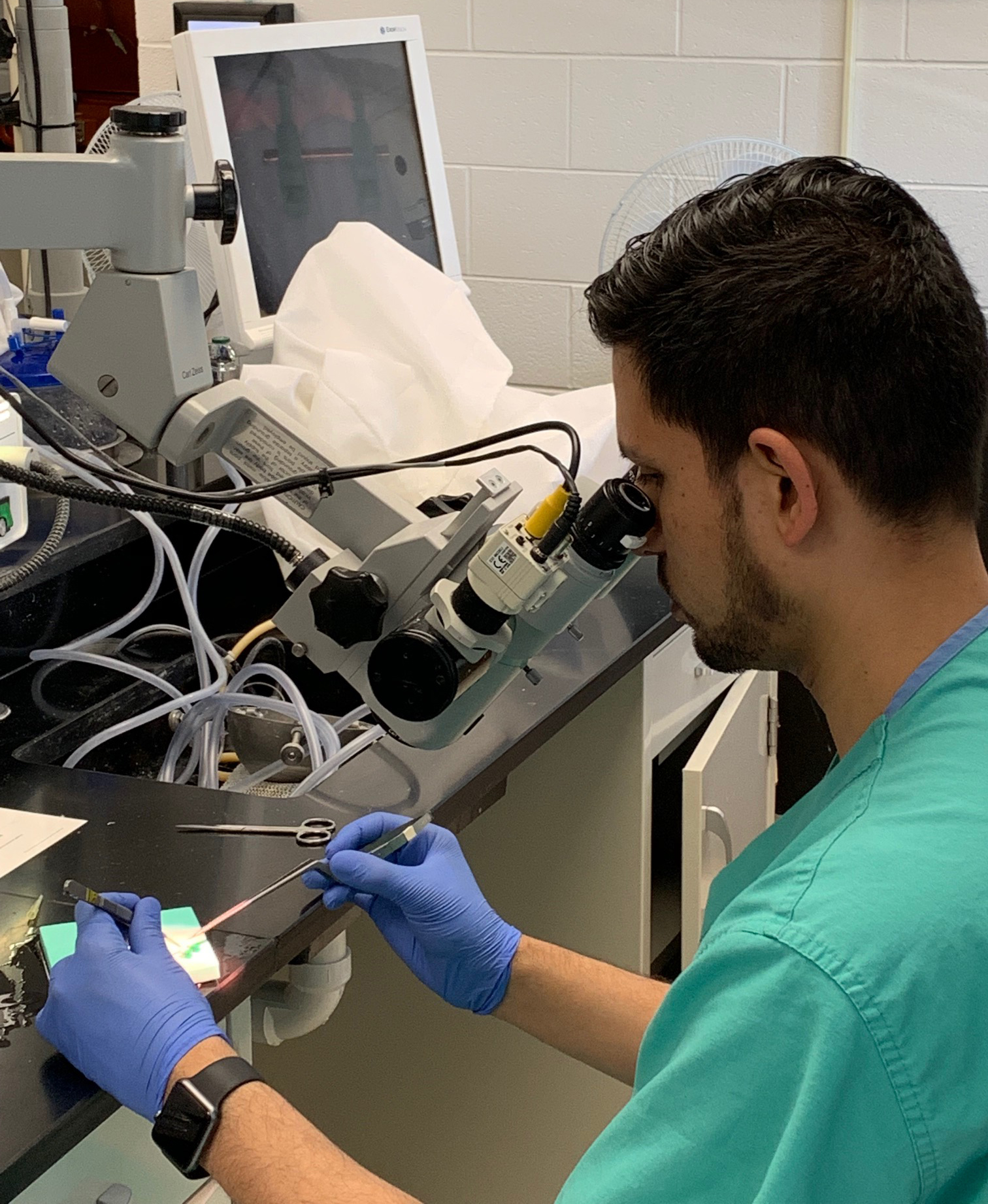 Residents participate in a variety of subspecialty rotations and have the opportunity to practice in a variety of settings, including:
A resident-run outpatient clinic on Tuesday afternoons that offers the opportunity for residents to staff operative cases with attending support and supervision
Skull base laboratory with cadaveric dissections every 6-8 weeks, as well as semi-annual visiting cranial and spine professorships with dissection courses
This helps support growth in clinical judgment and decision-making, as well as the development of surgical skills.
The majority of training takes place at Wake Forest Baptist Medical Center, which serves a population of more than 2 million people and includes:
Clinical Rotations
Our neurosurgery service organizes patients into three teams based on attending:
Cranial A (Drs. Fargen, JA Wilson, Wolfe)
Cranial B (Drs. Couture, Laxton, Tatter)
Spine (Drs. Branch, Hsu, Powers, Stevens, and JL Wilson)
Blocks on Neurosurgery service are spent rotating through each team.
PGY-1 (Intern) [28-day blocks]
6 blocks of Neurosurgery

Average 1 in-house call per week with PGY3/4

2 blocks of Clinical Neurology
1 block of Neuro ICU
1 block of Neuroradiology
3 blocks of General Surgery rotations
Interns are expected to take and pass Step 3
PGY-2 (Junior Resident)
12 months dedicated to Neurosurgery Service
Responsible for day to day management and care of service inpatients
Responsible for management of inpatient consults and follow-ups
Average 2-3 in-house calls per week
Opportunity for operative experience with senior residents
Written Neurosurgical Board Exam taken for self-assessment annually
PGY-3 (Junior Resident)
9 months of Neurosurgery Service

Primary coverage of operating rooms
Responsible for management of inpatient consults and follow-ups
3 months dedicated Endovascular Rotation

3 month Outpatient Clinic Rotation
Average 2-3 in-house calls per week
Written Neurosurgical Board Exam taken for self-assessment annually
PGY-4 (Research Year)
12 months of dedicated research time
Responsible for organization of Journal Clubs and quarterly Cadaver Labs
Average 1-2 calls per week

In-house until 10 pm and then home call (back up for the in-house PGY3)
Friday in-house call with PGY1

Written Neurosurgical Board Exam taken for credit
One day per week in OR
PGY-5 (Senior Resident)
12 months Neurosurgery Service

3 months dedicated Endovascular Rotation

Senior call Tuesday/Thursday with "chief" responsibilities during the day time including OR coverage logistics and consults.
PGY-6/7 (Chief Resident)
11 months Neurosurgery Service
1 month Gamma Knife/Peripheral Nerve Rotation
Responsible for day to day management of inpatient clinical service
Responsible for the overall management of the on-call team with participation in operative consults
Organization of weekly Tuesday AM academic conference

Subspecialties
Functional Neurosurgery
Residents are involved in the care, planning, and surgery of patients undergoing functional Neurosurgical procedures throughout the whole of their residency.
Deep Brain Stimulation
The Movement Disorders Center at Atrium Health Wake Forest Baptist has one of the most experienced DBS teams in the nation, as well as ranking in the top 3 busiest DBS programs nationally
In 1997, The Wake Forest team was among the first centers in the nation to perform DBS surgery
Epilepsy
Epileptogenic mapping in dedicated Epilepsy Monitoring Unit in coordination with Epilepsy Neurology Team in order to tailor focused resections
Wake Forest has been at the forefront of Laser Interstitial ThermoTherapy. Both Neuroblate and AutoLITT are used at our institution to ablate epileptogenic foci
First in the Southeastern U.S. to use MRI guided Laser Interstitial ThermoTherapy for the ablation and treatment of unresectable brain tumors, and one of 5 programs in the nation to participate in clinical trials.
Gamma Knife® Radiosurgery
Wake Forest Baptist Medical Center has the 4th most active Gamma Knife Radiosurgery center in the U.S. with one of the most experienced Gamma Knife treatment teams
479 cases performed in 2015-2016 Academic year
Gamma Knife Radiosurgery has been performed at Wake Forest since 1999 and we are one of the few medical centers funded by the National Cancer Institute to conduct brain tumor research.
Senior residents have a three-month Gamma Knife rotation combined with outpatient attending clinic
Pediatric Neurosurgery
Wake Forest Neurosurgery residents participate in the planning, management, and operations of all pediatric patients at the Brenner Children's Hospital throughout the whole of their residency rendering them able to care for the full range of pediatric neurosurgical pathology. The Pediatric Neurosurgery program features:
Two full-time fellowship trained Pediatric Neurosurgeons
Level I Pediatric Trauma Center
Full Pediatric facilities on campus including a Neonatal ICU
Active pediatric scoliosis referral center
Opportunities for Pediatric Neurosurgery Medical Missions
Peripheral Nerve
High volume of Carpal Tunnel Release, Ulnar Nerve decompression, peroneal nerve decompression
Partnership with plastic surgery and orthopedic surgery for senior level peripheral nerve experience
Spine
Wake Forest Neurosurgery residents are trained in the full scope of operative and nonoperative spine management throughout their residency. Throughout its history, Wake Forest has been a pioneer in both complex and minimally invasive spine surgery thereby offering its residents fellowship level training in new fusion techniques and scoliotic deformity corrections during their residency training period.
Faculty includes nationally and internationally recognized leaders in minimally invasive spine surgery along with complex deformity correction
Dedicated Spine Center featuring a multidisciplinary approach to patient care including surgeons, pain specialists, and therapy resources
Our faculty hold 13 U.S. and 11 European patents for the development of interbody fusion devices and operations
State-of-the-art surgical technique using image guidance and robotic assistance
Neurosurgical Oncology
Wake Forest Neurosurgery residents experience and have full access to the entire range of oncological management and research opportunities. As part of the NCI designated Brain Tumor Center of Excellence within the newly built Comprehensive Cancer Center tower, our residents are exposed to the full spectrum of Neurosurgical cranial and spinal oncological pathology.
Top Cancer Center in the State
Multi-disciplinary team includes Neurosurgeons, dedicated Neuro-Oncologists, and dedicated team of Neuro-Radiation Oncologists
Brain Tumor Tissue Bank Collection-available for resident research
One of 20 sites participating in a phase II randomized vaccine trial for GBM
Vascular Neurosurgery
Wake Forest Neurosurgery residents participate in the management and clinical decision making of all vascular patients and have direct, hands-on experience in both open microsurgical as well as neurointerventional treatment modalities.
Extensive opportunities in both open and endovascular planning, treatment, and post-operation/procedural care throughout residency
PGY 3 and PGY5 level dedicated 3 month cerebrovascular/endovacular rotations for more focused experience in the care of vascular patients
Joint Commission designated Comprehensive Stroke Center with AHA recognition for outstanding door to needle times and an incredible IV tPA rate of 64%
Telestroke Exceptional Achievement award, which increases our neurovascular catchment area
#1 in lowest stroke and craniotomy mortality in the UHC network
Endovascular and open surgical management of Carotid disease with recognized experts in the field in conjunction with Stroke Neurologists
Trauma
Wake Forest Neurosurgery residents and faculty manage the total spectrum of operative and non-operative cranial and spinal trauma management at a Level 1 pediatric and adult trauma center.
Specialization in both blunt and penetrating trauma
J. Paul Sticht Center on Aging and Rehabilitation: state-of-the-art rehabilitation facility on campus featuring a 12-bed dedicated Brain Injury Unit that provides a secure therapeutic environment allowing patients to move freely throughout the unit