Wake Forest School of Medicine's Sports Medicine Orthopaedic Fellowship Program prepares you to pursue an academic career in sports medicine through outstanding research and teaching experiences, coupled with extensive clinical experience with a wide variety of athletes.
Why Train at Wake Forest?
The Sports Medicine service at Atrium Health Wake Forest Baptist specializes in in the highest level of shoulder, elbow, hip, knee and foot/ankle care. This division is nationally known for its commitment to excellence in clinic care, translational research and education. Our fellowship program is led by an exceptional faculty of six subspecialty-trained, orthopaedic sports medicine surgeons at the Medical Center and surrounding healthcare facilities. You'll have access to state-of-the-art, digitally-integrated operating rooms, cutting edge surgical equipment and innovative regenerative medicine techniques to restore patients physical function.
Our Sports Medicine Fellowship Program draws on a rich heritage in sports medicine education, continuing a legacy begun by Gary Poehling, MD, Walton Curl, MD and David F. Martin, MD.
The program is based at Wake Forest Baptist Medical Center, a busy tertiary referral center in the Triad drawing a diverse patient population from a tri-state area. This campus also includes the Brenner Children's Hospital, the Wake Forest School of Medicine and the Medical Plaza - Miller, Sports Medicine - Stratford and Davie Medical Center. Fellows also gain experience at the undergraduate campuses of Wake Forest University, Winston-Salem State University and the University of North Carolina School of the Arts.
Resident Reflection from Darren Nabor, MD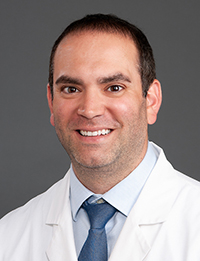 After interviewing for fellowships, Wake was one of the few programs that met all of the criteria I was looking for. I wanted a comprehensive surgical experience, coverage of high-level athletes and to live in an area that is comfortable and enjoyable. In additional to providing a comprehensive arthroscopic shoulder and knee experience, Wake also offers a robust hip arthroscopy and shoulder and uni-compartmental knee arthroplasty opportunity. It was very apparent from the day I interviewed—and even now—the staff are extremely supportive of the fellows and develop a relationship that will last long after fellowship.
Covering Atlantic Coast Conference (ACC) sports has been a great experience. Football and basketball are the primary focus, but you also will have the flexibility to cover other sports if desired. The staff really respect your time in fellowship and want you to get the most out of the coverage experience without detracting from the operative/clinical experience.
Lastly, living in North Carolina has been fantastic. Winston-Salem is a fun, rejuvenated city full of great restaurants and has plenty of opportunities for entertainment. Being a couple hours from the beach or the mountains is a great way to spend free weekends.
---
Program Aims
To train well-rounded orthopaedic sports fellows who are fully prepared to enter either an academic or private practice after graduation
To give fellows broad surgical exposure from simple to complex conditions in all patient populations including pediatric, sports traumatology and hip preservation
To provide exposure to the following procedures, including but not limited to the following:

Knee arthroscopy
Anterior cruciate ligament and multiple ligament knee reconstruction
Meniscus repair and transplantation
Cartilage restoration
Simple and complex rotator cuff management
Shoulder instability surgery
Hip arthroscopy with labrum and cartilage restoration
Elbow ligament repair and reconstruction
Training in outpatient and surgical use of therapeutic biologic interventions

To offer training room and sideline experience for recreational through elite athletes across a multitude of sporting activities
To facilitate multi-disciplinary exposure to sports medicine care, including collaborative educational opportunities with musculoskeletal radiology, primary care sports medicine and allied health providers
To provide a collegial mentorship/apprenticeship model to foster early professional growth with independent decision-making and surgical autonomy
To develop fellows' appreciation of inter-disciplinary and translational research by fellow participation in ongoing research meetings, projects and by critical review of published literature