Clinical Sites
One of the benefits of Wake Forest Department of Plastic and Reconstructive Surgery is the facilities. All services are provided at the main Wake Forest Baptist Health campus. Wake Forest is in the process of expanding its service area, and we currently have outpatient surgical centers in nearby towns (10-15 minute drive), and separate plastic surgery offices in Greensboro and High Point.
However, all call shifts only cover the Wake Forest main campus in Winston Salem.
Night Float/Call Schedule
The inpatient plastic and reconstructive surgery service splits hand trauma call with orthopedics by half-months and splits face trauma call with otolaryngology by half-months. This gives us half a month off of all trauma call (except hand and face burns) and the other half of the month on both hand, face and burn trauma call. For example, plastic and reconstructive surgery service is on hand and face trauma call the first half of the month from December 2019 to November 2020 and not on trauma call the second half of those months. In December 2020, we will switch and be on hand and face trauma call the second half of each month.
Lower-level residents are always supervised by an upper-level resident as well as a chief resident. In the same manner, upper-level residents are usually "covered" by a lower-level resident who fields new consults and floor pages overnight.
Currently, there is no dedicated night float system, but efforts are made by the day coverage team to get the call team from the previous night home early the following day.
Cosmetic Experience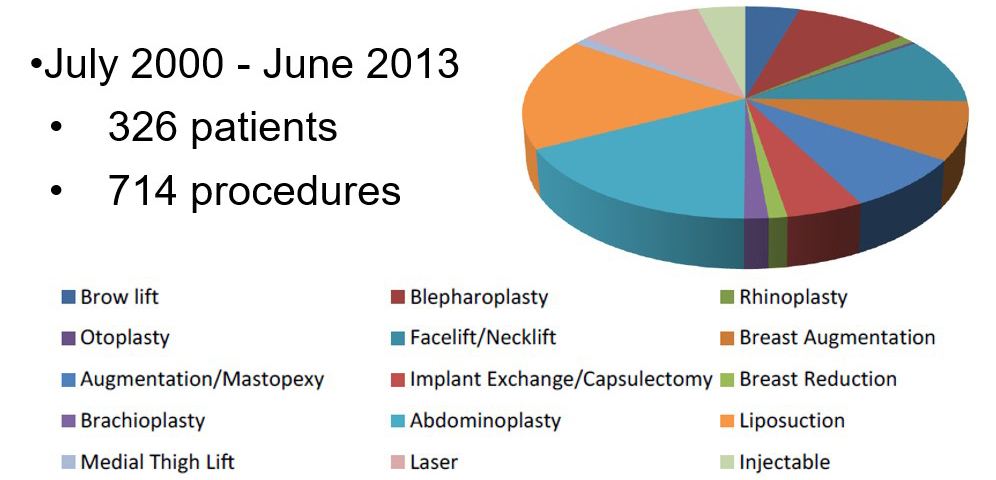 Benefits/Facilities
Free parking in employee deck, swipe in with badge
Meals

On-call meals provided
Breakfast = $7.50 per call shift
Dinner = $9.15 per call shift

Ardmore cafeteria (6:30-10 am; 11 am-4 pm)
Au Bon Pain (24/7)
Chick Fil A (closes at 10 pm; Saturday 8 pm; Sunday closed)
Subway (closes at 10 pm; Saturday and Sunday 8 pm)
Camino Bakery (6 am-5 pm; Saturday and Sunday closed)
Educational funds

PGY-1: Grabb and Smith's Plastic Surgery; digital camera
PGY-2: Loupes, Apple iPad
PGY-3: Mission trip
PGY-4: $400 book stipend
PGY-5: $400 book stipend
PGY-6: Meeting of your choice; mission trip
Annually: Holiday book set

Travel to any meeting accepted for oral presentation
AOCMF and comprehensive hand courses
Mission Trips
Although the recent clinical expansion has allowed us to reach out into our local, state and regional communities; we, as a department, feel an obligation to help the underserved in other countries. In the last 12 months, we have organized and participated in four operating mission trips funded by an endowment created by our program for these international endeavors. Our activity in developing nations is recognized and respected locally. It enhances our reputation in this community and is another reason for the relationship our department's surgeons have with this town and region.
Recent trips have included Moldova, Bolivia, Togo, Kenya, Dominican Republic, and Vietnam.