Clinical Rotations
During the first 18 months of residency, plastic and reconstructive residents rotate on a variety of general surgery services. Rotations on sub-specialty services include:
ENT
Mohs surgery
Plastic surgery service
Orthopedics
Example Block Schedules
Plastic Surgery Service
Residents spend a total of two months during the second year in the general surgery private practice setting at nearby Forsyth Medical Center, as well as one month in a plastic surgery private practice and one month on an oculoplastic rotation.
The last two years are spent entirely on the plastic surgery service. Residents receive vast clinical training in reconstructive surgery, including:
Breast reconstruction
Burn reconstruction
Oncologic reconstruction
Hand surgery
Microsurgery
Pediatric and craniofacial surgery
While on service, a resident's time is divided equally between both inpatient and outpatient operative experiences. Plastic surgery residents are responsible for a resident reconstructive clinic supervised by the faculty.
Chief Resident Cosmetic Clinic
The chief year at the School of Medicine includes a chief resident clinic that has been in continuous operation for more than 20 years. This clinic occupies a specific and protected period of time encompassing one full day of each week during the chief resident year. The day is divided equally into clinical and operative segments, run by the two chief residents in each year's class.
Patients are not assigned individually to a resident but are instead treated as shared patients throughout the process. On the initial day of consultation, the chief residents interview patients and obtain preoperative photographs, then determine operative plans in accordance with the patient's wishes. Members of the faculty and attending surgeons help review and finalize the operative plans. During the procedure, intra-operative attending input and aid is readily available when requested.
Operations Logs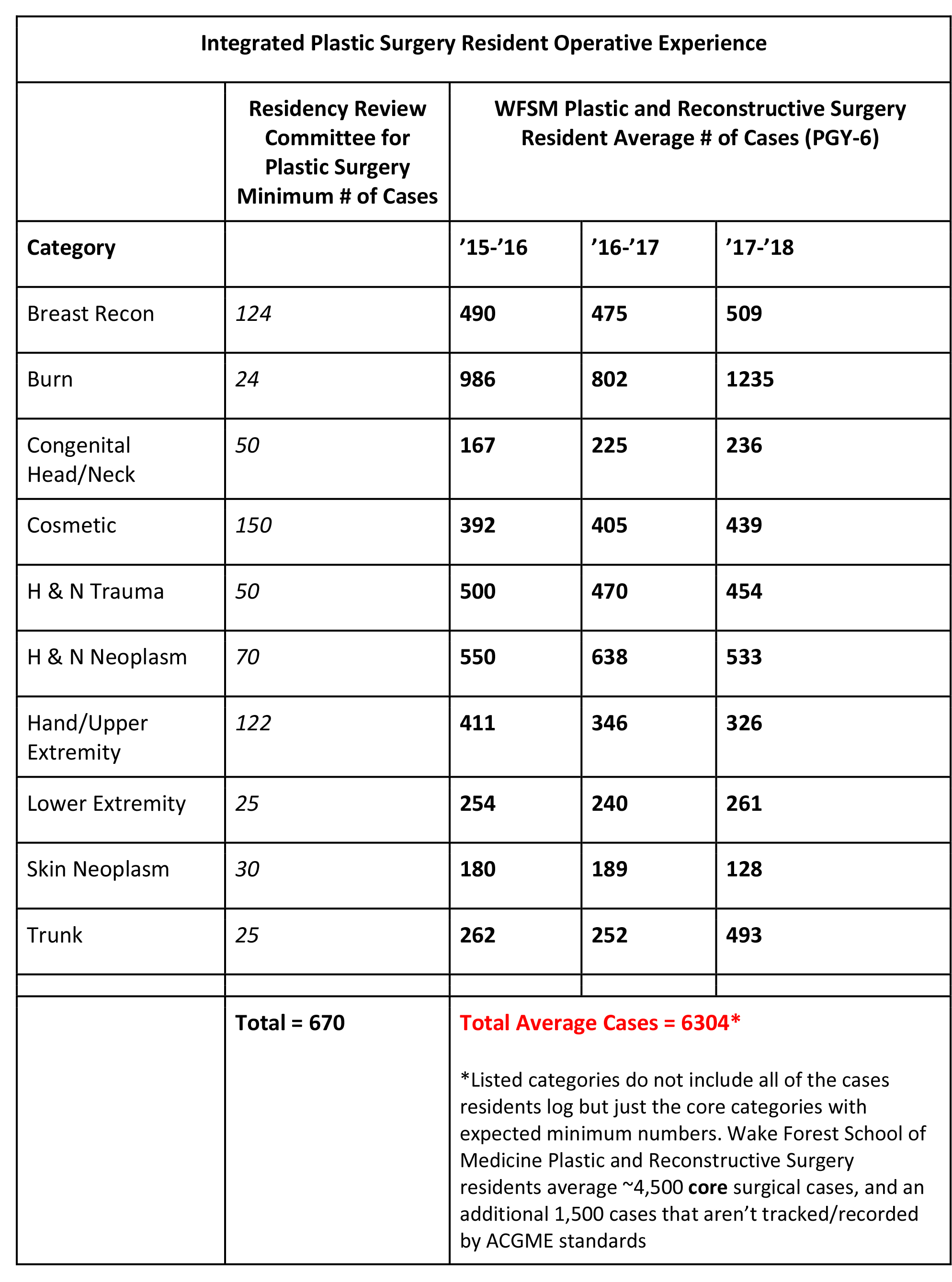 Conferences and Didactics
Our residents are closely integrated with the plastic surgery department through involvement in:
Monthly journal clubs
Visiting professor lectures
Weekly core curriculum conferences (Wednesday morning)
Weekly faculty or guest lecturers (Wednesday morning)
Monthly anatomic dissections
Weekly hand conference (Monday morning)
Weekly research conference (Wednesday evening)
Yearly mock oral exams
Yearly in-service exams
Research Opportunities and Presentations
We encourage residents to take advantage of the many opportunities available in both basic science and clinical research throughout the six years of training.
During the second and third year, residents get three months of protected time for the pursuit of research interests. Many of these projects develop from ancillary interests during the first three years and include all arenas of plastic and reconstructive surgery including, but not limited to, the evaluation and implementation of new techniques and devices.
Residents are required to participate in the annual resident research day, submit one abstract to a regional or national meeting each year, and present a research project at a national meeting prior to graduation.