The Plastic and Reconstructive Surgery Residency program at Wake Forest School of Medicine accepts two or three applicants per year into a six-year integrated program. It is an ACGME-accredited program.
The first 24 months include a diverse collection of rotations centered on understanding general surgery and the surgical sub-specialties, while the final four years are dedicated to clinical training in plastic and reconstructive surgery.
Why Train at Wake Forest?
Some of our program highlights include:
We're one of the oldest integrated residency training programs in the country and have been fully integrated for more than 20 years.
We have a high success rate on the written and oral exams for licensure.
We have a high operative volume with graduated autonomy. Our chief residents routinely graduate with more than 6,500 index cases each.
We provide residents opportunities to do a variety of medical mission trips, with recent destinations including Vietnam, Togo, Moldova and Bolivia.
We provide support for high quality clinical and bench research while in residency.
We have an independent chief cosmetic clinic with the opportunity to perform independent procedures throughout chief year, while having faculty available for support.
We provide annual stipends for additional educational items, including a camera, iPad, loupes and books.
Program Goals
Goals of our program include:
To graduate highly competent technical plastic surgeons who have a passion to excel for their patients
To teach the breadth and depth of plastic surgery, and provide graduated autonomy in the Operating Room so when residents finish their training, they feel comfortable with anything they may encounter in the emergency department or in clinic
To provide a thoughtful analysis of the literature, and teach surgeons how to continue lifelong learning
To provide a supportive environment in which everyone is happy to be training in, making them feel like family among the residents and faculty
Message from the Program Director and the Chair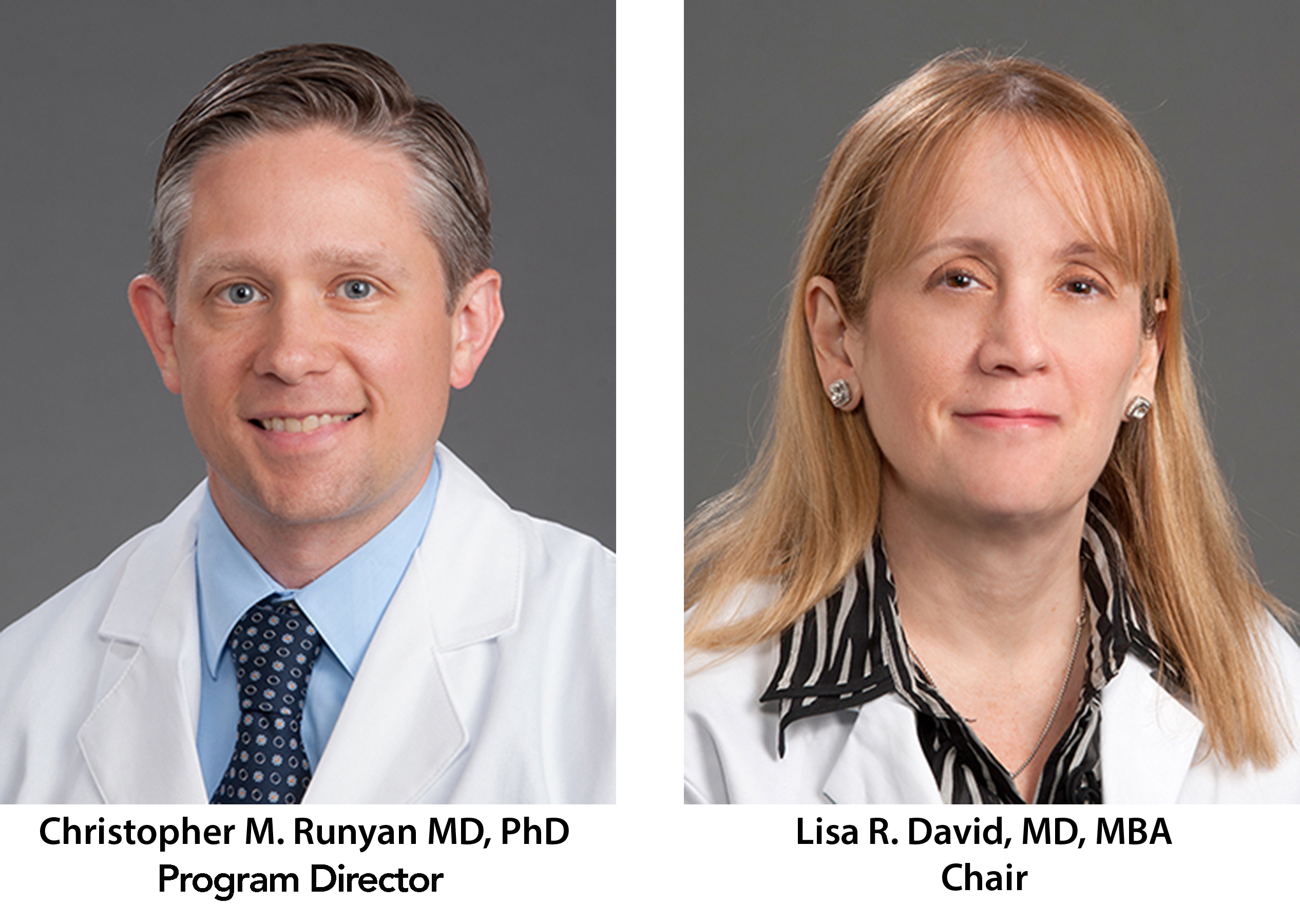 Thank you for your interest in the Wake Forest Department of Plastic and Reconstructive Surgery integrated residency program. Formal Plastic Surgery residency training began here in 1973; however, the modern program began in 1988 when Drs. Louis Argenta and Malcolm Marks joined the faculty from the University of Michigan. Under Dr. Argenta's leadership, Plastic and Reconstructive Surgery became its own department, one of the first in the country. The residency became fully integrated in 2000 and has accepted two residents per year until an expansion to include a third resident every other year in 2020.
Our program has a legacy of excellent clinical training, stability, international outreach and innovation.
Clinical training
We believe that nothing is as effective for resident training as heavy operative experience with graduation to autonomy under appropriate supervision.
We do not train fellows as we believe doing so would dilute the resident experience.
The operative volume of our graduating chiefs is within the top 5% in the country.
This volume spans the full range of plastic surgery and is highlighted by an established and robust chief cosmetic clinic, with more than 50 cosmetic cases per year on average.
Stability
The senior half of the faculty averages more than 25 years of clinical practice.
There has been a very low rate of faculty turnover and a high rate of faculty satisfaction. This is a reflection of the family-friendly environment of the department and livability of our community. Winston-Salem has beautiful weather, low cost of living, great public education opportunities, and easy accessibility to beaches and ski slopes.
International Outreach
In the spirit of Dr. Argenta's passion for international medical outreach, the Department established an endowment to support faculty and residents in regular Plastic Surgery mission trips.
Most faculty travel internationally each year to continue to build on established relationships to train Plastic, Maxillofacial and Neurosurgical specialists. Ongoing partnerships exist with surgeons in four continents, in the countries of Bolivia, Togo, Moldova and Vietnam.
Residents are supported in participating in at least two trips during their training. These missions are fully funded and ACGME-approved.
Innovation
Few would dispute that the most impactful invention to arise from a Plastic Surgery lab is that of negative pressure wound therapy. The invention of the "wound vac" by Dr. Argenta and Dr. Michael Morykwas has provided a significant model and foundation for other clinical and translational advances from our department.
Within Craniofacial surgery, our faculty have led in the understanding and treatment of positional plagiocephaly, as well the treatment of craniosynostosis with dynamic expansion using spring-assisted surgery.
We are a leading center for application of new technologies for wound and burn reconstruction.
We have a large basic and translational science laboratory, with growing strengths of adipose tissue therapies and reconstruction utilizing tissue-engineering approaches.
We hope to attract candidates who offer diverse experiences and qualities and who resonate with our legacy. Our ongoing mission is to provide our residents with excellent clinical training, as well as to have opportunities to contribute in greater ways to our specialty and to the world.






Christopher M. Runyan, MD, PhD
Program Director
Integrated Plastic Surgery Residency


Lisa R. David, MD, MBA
Professor and Chair
Department of Plastic and Reconstructive Surgery