To ensure our residents become well-rounded orthopaedic surgeons, the residency program focuses on three main areas: clinical rotations, conferences and didactics and research.
All residents will rotate through each subspecialty twice during their time at Wake Forest University School of Medicine, once as a junior-level resident and once as a senior-level resident. This allows our residents to be adequately exposed to all subspecialties prior to determining which they may wish to pursue for fellowship. Additionally, seeing a subspecialty as a senior resident provides new perspective and insight through the previous year's training, enhancing the experience and optimizing educational benefit.
Your first year of residency will be spent as a categorical orthopaedic surgery intern with rotations including:
General surgery
Emergency medicine
Plastic surgery
Clinical orthopaedic surgery
Orthopaedic research/physical medicine and rehabilitation
Research
Post-graduate years two through five are spent exclusively in orthopaedic surgery on various subspecialty services, including:
Pediatric orthopaedic surgery
Orthopaedic oncology
Foot and ankle surgery
Orthopaedic trauma
Total joint arthroplasty
Sports medicine
Hand, upper extremity
Microsurgery
Spine surgery
Each resident is eligible to sit for the American Board of Orthopaedic Surgery certification exams after successfully completing the program.
Clinical Rotations
The Orthopaedic Surgery Residency program at Wake Forest University School of Medicine treats patients from western North Carolina and surrounding states at a variety of locations.
Most clinical rotations occur at Wake Forest Baptist Medical Center, a tertiary care center with Level I adult and pediatric trauma centers. The pediatric orthopaedic rotation occurs at Brenner's Children's, which is a part of the main campus in Winston-Salem, as does the orthopedic oncology rotation with our freestanding NCI-designated Comprehensive Cancer Center.
Rotation schedule for PGY-2 through PGY-5 year is as follows: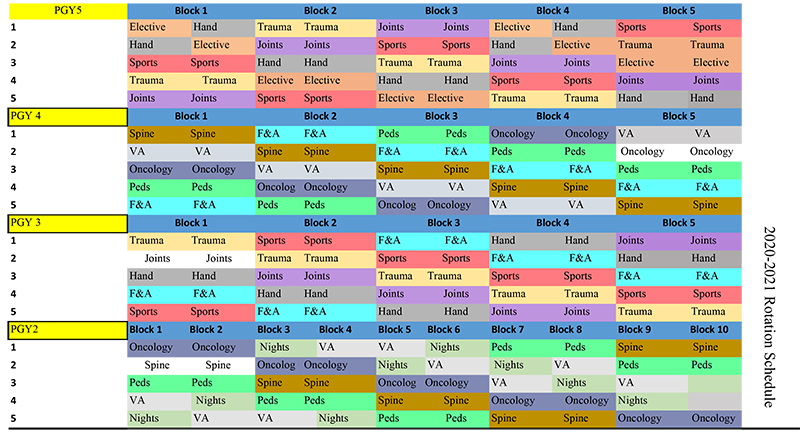 In the last year of training, our residents have an elective rotation where they are allowed to work with the department to focus their training and interests. Many of our residents take advantage of this rotation and set up clinical experiences with local private practice physicians to see the differences between academic and private practice. Additionally, some have done international rotations while others focus on research. 'Mini-fellowships' within the department are also sought to gain further knowledge within a sub-specialty or area of interest such as brachial plexus, shoulder or joints.
Below is a list of the locations a resident can expect rotations to occur: