The Wake Forest School of Medicine's Virtual Microscopy Core facility houses state-of-the-art digital technology to create virtual images of glass slides for teaching, research and archival use. The images can be used by individuals or shared by groups and can be incorporated into teleconferences.
"This technology is replacing the need for people to use a microscope to view slides," said Shadi Qasem, MD, past director of the department's Virtual Microscopy Core (VMC), a virtual imaging lab that provides services across our institution as well as to external clients. "Physicians, researchers and students can now view slides wherever they have a computer or mobile device and an Internet connection."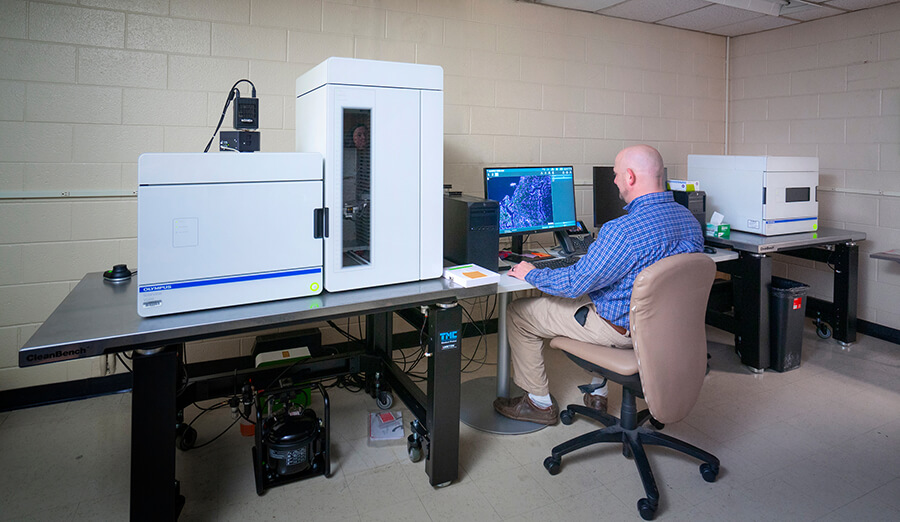 Virtual microscopy offers unprecedented slide-sharing possibilities, makes archives searchable, alleviates physical storage problems, and eliminates breakage or deterioration from aging.
The VMCore hardware includes the Olympus VS-110 and VS200 Virtual Imaging Systems and a Hamamatsu HT NanoZoomer.
Software currently available includes:
The VMC lab features four state-of-the-art scanners to convert slides into digital images. Two are capable of handling high-volume projects, such as clinical trials with many subjects. They can scan 200+ slides unattended. The other two scanners offer greater magnification and higher resolution to produce publication-quality images. The lab provides free viewing software, and both systems allow the addition of annotation in the form of text, circles and arrows to create presentations faster and incorporate images into PowerPoint.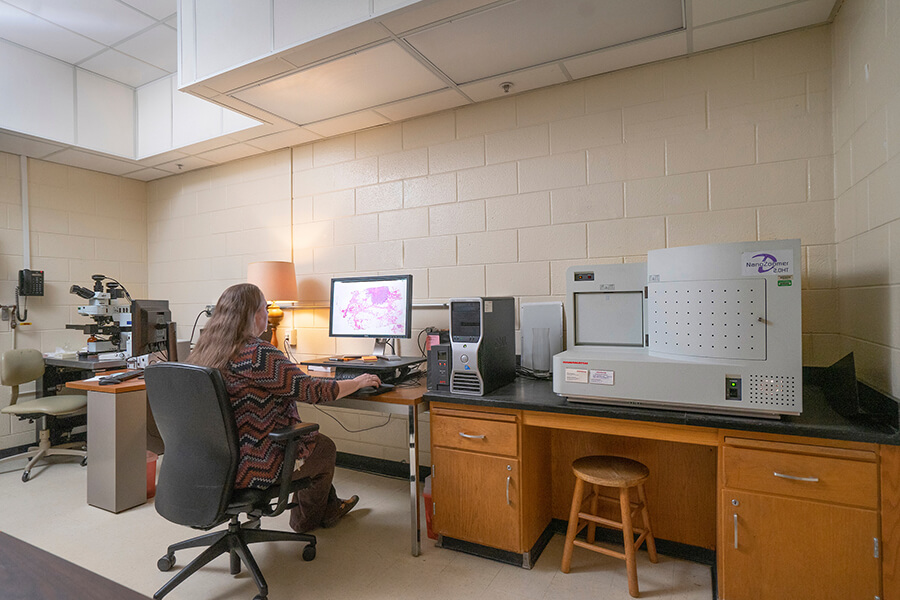 For researchers, the VMC's high-resolution equipment allows them to perform measurements and quantitative analysis more efficiently, and to capture images with the clarity, color and pixel size required by scientific journals. Cells can also be grown on removable chambered slides, fixed and then cover-slipped. The slides can be purchased from Sigma-Aldrich.
The VMC also serves clients outside the Medical Center, such as attorneys who rely on forensic pathology evidence in criminal and civil cases. Virtual microscopy ensures that all parties involved in these cases see the exact same evidence.
Image Transfer
Due to the size of resulting image scans, the core provides several transfer methods.
Internally, we have a secure shared network drive.
Externally, we can use an FTP secure server, USB external drives and CD/DVD media.
For out-of-town customers, slides and images will be returned via traceable delivery system (FedEX or UPS) at the expense of the requestor.
Digital Slide Imaging Request
Please submit a separate form for each unique imaging combination that should be applied to a set of slides. Submit a request via iLAB, the core's service request management tool, choosing the scanning parameters for the slides. Contact the core personnel for instructions in coordinating receipt of the slides; if unable to hand deliver.