Welcome to the Department of Pathology website. We are a full service academic pathology department consisting of Anatomic Pathology and Clinical Pathology divisions as well as our basic science Comparative Medicine section. We are the clinical and academic hub for pathology in the Atrium Health Wake Forest Baptist system and provide Pathology service line and academic leadership for the Atrium Health Enterprise. With over 50 faculty members here on the Winston-Salem campus, our expertise spans the spectrum of subspecialties in Pathology and Laboratory Medicine. Last year we performed over 6.4 million billable tests, accessioned over 43,000 surgical pathology cases and 22,000 cytology cases. Our forensic pathologists performed approximately 1900 autopsies. Our Pathology residency and fellowship training programs, along with our training programs in Comparative Medicine, are educating the next generation of pathologists, veterinary pathologists, and researchers. True to our mission, the Department conducts clinical, translational and basic research. Extramural funding totals approximately $13.2 million in grants and contracts. Department faculty authored or coauthored over 140 peer-reviewed manuscripts, many in high impact journals. We are committed to providing high quality, subspecialty pathology and laboratory medicine services to our patients and clinical colleagues. We innovate through research and development, and train students, technologists, physicians and scientists. We are a unique Department that, in addition to traditional activities and responsibilities of an academic Pathology Department, is an integral part of a larger health system Pathology and Laboratory Medicine service. This allows us to leverage our scale to improve clinical services and academic activities.

Please enjoy exploring our website. The below is an excerpt from a recent newsletter to give you an idea of current events within the Department. Please feel free to contact us should you have questions or wish to learn more about us.
The View from the Chair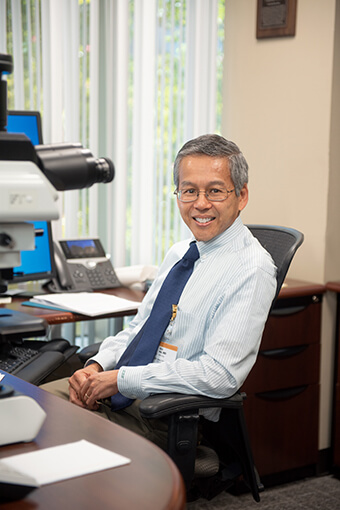 Happy New Year! It is the start of the new academic year and we welcome our first year AP/CP residents Dr. Aniqa Chowdhury, Dr. Joshua Cox-Jones, Dr. Daniel Katz, Dr. Grant Kozeny and Dr. Emily Wilson. Our incoming clinical fellows, Dr. Robert Palmer, Dr. Patrick Morrow and Dr. Heath Blankenship are no strangers to the department, having just graduated from our residency program. In addition, please welcome our new T32 research fellows Dr. Hannah Ruetten and Dr. Christina Stevens. We are fortunate to have all of these new residents and fellows join our department as we look forward to another successful academic year. Training the next generation of pathologists and scientists is one of the main reasons we come to work every day and is a great honor and responsibility. The recent AP/CP residency farewell ceremony brought this home to me, as I witnessed the launch of residents and fellows we have trained. Welcome to our new trainees, and congratulations and best wishes to our recent graduates!
Speaking of education, I would like to call to your attention the educational CME/CE course that we have been coordinating. It is scheduled for October 21, 2023 at the Koury Convention Center in Greensboro and is entitled "Imagine 2023 and Beyond – Taking Your Laboratories into the Future". This is a joint effort with shared sponsorship by the Department of Pathology at Atrium Health Wake Forest University Medical School, Atrium Health Charlotte and Carolinas Pathology Group (CPG), Duke University, East Carolina University and University of North Carolina. CE/CME credits will be available. Featuring course faculty from all sponsoring institutions, the course is aimed at clinical laboratory scientists, pathology residents/fellows, pathology assistants and practicing pathologists. Using a case-based approach, panel discussions and a multi-track simultaneous session format, we will cover topics relevant to anatomic pathology, forensic medicine and laboratory medicine, as well as laboratory and workforce management. Thank you to Dr. Lininger, Dr. Rosenthal, Dr. Chad Livasy, Gary Catarella, staff from South Piedmont AHEC, and leaders from Duke, ECU and UNC for helping me organize this event.
In other news, departmental and CPG anatomic pathologists are embarking on a project with Wake Forest Institute for Regenerative Medicine (WFIRM) and Epredia, a precision cancer diagnostics company. Our goal is to test a high volume, digital whole slide scanning system to assist in performing primary diagnostic reads. The field of anatomic pathology is undergoing a digital transformation. Participating in this study will provide us with experience and expertise as we begin our journey in transitioning to digital sign out and application of artificial intelligence tools to improve accuracy, efficiency and quality in our AP diagnostic services. This study will involve Atrium Health Enterprise pathologists from Wake Forest Baptist, High Point Medical Center and Carolinas Medical Center in Charlotte. It is worth pointing out that our Atrium Health Enterprise Pathology structure makes this agreement and study feasible. We were able to offer multiple pathology practice settings (academic and community) with an innovation partner in WFIRM to engage with Epredia, one of the world's leading suppliers for anatomic pathology laboratories. My thanks to Frank Marini at WFIRM, Scott Jaffe, Dr. Michael Cohen, Dr. Dan Coldren, Dr. Kim Stogner, Dr. Anne Oaks, Dr. Chad Livasy, and Dr. Ned Lipford for helping complete the study design and negotiations!
Our first foray into digital pathology will actually occur next month as we pilot "virtual" immunohistochemistry (IHC) using our existing whole slide scanners to return IHC results digitally to our pathologists at Wilkes and High Point Medical Centers, saving transport time and enabling faster turn-around times. Dr. Lisa Kim Shapiro has been working with pathologists at these sites to complete validation studies. You will see continued adoption of digital pathology and artificial intelligence tools in the department. Look for more progress in coming issues of this newsletter.
Finally, I would like to recognize a few of our faculty. Our own Dr. Greg Pomper was recognized by the Board of Governors of the College of American Pathologists (CAP) with a 2023 Pathology Advancement Award for his outstanding contributions to the CAP Essentials of Laboratory Management Advisory Group. This group developed a multi-year educational program to teach early career pathologists essential laboratory management concepts. I also would like to congratulate Dr. Emmanuel Fadeyi and Dr. Giovanni Insuasti-Beltran for their recent promotions to Professor and Associate Professor on the Clinician Scholar track, respectively. Congratulations as well to Dr. Matt Jorgensen, who was promoted to Professor on the Research Scholar track. These promotions are career milestones that recognize their accomplishments in clinical service, education, and research and speaks to their dedication to academic Pathology and Laboratory Medicine. Well done!