At this year's AAPA conference, first-year student Wylder Fondaw may have stumbled upon an unconventional networking technique.
"I was an ultrasound model," he said.
For a few hours during the conference, Fondaw played the part of a patient for three emergency room PAs who were demonstrating ultrasound techniques to PA students. So he got a lot of face time with some people in his chosen profession.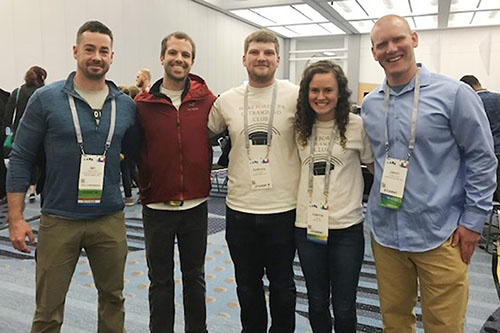 "In between demonstrations, I would just chat with them," recalled Fondaw. He added that the extended time allowed him to ask questions and learn in a way that traditional networking wouldn't permit. "It wasn't just shaking hands in passing, but really talking with them." Because he's interested in emergency medicine as a specialty, the experience was valuable for Fondaw.
Fondaw was part of a large contingent of students and faculty from Wake Forest PA program who attended the American Academy of PAs annual conference (AAPA) in Denver, May 17-23, 2019. As the largest PA conference in the country, this event presents a unique opportunity for students to learn, network and become more involved in the profession.
The leadership bug
Hosting more than 10,000 people, the AAPA conference is the PA profession's premier annual event. "It's the one time each year that all PAs have the opportunity to gather in one place," said Gail Curtis ('81), MPAS, PA-C, chair of the Department of PA Studies.
According to Curtis, attending the conference is particularly important for students because they can mingle with practicing PAs, students, professors, and preceptors from around the country. "It helps them begin to establish their identities as PAs," she said.
Geoff Jones, a classmate of Fondaw, enjoyed the opportunity to network with his colleagues. "It was really cool to be surrounded by thousands of PAs and just to be in that environment," he said. "It was really high-energy."
But the AAPA conference is more than just a big networking event where students and PAs from around the country can exchange email addresses. It's where leaders in the profession meet to discuss policy and the future of the profession.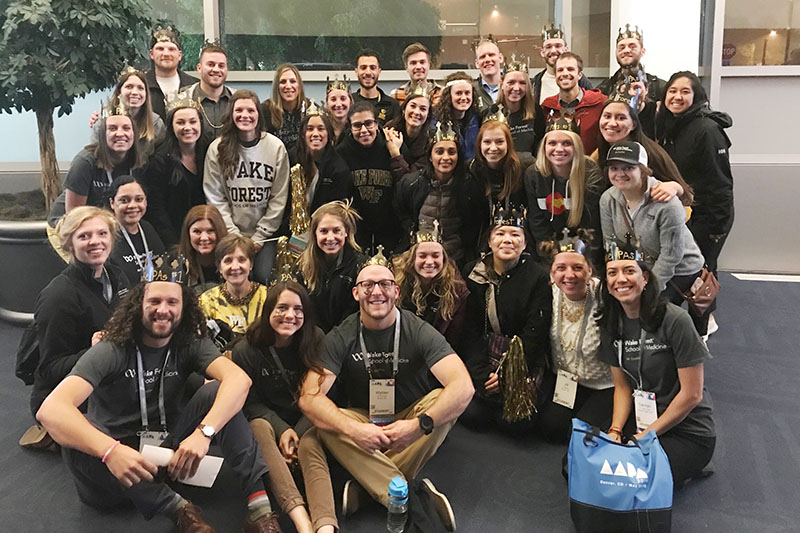 Exposing students to leadership activities is an important part of why the Wake Forest PA program sets aside funds to send students to the conference. "One of our missions is to create future leaders for the profession," added Curtis. "Sending students to the national conference is critical to developing their leadership training."
At the conference, students have the opportunity to witness how the profession is governed and how its future is shaped. "Students can sit in on House of Delegates meetings, and see the leaders of the profession talk about important issues," Curtis said. "They can even get involved themselves through the Student Academy Assembly of Representatives."
Because leadership is central to the Wake Forest PA program, it doesn't take much to get students excited about it.
Katey Robinson, another student who attended the conference, was inspired by her experience. "Just being around people who were so passionate about advocating for their profession," she said, "gave me the bug to see what I could do to get involved."
Formative experience
For first-year students, attending the AAPA conference is their first real exposure to the world of practicing PAs. "You're completely surrounded and immersed," said Curtis. "There are PAs everywhere."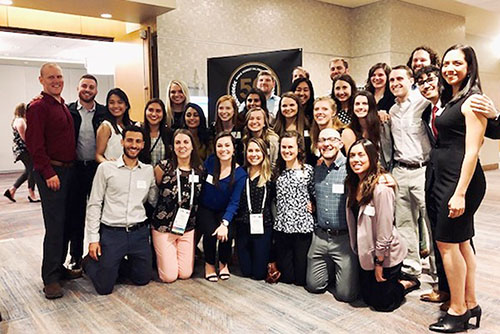 An important part of that world is continuing education. The conference offers plenty of opportunities for that, as PAs often use the event to attain continuing medical education (CME) credits.
Taking CME classes is not a concern for current students, but Fondaw said it was still beneficial to be in that learning environment. "There is a big community of PAs, and that they're really passionate about learning and continuing to share," he said.
After sitting in on some CME lectures, Fondaw left impressed by the level of information that was being shared. "It was exciting to get cutting-edge information from practicing PAs."
In addition to the formal CME lectures, the students were also able to take advantage of the informal learning opportunities to conference offers. They were able to watch and participate in programs like the National Medical Challenge Bowl, a medical knowledge competition for students, as well as the Ultrasound Competition.
But more than anything, the students said they benefitted from just being in the environment, getting exposure to the PA profession on a national scale and learning from their peers.
"It gave us an opportunity to see just how fun it can be to continue learning," said Robinson. "To build connections, learn and see what's out there for us."
"I think it's important for any PA student to go to conferences like this, because we're exposed to so much," agreed Jones. "It was a formative experience I'll carry with me throughout my career."