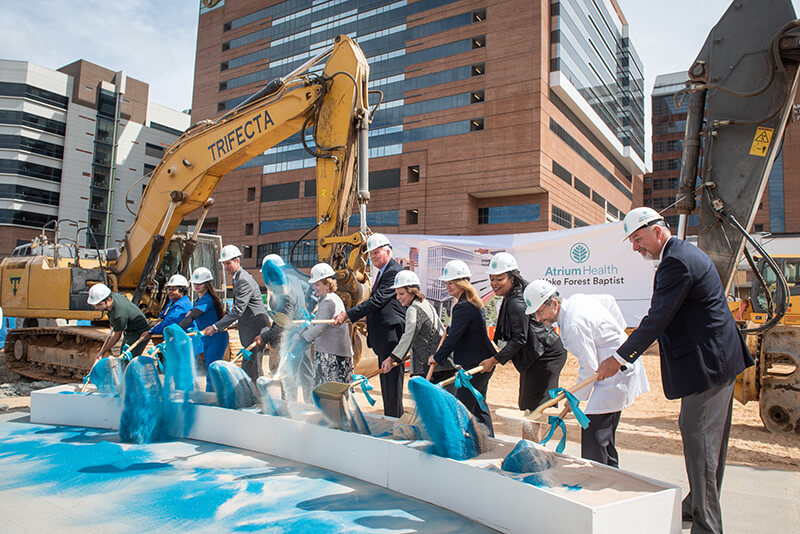 Construction on a new $450 million care tower on the campus of Atrium Health Wake Forest Baptist Medical Center began in Winston-Salem with a groundbreaking ceremony in September.
The care tower will include an upgraded emergency department, state-of-the-art operating rooms and enhanced adult intensive care units. In addition, larger and brighter rooms with more natural light and increased privacy, along with new outdoor green space, will help promote wellness and healing and reduce stress on patients, their families and staff. The tower also will present new and improved opportunities to educate and train medical professionals.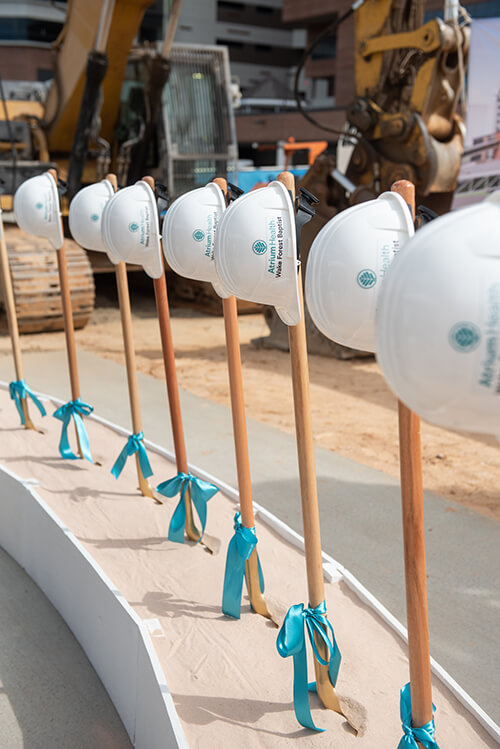 The project is the first in a series of significant investments in the Triad region resulting from the strategic combination that created Atrium Health Wake Forest Baptist. The care tower is expected to be fully completed in 2026.
"Our new care tower is not just a brick-and-mortar investment in Winston-Salem, it's a reflection of our commitment to the entire Triad region and part of a series of investments that will benefit both patients and the broader community," said Eugene A. Woods, chief executive officer of Advocate Health.
"We are proud to be a member of the Winston- Salem community. And through our $3.4 billion investment into the region, we will not only provide excellent clinical care, but also help drive the local economy by creating more jobs, bringing training to the next generation of medical professionals and reinforcing Winston-Salem as the destination for care in the country."
Atrium Health Wake Forest Baptist Medical Center is the region's only Level I adult trauma center and Level I pediatric trauma center and one of only two burn centers in the state. Wake Forest University School of Medicine is a recognized leader in experiential learning and groundbreaking research and is the academic core of Advocate Health.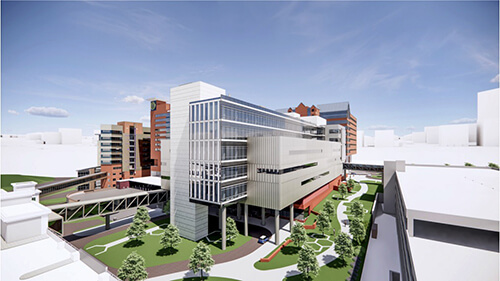 "As the only academic learning health system in the region, patients come to us from near and far to receive care from some of the most renowned faculty and dedicated staff in the country," said Julie Ann Freischlag, MD, FACS, FRCSEd(Hon), DFSVS, MAMSE, chief academic officer for Advocate Health, chief executive officer for Atrium Health Wake Forest Baptist and executive vice president for health affairs for Wake Forest University.
"This new facility will allow us to enhance our clinical capabilities, build on our expertise, expand our educational and research opportunities and continue to attract the best and brightest learners, who are the next generation of health care professionals."