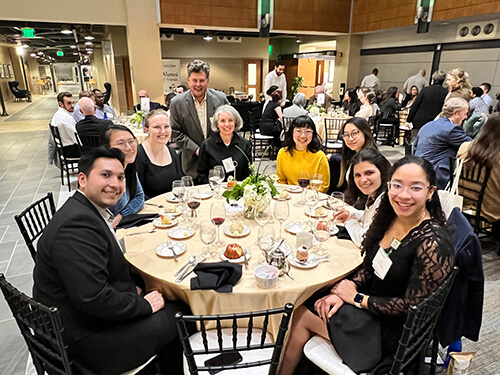 What do an OB-GYN, a vascular surgeon, an anesthesiologist and a family medicine physician have in common?
On Feb. 20, four Wake Forest University School of Medicine alumni representing those specialties gathered to share their experiences in their chosen fields with third-year medical students in the inaugural Medical Alumni Association (MAA) Career Symposium.
Alumni offered words of advice and encouragement to the next generation of providers. Participants, above from left, were:
L. Carter Gray, MD '99, an OB-GYN with Arbor OB-GYN in Raleigh, N.C.
Kakra Hughes, MD '97, PhD, professor and chief of vascular and endovascular surgery at Howard University and Hospital in Washington, D.C.
Mary Elizabeth Lyon-Smith, MD '77, now retired after a career in family medicine, spent mostly in the Sparta, N.C., area.
R. Paul Rieker Jr., MD '97, MBA, anesthesiologist and corporate medical director for North American Partners in Anesthesia in Raleigh.
MAA President Thomas B. West, MD '81, and the Office of Philanthropy and Alumni Relations envisioned the event as a way to connect alumni with third-year students. The goal was to introduce the students to various specialties and to provide advice, support and encouragement at a pivotal moment in their medical school journey.
"This is a critical time in the lives of our medical students where they have questions about their lifestyle, pursuing private practice vs. academics, balancing family with long hours and finding their true passion in the field of medicine," West said. "The MAA seeks to be a resource for students beyond providing scholarships." In addition to the presentations by the alumni speakers and a Q&A session that followed, students enjoyed dinner with local MD alumni, who also shared their professional journey and experiences.
Each of the four presenting alumni shared their perspectives from different walks of life, and each noted that they have managed to combine what they love doing with serving patients – seeing positive outcomes while finding time to enjoy family. From rural family medicine to a businesswoman/OB-GYN to an anesthesiologist and later MBA to a researcher with a PhD, each has had rich careers and chose to share their stories to help the next generation of medical professionals as they pursue their own careers in medicine.
"The first-ever MAA Career Symposium was a huge success," said Madison Read of the MD Class of 2025. "The opportunity to directly engage with alumni and have the opportunity to network early on in our medical school journey all made it a wonderful night."
If you would like to be involved in our next opportunity for career sharing with third-year medical students, please contact Beth Alexander, director of alumni relations.