Construction of the second campus of Wake Forest University School of Medicine and The Pearl near uptown Charlotte is officially underway.
The first shovels of dirt were turned at a ceremony near the intersection of Baxter and South McDowell streets in Charlotte in mid-January, commemorating groundbreaking for the surrounding innovation district, known as The Pearl.
The School of Medicine will anchor the Howard R. Levine Center for Education in the heart of The Pearl. It will be joined by Carolinas College of Health Sciences, which has announced plans to locate there, along with connections to Wake Forest University's School of Professional Studies and School of Business and other educational opportunities. Wake Forest University School of Medicine Charlotte — the second campus for the medical school based in Winston-Salem — is expected to seat its first class in 2024 and open the following year.
The Pearl will be Wexford Science & Technology, LLC's, latest "Knowledge Community" and will help reshape and diversify the economy of the Charlotte region, integrating research, clinical expertise, entrepreneurial activity, corporate engagement and community inclusion. In addition to the Levine Center and a 331,000-square-foot research building, The Pearl will also feature STEM education, retail, apartments, a hotel and open community spaces.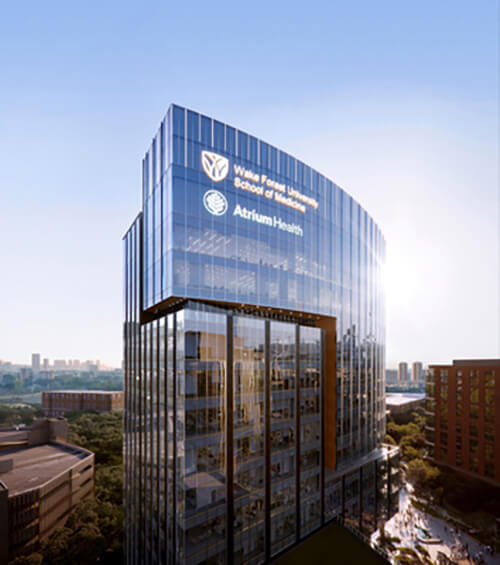 "We are proud that Wake Forest University School of Medicine is among the top 50 research institutions in the U.S.," said Julie Ann Freischlag, MD, FACS, FRCSEd(Hon), DFSVS, MAMSE, chief academic officer for the newly formed Advocate Health, chief executive officer for Atrium Health Wake Forest Baptist and executive vice president for health affairs for Wake Forest University.
"Adding this second campus will allow us to expand our health technology, research and education capabilities at both campuses, and allow us to enhance the educational experience for our students who will shape the future of medicine as the next generation of health care leaders."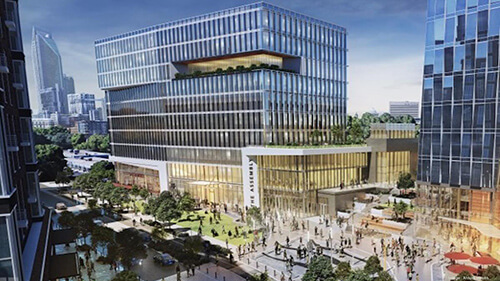 The School of Medicine serves as the academic core of Advocate Health, which includes Atrium Health. The event included comments from Ebony Boulware, MD, MPH, who addressed attendees on her first official day as dean of the School of Medicine, chief science officer of Atrium Health and vice chief academic officer of the newly formed Advocate Health.
Winston-Salem's Innovation Quarter (IQ) is also one of 17 Wexford "Knowledge Communities" across the country. The IQ also has deep ties with Atrium Health and the School of Medicine. With both School of Medicine campuses located in the innovation districts, the goal is to develop the region into one of the leading areas for innovation in the nation, working in tandem to advance life-sciences research and development, as well as incubate new businesses in both locations.