---
MD
Standardized Patient Program Seeks Applicants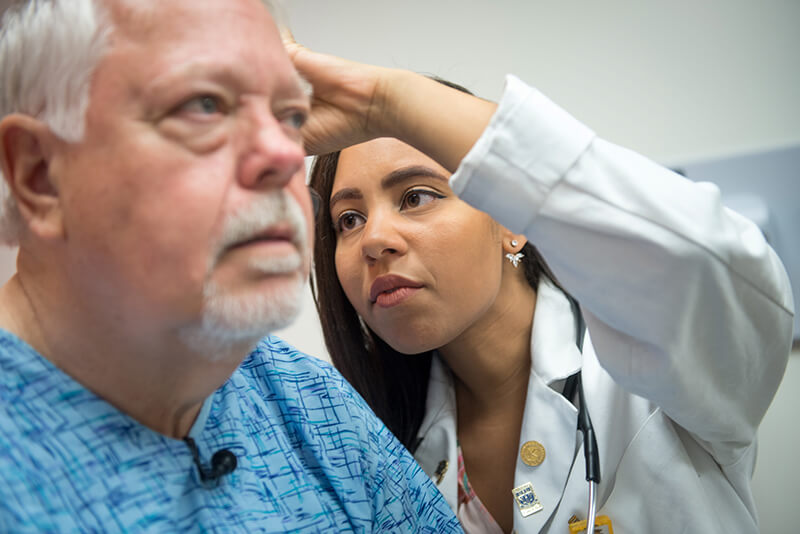 Wake Forest University School of Medicine was an early leader in developing and implementing the use of standardized patient (SP) actors as part of its medical curriculum. The use of SPs provides direct observation opportunities for education and assessment of doctor- patient interactions. These interactions also allow learners to practice collecting patient histories, conducting physical examinations, managing patients in outpatient and inpatient settings, ultrasound scanning and role-playing for difficult conversation/communication exercises.
The Center for Experiential and Applied Learning (CEAL) manages the SP program and is actively working to expand and diversify the SP population to include varying ethnicities, ages and backgrounds. SPs are paid $20 per hour for their services and are paid for training to prepare for events. Most events are held Monday through Friday, 8 a.m. to 5 p.m., with some weekend opportunities. Typically, they are at the Bowman Gray Center for Medical Education campus in Innovation Quarter, but some are held at Atrium Health Wake Forest Baptist Medical Center and our community hospitals.
If you or someone you know is interested in becoming a SP, please complete the online application at CEAL.regfox.com/Standardized-Patient-Application.
Students Honored with 2022 Peacock-Plonk Awards
Six students have received the 2022 Peacock-Plonk Award for Outstanding Student Clinician, an award given to recipients of the highest clerkship grade of Honors in their Year 3 immersion curriculum clerkship rotations.
The Peacock-Plonk Award was established in 2017 in honor of James E. Peacock, MD, professor emeritus of infectious diseases, and George W. Plonk, MD '73, associate professor emeritus of vascular surgery, who are widely respected for their clinical expertise, diagnostic acumen, bedside manner and humility.
Recipients included:
Jonathan Dowell
Rachel Jeffries
Sarah McCain
Hannah Mugford
Kelly Oechsel
Lena Sifen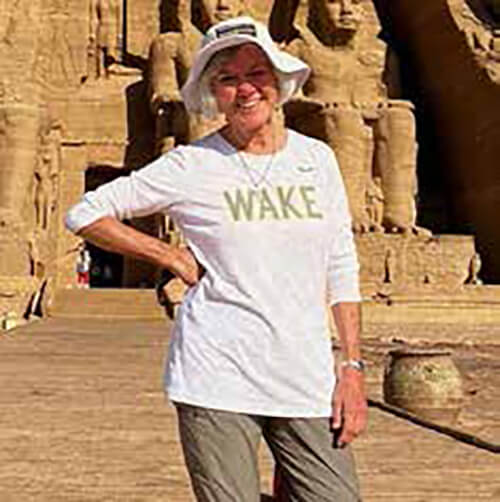 Caryl J. Guth, MD '62, Bermuda Run, N.C., was the Open the Gate honoree for the Wake Forest University's home opener football game with VMI on Sept. 1, 2022. Earlier in the day, the new on-campus Dr. Caryl Guth Women's Basketball Clubhouse was dedicated in her honor. Guth helped establish the Center for Integrative Medicine at the Wake Forest University School of Medicine in 2003. She earned her bachelor's degree from Wake Forest in 1957 and her MD before getting an internship with the University of Kansas Medical Center. She went on to earn a certification as a Diplomat of the American Board of Anesthesiology. She has been a major part of the University and its athletics programs over the years and provides scholarships to the women's golf and basketball programs. She served as president of the Wake Forest University School of Medicine's Medical Alumni Association (MAA) from 2005 to 2006 and received the MAA's Distinguished Service Award in 2010. She was a recipient of the Loyal Deacon Award in 2018 and the Deacon Club Member of the Year Award in 2010.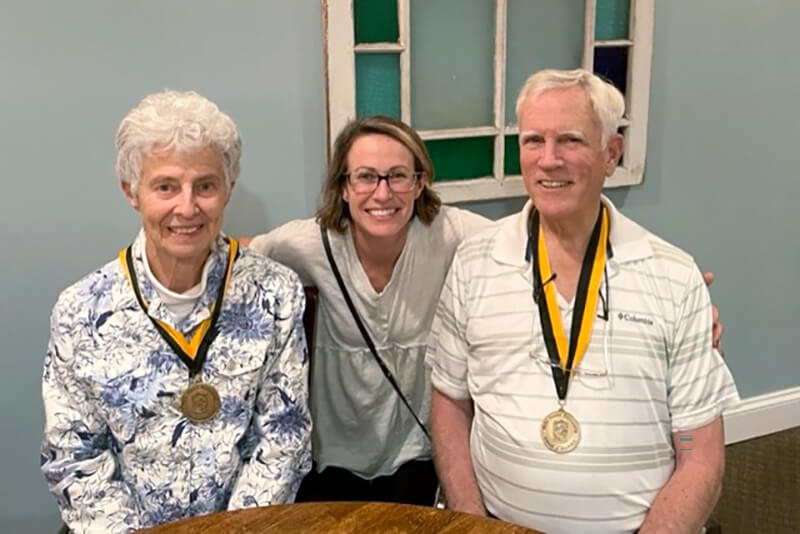 Jennie A. McLaurin, MD '85, MPH, Ferndale, Wash., has published a debut book in 2021 titled Designed to Heal: What the Body Shows us about Healing Wounds, Repairing Relationships and Restoring Community. The work looks at how the restorative processes of the body model patterns we may adapt to heal the acute and chronic wounds of our social bodies. McLaurin is a public health pediatrician with degrees in medicine, public health and theology. She writes and speaks on bioethics, health disparities and intersections of science and faith.
Theda C. Kontis, MD '87, Reisterstown, Md., has been named president of the American Academy of Facial Plastic and Reconstructive Surgery.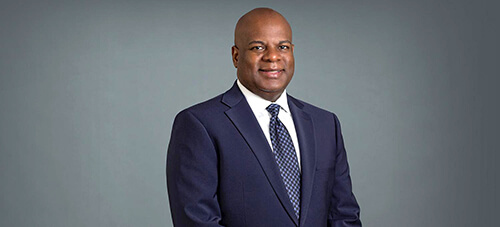 Garfield A. D. Clunie, MD '96, New York, N.Y., a leading expert in health equity and maternal-fetal medicine, has joined NYU Langone Health as the first vice chair for diversity, equity and inclusion and a clinical associate professor in the Department of Obstetrics and Gynecology at NYU Grossman School of Medicine. Before joining NYU Langone, Clunie served on the faculty at the Icahn School of Medicine at Mount Sinai as assistant professor in the Department of Obstetrics, Gynecology and Reproductive Science and site director of maternal-fetal medicine at Mount Sinai Downtown–Union Square. In addition to caring for pregnant patients with complex medical conditions, Clunie runs clinical and research studies that focus on prenatal diagnosis of fetal anatomic and genetic abnormalities, with a special interest in care before and during pregnancy for individuals with diabetes. Clunie completed his residency in obstetrics and gynecology at New York Downtown Hospital and a maternal-fetal medicine fellowship at Tufts-New England Medical Center, where he received the Tufts School of Medicine Excellence in Teaching Award. He holds leadership roles with many professional organizations, including the American College of Obstetricians and Gynecologists, the Society for Maternal-Fetal Medicine and the American Institute of Ultrasound in Medicine. He was most recently installed as the 123rd president of the National Medical Association, the largest and oldest national organization representing African American physicians and patients in the U.S.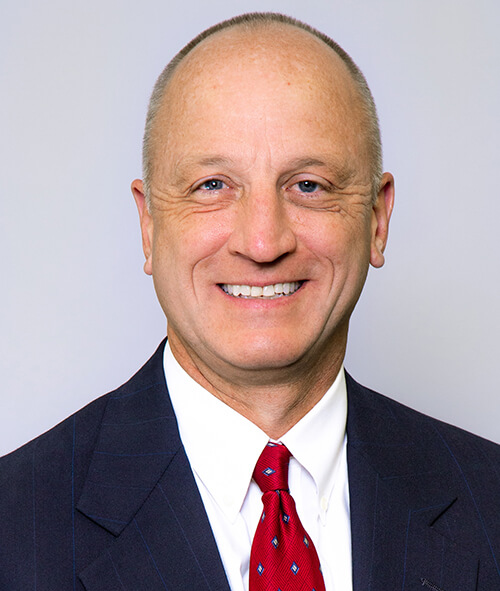 Michael C. Ott, MD '97, Niceville, Fla., has been named chief medical officer at ERP International. Ott will lead strategy and initiatives to grow ERP's comprehensive health portfolio and will help ensure ERP continues to support the military health system with the best people, processes and technologies. Ott currently serves as the chief of pulmonary, critical care and undersea medicine and as the medical director of the Intensive Care Unit at Eglin Air Force Base, where he has won the Eglin AFB resident teaching award for five of the past 11 years. He received his undergraduate degree magna cum laude from Davidson College and was an Alpha Omega Alpha graduate at the Wake Forest University School of Medicine.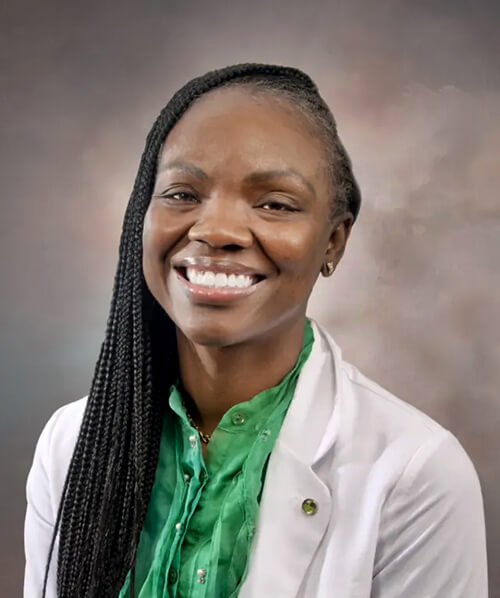 Kenesha James Kirkland, MD '06, Mooresville, N.C., is the leading physician at Iredell Gerontology and Wellbeing. Iredell Health System, in partnership with the Iredell Physician Network, opened the practice to provide a comprehensive evaluation of senior patients' well-being, including memory, medication side effects, fall prevention, mobility and functional capacity and advance directives. Kirkland's approach to medical care involves an integrated partnership with patients to achieve healthy goals and prevent disease. She completed her internal medicine residency at Carolinas Medical Center (now Atrium Health Carolinas Medical Center) and is board certified by the American Board of Internal Medicine.
Steven Chad Scarboro, MD '07, Charlotte, N.C., director of Atrium Health Levine Children's Hospital emergency department, has been recognized as a Pinnacle Award recipient for 2022. The Pinnacle Award is the highest honor an Atrium Health teammate can receive for making an extraordinary impact on teammates, patients and the communities. Scarboro is a trusted teammate who consistently strives to provide compassionate, safe, exceptional care for vulnerable populations and their families. He constantly advocates for his team and comes up with innovative ways to optimize space and staff to safely see more patients and provide family-centered care. Teammates say Scarboro drives for excellence in all that he does, from department operations to trauma care to working alongside his team to making them feel like family and improving care delivery for children.
Brian A. Shackleford, MD '16, Greensboro, N.C., was a featured panelist for the American College Health Association (ACHA) webinar, "Strategies to Respond, Manage and Mitigate the Spread of Monkeypox" hosted by the ACHA Historically Black Colleges and Universities Coalition. Shackleford is the medical director at North Carolina A&T University Health Services.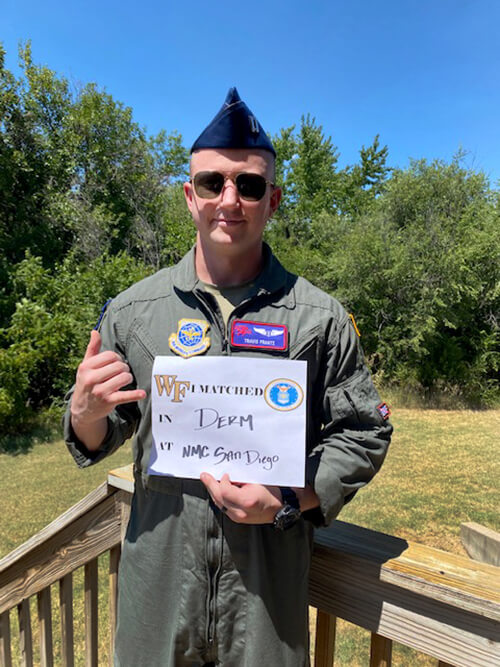 Travis C. Frantz, MD '20, Wichita, Kan., is an Air Force Health Professions Scholarship Program recipient. He completed his intern year at San Antonio and has been serving as flight doctor for the 350th Air Refueling Squadron at McConnell AFB in Wichita. Frantz matched to dermatology in the 2021 application cycle. He has been notified that his interservice application has been approved and that he will continue his training at Naval Medical Center San Diego beginning July 2023.
Deacon Proud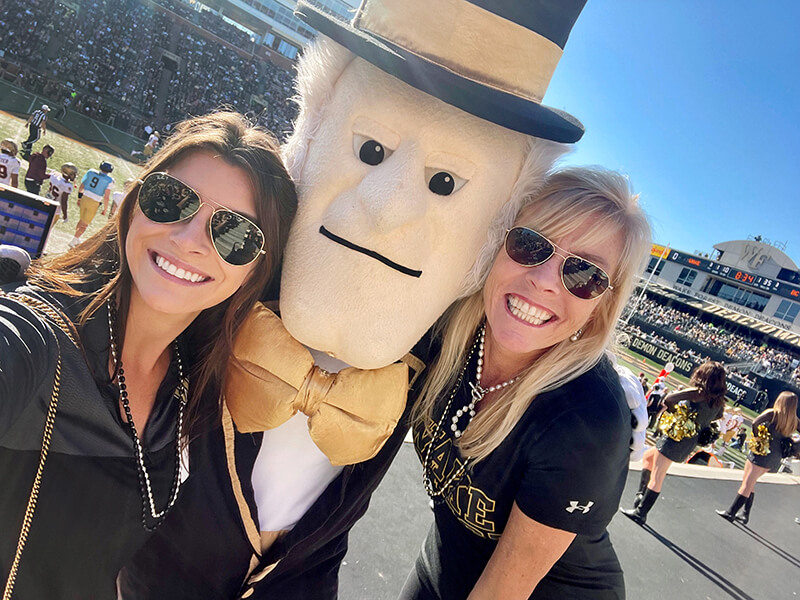 Thomas B. West, MD '81
President
Johnnie Ford Jr., MD '83
President-elect
Kathryn Ashton Grice, MD '85
Secretary
Stanley N. Tennant, MD '78
Immediate Past President
Melanie Adams, MD '89
Tammy Marie Allen, MD '02
John Alexander Black, MD '81
M. Jennings Clingan, MD '06
Paul G. Colavita, MD '79
T. Arthur Edgerton, MD '81
Michael T. Flanagan, MD '93
L. Carter Gray, MD '99
Elizabeth McCurdy Hueman, MD '02
A. Kakra Hughes, MD, '97, PhD
Janel Darcy Hunter, MD '10
Brittany Lynn Lambertus, MD '15
Kenneth F. Mattucci, MD '64
C. Douglas Maynard, MD '59
Wyman T. McGuirt, MD '96
Charles C. Pitts Jr., MD '16
Paul Rieker Jr., MD, '97, MBA
James D. Sink, MD '75
Brett Timothy Starr, MD '14
Scott L. Vogler, MD '98
Louis Weinstein, MD '72
MD Student Representatives
Meron Fessehaye, MD Class of 2023
Katherine Rae Salisbury, MD Class of 2024
Madison Hanley Read, MD Class of 2025
Lydia Lucille Faber, MD Class of 2026
Ex-Officio Members
L. Ebony Boulware, MD, MPH
Lisa M. Marshall
Beth A. Alexander
Teri C. Lemons, MAEd
Our Sincerest Apologies: Charles R. Ellis, MD '82, was mistakenly listed in the In Remembrance section of the fall issue of Catalyst. We regret and apologize for the error.
Remembering those who have recently passed, through Jan. 5, 2023.
Lloyd August Lovegren, MD '46
Nashville, Tenn., Nov. 11, 2022
Harold Alexander Yount, MD '46
Titusville, Fla., Aug. 16, 2022
Joyce Irene Hinson Reynolds, MD '52
Clemmons, N.C., Dec. 30, 2022
Donald Perry Douglass Sr., MD '53
High Point, N.C., Oct. 16, 2022
John Russell Folger Jr., MD '53
Brevard, N.C., Nov. 4, 2022
Elgar P. Ellis Jr., MD '55
Anderson, S.C., Oct. 4, 2022
Wallace Leroy Swanson, MD '56
Minneapolis, Minn., Oct. 26, 2022
Arvo Bruno Ederma, MD '57
Mooresville, N.C., Sept. 23, 2022
Ernest Harrison Stines, MD '57
Canton, N.C., Sept. 22, 2022
James LeRoy King Jr., MD '58
Raleigh, N.C., Dec. 28, 2022
Arthur S. Bard, MD '59
Boca Raton, Fla., Jan. 21, 2022
E. Charlton "Skeeter" Prather, MD '59
Tallahassee, Fla., Aug. 21, 2022
John Manning Driscoll Jr., MD '62
Oradell, N.J., Sept. 9, 2022
William Franklin Folds, MD '62
Winston-Salem, N.C., Aug. 26, 2022
Jackson William Lind, MD '62
Detroit Lakes, Minn., Aug. 6, 2022
David LeGarde McCullough, MD '64
Winston-Salem, N.C., Oct. 17, 2022
John William Denham, MD '66
Winston-Salem, N.C., Dec. 30, 2022
Richard Randolph Peyton, MD '67
Lebanon, Tenn., Oct. 22, 2022
Morgan Todd Milford Jr., MD '71
Greenville, S.C., Nov. 23, 2022
Robert Ralph Robertson, MD '71
La Mesa, Calif., July 28, 2022
Raymond Lynwood Claterbaugh Jr., MD '72
Clifton Forge, Va., July 31, 2022
Michael Augustus Owens, MD '81
Waltham, Mass., Jan. 3, 2022
Kathryn Lynn Press, MD '81
Granger, Ind., Oct. 19, 2022
Eduardo R. Gonzales, MD '86
Owensboro, Ky., Nov. 8, 2022
Siddarth Mitter Khosla, MD '91, MS
Cincinnati, Ohio, Dec. 13, 2022
Andrea Leigh Bennett-Cain, MD '99
Seven Lakes West, N.C., Oct. 25, 2022
---
PA
PA Students Earn Best Submission Notice at PAEA Event
First-year students enrolled in the Department of PA Studies at Wake Forest University School of Medicine were voted the best submission out of 32 team proposals in the Physician Assistant Education Association's (PAEA) annual Project Access program in October 2022. They were judged on impact/sustainability, creativity, clarity of expression, originality, engagement and project plan completion.
Project Access is a national competition that encourages PA students to develop an original and engaging presentation for local high school students that highlights the profession to the underrepresented population. Project Access is aimed at increasing the number of underrepresented PAs in the profession, decreasing health disparities and helping students become competitive candidates for PA programs by preparing them early in their education. The PAEA is the only national organization representing PA educational programs.
Physician assistants attending the PA Alumni Luncheon at the NCAPA conference in August 2022.