First PhD Alumna Remembered with Endowed Chair
Alumnus Doyle Evans, PhD '68, established the Dolores G. Evans Chair in Microbiology and Immunology at the School of Medicine in memory of his wife, who was the first woman to earn a PhD at the school.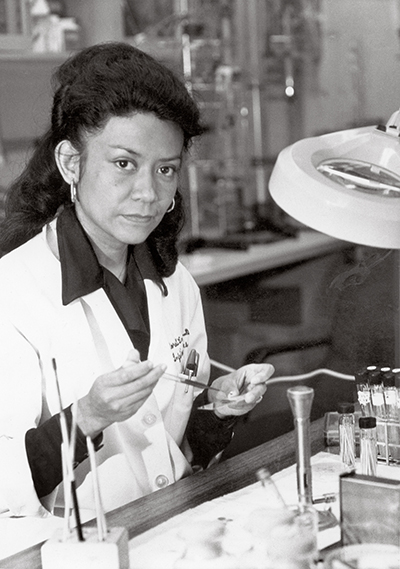 It is the first endowed chair to be established in the basic sciences at the medical school. Martha Alexander-Miller, PhD, who directs the Wake Forest Center for Vaccines at the Extremes of Aging, was presented as the inaugural Dolores G. Evans, PhD, Chair in Microbiology and Immunology in June 2018.
"This was a way to allow Dolores' work to continue in spirit," Doyle Evans says of the endowed chair.
Dolores Evans, PhD '68, died in September 2017 following a career dedicated to scientific investigation. A native of Mexico, she immigrated to the United States in 1962 and earned a master's degree at the University of Illinois before coming to Wake Forest to fulfill her dream of completing her doctorate.
The Evanses worked together for many years, including roles in the SEATO Cholera Research Laboratory in Bangladesh and the Veterans Administration (VA) Hospital in Sepulveda, Calif., before settling in Houston, Texas, in 1975.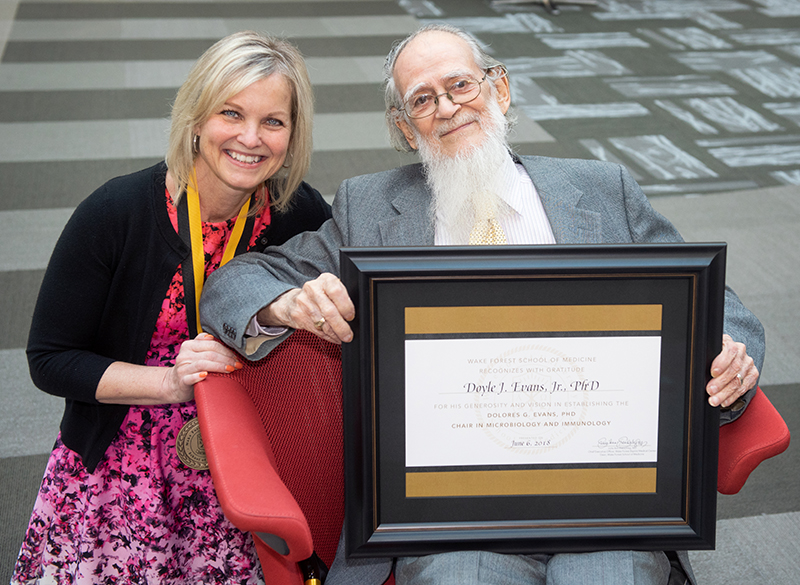 In Houston, she worked at the University of Texas Medical School, the Baylor College of Medicine and the VA before retiring in 2003. Most of her work focused on enterotoxigenic E. coli and Helicobacter pylori, which Doyle Evans says his wife was the first to isolate and grow in a lab.
Her work helped prove that H. pylori bacteria, not stress or other factors, cause ulcers. Together, the couple developed a diagnostic test to identify the bacteria that is now used in clinics around the world.
"She was the beginning of what is now a long tradition of training women scientists at this institution," says Alexander-Miller. "She was a woman of boldness and determination. Fascination with the mysteries of the microbial world was a driving force in her life. As a woman in science in 2018, I am immensely appreciative of women like her who paved the way."
---
Endowed Chair Honors Cooper
The late M. Robert Cooper, MD '62, has been honored with an endowed chair established in his name.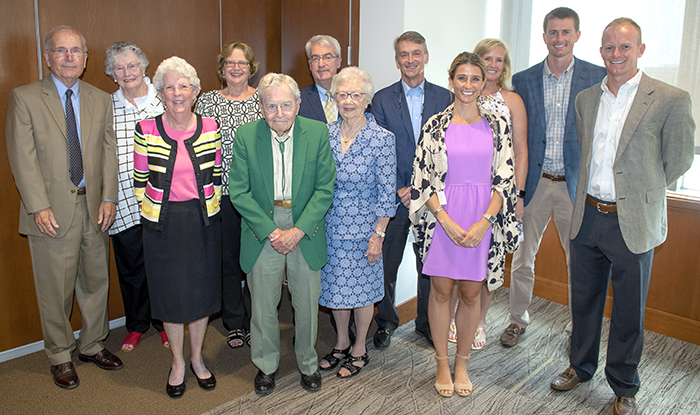 Caio Max Sao Pedro Rocha Lima, MD, was presented as the inaugural M. Robert Cooper, MD Professor in Medical Oncology in July 2018.
Funding for the Cooper Professorship was made possible by the late Gladys Ulrich, in gratitude for care that Cooper provided to her niece, Sandra Bisanar.
Cooper, who died in 2014, was professor emeritus in Hematology and Oncology following a long and distinguished career. He devoted more than 31 years of service to the medical school and played a key role in developing the Comprehensive Cancer Center, serving as director from 1991 to 1993 and later as associate director for Community Research and Education.
He also served as director of emeritus affairs for 11 years, expanding faculty involvement in teaching, research projects, mentorship and philanthropy. He was honored with the Medical Alumni Association's Distinguished Achievement Award in 2012.
---
Wests Recognize Family with Scholarship
For Tom and Laura West, both MD '81, there was no reason to wait to honor family members by funding a medical scholarship.
The Wests chose to establish the J. Herbert West, MD and Beverly West Family Scholarship Fund in honor of Tom's mother and father, a member of the School of Medicine Class of '55. They had planned to include the school in their estate plans, out of gratitude for what others have done for them but chose to make a gift sooner.
"We wanted to be around when our gifts made a difference in a young physician's career and choice of specialty," Tom says.
The Wests live in Georgia and come from medical families. Laura is one of four generations of rural primary care physicians in her family. Tom and both of his siblings chose health care careers just like their father, who worked in primary care for nearly 40 years.
Beyond honoring his parents, Tom says the investment shows appreciation for those family members still living who helped make their education possible and helps ease the burden of debt for a worthy student. They specified the recipient be on track to enter a primary care field.
"We wanted our gift, in some small way, to support the brightest who might otherwise be dissuaded from entering the backbone primary care specialties," says Tom, an anesthesiologist who serves on the Medical Alumni Association Board.
The Wests' advice for those considering a gift?
"Do it while you are living," Tom says. "Do it now as the need has never been greater. Do it knowing that you will feel the appreciation for the impact you will make. Wake Forest has been a good steward of the money, and our recipient is going to be someone's great physician."
---
White Coat Messages Help Connect Alumni, Students
Students read personal notes with advice and encouragement from alumni during the White Coat ceremony
This past summer's White Coat Ceremony for the MD Class of 2022 introduced a new tradition. For the first time, along with their white coat, members of the incoming class received personal notes of encouragement and advice from MD alumni.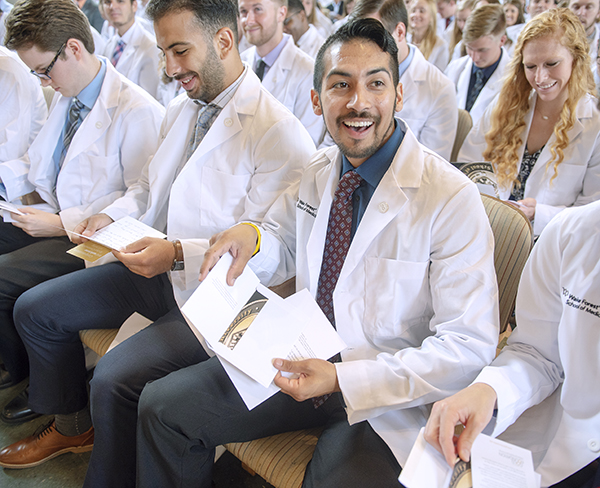 Alumni who graduated in the past 10 years and members and past presidents of the Medical Alumni Association (MAA) Board were invited to participate. For a modest donation to the MAA Annual Fund, the alumni could share a brief thought or word of advice to a student. The notes were then placed in the pockets of the white coats.
A sampling of alumni messages:
Shatima D. Seward, MD '09: "It is a privilege and an honor to be able to care for others in their most vulnerable moments. But always remember what the flight attendant tells you before taking flight: 'Please secure your own oxygen mask before helping others.' Training and beyond will be physically and emotionally draining, so it is important that you, as a healer, devote time and energy to healing and caring for yourself. Make self-care a priority and not an option.
Congratulations, and I wish you many years of success in your career!"
Karolen Bowman, MD '77: "When you treat your patient, always remember that a kind touch is part of the cure."
Jewell Carr, MD '10: "To my future colleague, my simple advice to you is to never forget the reason you chose this wonderful life calling! Always remember to see the human being in front of you!"
The concept resulted in personal connections that bridge generations. Many of the students wrote thank you notes to the alumni who had penned their message. Some alumni and students even arranged to meet and have lunch.
The Office of Philanthropy and Alumni Relations plans to continue the practice for this July's White Coat ceremony.