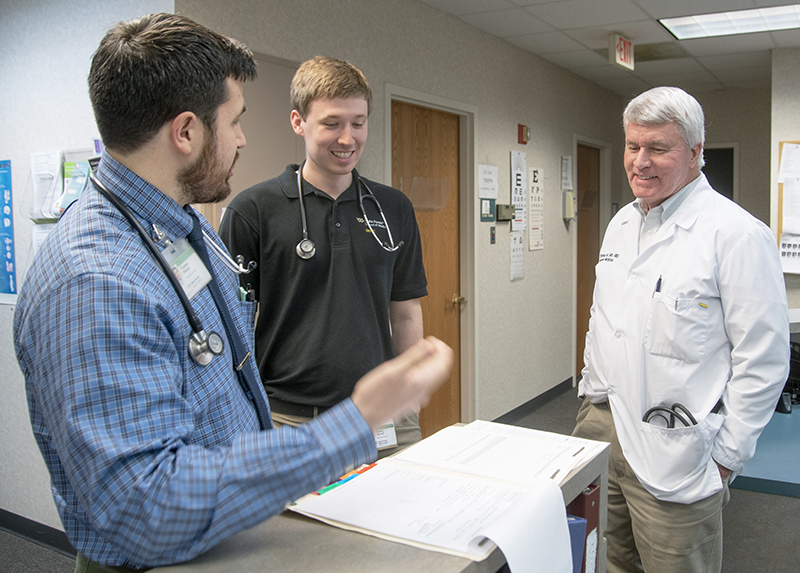 Winston-Salem resident Thomas M. Ginn, MD '75, was among the DEAC Clinic's first volunteers, and 10 years later, he remains one of the few non-faculty physicians involved.
Ginn works in a primary care/internal medicine practice in Salisbury, N.C., with Dem Ward, MD '74. Over 20 years ago, they helped start a free indigent clinic in Salisbury. When the DEAC Clinic was being organized, Ginn responded to an invitation to volunteer.
"It sounded like a great idea," he says, "so I signed on and ended up working on one of the first two or three clinic nights DEAC was operating."
Since then, he has worked one clinic session every month. He insists there's nothing special about his role, that he's one among many dedicated volunteers.
"It is so refreshing and stimulating to be around this bunch of diverse, bright, energetic and enthusiastic medical students," he says. "Interacting with them keeps me sharp and focused on medicine. They ask interesting and tough questions, and often come up with innovative and challenging ideas and observations.
"It's also a great opportunity to have contact with faculty, and I usually arrive with a list of 'consultation' questions in their specialty areas. I can pick their brains and continue learning from them."