MD
Pennell, MD '60, Receives Inaugural Emeritus Academy Award
Timothy C. Pennell, MD '60, professor emeritus of surgery, was honored by Faculty Affairs with the inaugural Emeritus Academy Award for outstanding service to Wake Forest School of Medicine through medical missions, global health advocacy and mentorship.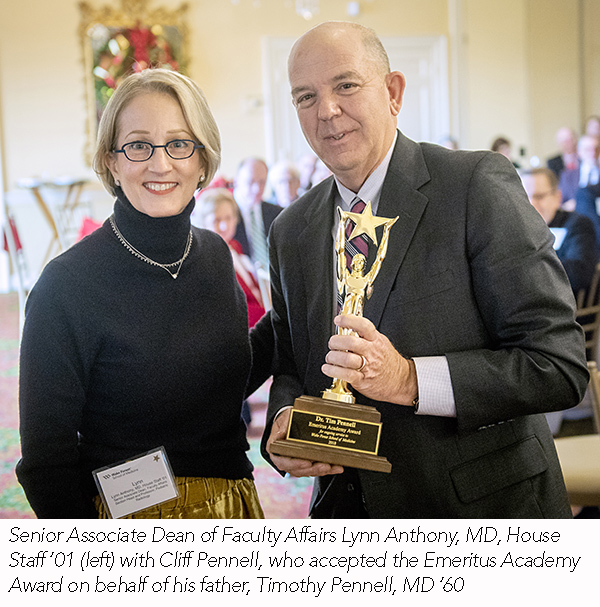 Lynn Y. Anthony, MD, House Staff '01, senior associate dean of faculty affairs, presented Pennell with the award during the emeriti faculty holiday brunch in December. She said Pennell's "compassionate spirit, selflessness generosity and enduring wisdom as a leader and mentor" has affected students, residents, faculty and leaders.
"We thank Dr. Pennell for his amazing service and for contributing to the continued culture of compassion across our health system," Anthony said. "He represents the heart of service that we as an institution value and the type of caregivers we send out into the world."
Pennell served on the faculty of Wake Forest Baptist Health for 37 years before retiring in 2003. He was director of the Office of International Health Affairs from 1982 to 2000, and he was the first alumnus to be named the Medical Center's chief of professional services.
He established student-faculty exchanges in Japan, India, Italy and China, and with former Dean and Executive Vice President for Health Affairs Richard Janeway, MD, House Staff '66, he started the first formal medical exchange program with Sun Yat-sen University in China.
Through medical missions work, Pennell has traveled to more than 100 countries and served on more than 22 mission boards and agencies. He used the trips to serve and to teach, so that those he worked with would be better equipped to provide care.
Two funds have been established in Pennell's honor—the Timothy C. Pennell International Fellowship Fund, created by the Broyhill Family Foundation, and the Pennell Pro Humanitate Vitae Fund. Both give qualified health professionals from other countries the opportunity to train at the School of Medicine, and they support volunteer teaching and service efforts by faculty, residents and medical students who serve in developing countries.
---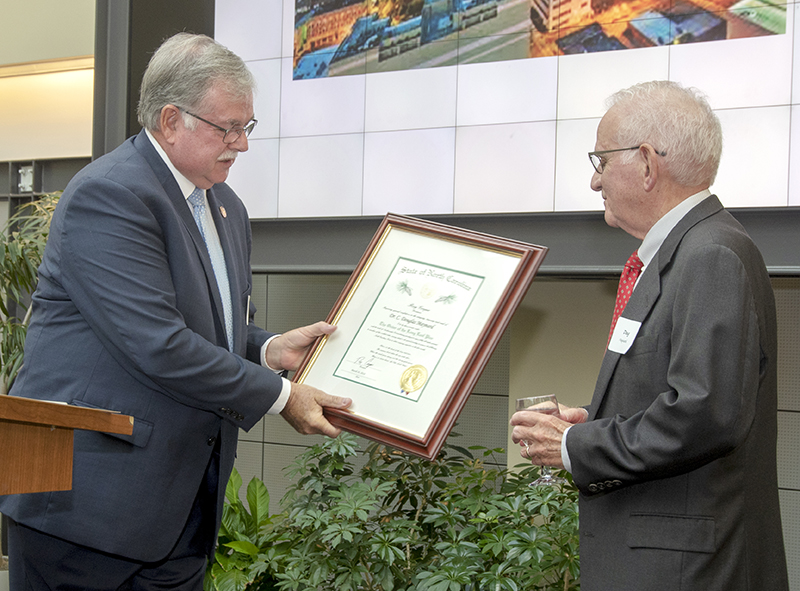 C. Douglas Maynard, MD '59 (right), Winston-Salem, N.C., receives the Order of the Long Leaf Pine, the State of North Carolina's highest honor, on Thursday, Sept. 6, at Wake Forest Biotech Place. Donny Lambeth, former N.C. Baptist Hospital president and current state representative in the N.C. General Assembly, presented the award to Maynard.
DNP
School Begins New Doctor of Nursing Practice Degree
The School of Medicine is offering a new Doctor of Nursing Practice (DNP) degree to prepare nurses to assume leadership roles in practice, management and education.
The DNP is designed for nurses seeking a terminal degree in nursing practice, offering an alternative to research-focused doctoral programs. DNP programs are becoming a new standard in nursing education. The concept of DNP programs has been endorsed by the American Association of Colleges of Nursing, and the American Association of Nurse Anesthetists has endorsed the practice doctorate as the entry degree for nurse anesthetists.
The Wake Forest School of Medicine DNP program provides doctoral-level content in evidence-based practice, quality and safety, public health, leadership, interprofessional collaboration, systems management, policy, finance and nursing informatics. Students will learn from a diverse team of DNPs, PhDs and JDs, taking three credits of elective online coursework at the Wake Forest School of Law.
The DNP program has two tracks: a post-master's DNP degree for RNs with a master's degree, and a post-bachelor's doctoral degree for nurse anesthesia.
The post-master's track is a part-time, two-year online program for registered nurses. Because most students will be professional, working RNs, the post-master's DNP will be offered part-time with online courses and four, intensive in-person sessions. The track's first entering class started in August.
The post-bachelor's track is designed for RN applicants interested in becoming CRNAs. It will be a three-year, full-time blended program, with most courses offered in person and an extensive clinical practicum. The program will begin in 2021.
More information is available at WakeHealth.edu/Academic-Programs or dnpinfo@wakehealth.edu.
CRNA
AANA Honors Alumni, Program with Awards
Two alumni and Wake Forest's Nurse Anesthesia Program won awards at the American Association of Nurse Anesthetists' (AANA) 2018 Annual Conference.
Nancy Bruton Maree, RN '66, CRNA '74, of Raleigh, N.C., received the Agatha Hodgins Award, the highest honor for a CRNA, which recognizes individuals whose foremost dedication to excellence has furthered the art and science of nurse anesthesia.
Sandra Maree Ouellette, CRNA '69, of Winston-Salem, N.C., received the Didactic Instructor of the Year Award for significant contributions to the education of student nurse anesthetists in the classroom.
Caroline Killman, SRNA Class of 2020, of Winston-Salem, N.C., was one of only two student representatives elected to the national Education Committee.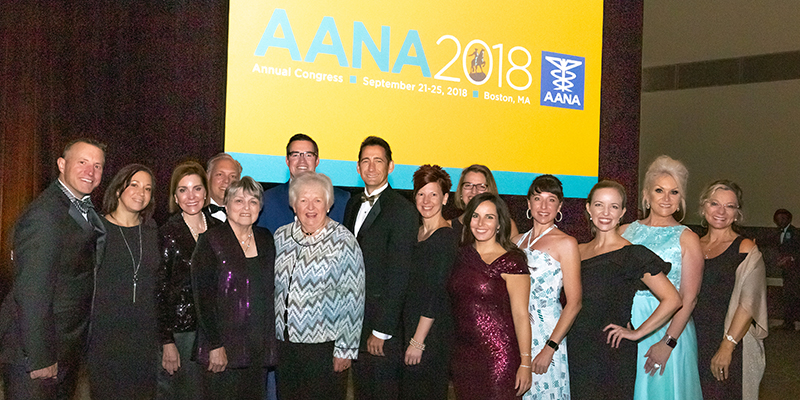 The Nurse Anesthesia Program won the AANA's Public Relations Award for broadening the reach of Wake Forest on social media and through the production of a video, establishing three scholarships, promoting student participation in global missions and being active in state and national association meetings.