The Regenerative Medicine (RM) field requires a new type of researcher, well-trained in fundamental RM concepts and methods, able to integrate human biology and engineered systems with awareness of challenges involved in advancing basic research, regulatory science, and clinical translation. The Wake Forest Institute of Regenerative Medicine (WFIRM) has a unique infrastructure that provides facilities and expertise for translational studies, from basic preclinical findings all the way through Phase 2 clinical trials.
The overall goal of our T32 pre-doctoral training program, "Studies in Translational Regenerative Medicine", is to develop the next generation of multidisciplinary trained research scientists and engineers, who will lead new diverse research teams designing solutions to real-world health problems and advance the RM field. Ability to link state-of-the-art multidisciplinary basic science training to the infrastructure and knowledge base required to accelerate translation of RM technologies are key strengths. WFIRM's multidisciplinary training includes a range of activities, including didactic courses, participation in cutting-edge team science, and new opportunities to engage in academic, government, and industrial externships. The new program emphasizes professional and career development, including project and time management, grant writing, regulatory science, GMP manufacturing, and scientific ethics.
The program has 3 NIBIB-aligned focus areas:
Biomaterials
Enabling Technologies (bioprinting, body-on-a-chip, imaging & multifluidics)
Stem Cells/Cell Therapies applied to one or more application areas:


Cardiovascular
Musculoskeletal
Gastrointestinal/Endocrine
Urological
After a common 1st year curriculum (unique to each track), trainees identify one of 13 primary mentors (of 22 mentoring faculty), take specialized RM courses and choose a graduate committee. Inclusion of seasoned Primary Mentors (13), Mentors-in-Training (6), and Emeritus Mentors (3) with career-long mentoring experience is a unique program aspect. The program is reviewed by Internal and External Advisory Boards composed of prominent academic, government, and industry members.
The T32 program has 19 mentors, arranged in well-defined, three-level mentoring/co-mentoring structure: primary mentors (n=11), mentors in training (n=4), and Emeritus Mentors (n=4). Concomitantly, each research focus contains atleast five faculty members with complementary expertise, who participate in the training and supervision of graduate students as co-mentors. WFIRM faculty have appointments in multiple graduate tracks, bringing together expertise and cutting-edge technologies in cell and molecular biology, genetics, biomedical engineering, physiology, stem cell biology, animal modeling, surgery, matrix biochemistry, and materials chemistry. All 19 training faculty have a primary appointment or a cross-appointment at WFIRM. Every translational research project at WFIRM is co-mentored by a basic scientist and a clinician. Trainees also engage with clinical co-mentors who are selected from many experts available across our extensive network of intramural, extramural and international collaborations.
The primary focus of the STRM training program is in the following PhD program tracks of Wake Forest University Graduate School
After a common 1st year curriculum (unique to each track), trainees identify one of 12 primary mentors (of 20 mentoring faculty), take specialized RM courses and choose a graduate committee choose a graduate committee that will guide them through their thesis work and participate in a variety of WFIRM-wide training activities; special workshops; participation in cutting-edge team research; grant writing; scientific presentations; and opportunities to engage within academic, government and industry collaborations. Inclusion of seasoned Primary Mentors, Mentors-in-Training, and Emeritus Mentors with career-long mentoring experience is a unique program aspect. The program is reviewed by Internal and External Advisory Boards composed of prominent academic, government, and industry members.
The Program Director, Dr. Anthony Atala, has ultimate responsibility for the administration of the training program, assisted by Co-Program Director, Dr Graca Almeida-Porada and an Executive Committee composed of senior experienced trainers. The training program is reviewed and evaluated annually by both an Internal Advisory Committee and External Advisory Committee, whose members have extensive experience managing training programs as well as nationally renowned research programs in regenerative medicine.
Faculty Research Mentors Areas of Research Focus
Anthony Atala, MD
Professor and Director of WFIRM
(Director of the Training Grant)

Graca Almeida-Porada, PhD
Professor (Associate Training Program Director)

Karl-Erik Andersson, MD
Professor

Colin Bishop, PhD
Professor

Khalil Bitar, PhD
Professor

Tracy Criswell, PhD
Assistant Professor

Sang Jin Lee, PhD
Associate Professor

Baisong Lu, PhD
Assistant Professor

Frank Marini, PhD
Professor

Sean Murphy, PhD
Assistant Professor

Emmanuel C. Opara, PhD
Professor

Christopher Porada, PhD
Professor

Hooman Sadri-Ardekani, MD, PhD

Marshall Schwartz, MD
Professor and Surgeon

Steve J. Walker, PhD
Tenured Associate Professor

Kounosuke Watabe, PhD
Professor, Cancer Biology and WFIRM

Shay Soker, PhD
Professor

David F. Williams, PhD, DSc
Professor

Koudy Williams, DVM
Professor

James J. Yoo, MD, PhD
Professor
Meet our Pre-Doctoral Fellows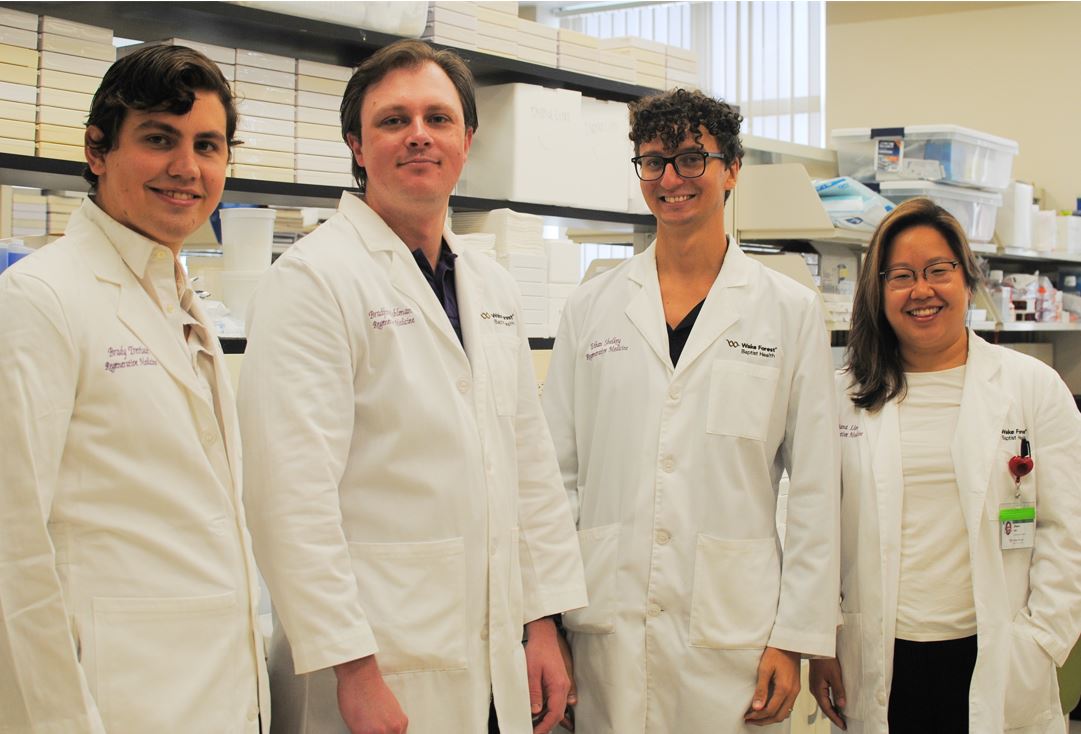 As pictured: Brady Trevisan and Diana Lim
Read more about our past fellows and where they are now.
Pre-Doctoral Fellow Bios
Mentors: James J. Yoo, MD, PhD and John D. Jackson, PhD
Focus: Kidney Regeneration and Organogenesis
Overview
Diana received her BA with Honors in Neuroscience from Dartmouth College and proceeded to complete 2 years of medical school at the Wake Forest School of Medicine before joining the PhD program as a 2nd year student in the department of Molecular Medicine and Translational Sciences. Since joining the PhD program she has taken a multi-faceted approach to addressing the challenges of kidney regeneration through a variety projects including renal progenitor organoid formation, functionalized scaffold development, construct bioprinting, microfluidics based cell maturation, neovascularization, mesenchymal stem cell direct differentiation, and bioreactor design. Her current work focuses on using these strategies to develop and deliver renal progenitor organoids for rapid kidney tissue integration and functional recovery.
Oral and Poster Presentations
Lim, D. (2020) Regenerative Medicine Approaches for Kidney Disease. The 4th International Congress on Biomedicine. Online.
Lim, D. (2020) Development of a Novel Injectable Hydrogel Scaffold for Kidney Regeneration. WFIRM Annual Retreat: Pinehurst, NC.
Lim, D. (2019). Development of Renal Progenitor Cell Organoids for Therapeutic Applications. WFIRM Annual Retreat: Pinehurst, NC.
Publications (under review):
Lim, D., Atala, A., Yoo, J.J. (2020) Tissue Engineered Renal Tissue. Organ Tissue Engineering: Tissue Engineering and Regeneration.
Lim, D., Renteria, E., Sime, D., Ju, Y.M., Kim, J.H., Criswell, T., Shupe, T.D., Marini, F.C., Guarcan, M.N., Soker, S., Hunsberger, J., Yoo, J.J. (2020) Bioreactor Design and Validation for the Tissue Engineering Manufacturing Strategies.
Mentors: Graça Almeida-Porada, MD, PhD, and Christopher Porada, PhD
Focus: Cell and Gene Therapy
Overview
Brady Trevisan started his research career during his undergraduate studies where he had the opportunity to be a part of the development of biomaterial scaffolds and hydrogels for tissue regeneration. This opportunity gave him a passion for regenerative medicine and research that led Brady to the Wake Forest Institute for Regenerative Medicine, where he transitioned his research focus from biomaterials to cell and gene therapies. His work at the institute includes the use of microfluidics to study the mechanisms of shear-induced protein regulation in a cell therapy. Additionally, his current research allows him to work with collaborators across the country to develop and study a treatment for hemophilia A in previously-untreated-patients using a FVIII-producing cell therapy. He is currently working in a large animal model to study the effects of an off-the-shelf therapy as well as autologous and allogeneic therapies.
Publications
Trevisan B, Porada CD, Atala A, Almeida-Porada G. Microfluidic Devices for Studying Coagulation Biology. Seminars in Cell & Developmental Biology, 2020.
Trevisan B, Hernandez JA, Rodriguez M, Shields J, Meares D, Farland A, Doering CB, Spencer HT, Atala A, Skardal A, Porada C, Almeida-Porada G. Using a Microfluidics Device to Evaluate FVIII and vWF Production Under Conditions of Physiologic Flow. Molecular Therapy Vol 28 (4, Suppl. 1):117, May 6, 2020
ORAL & POSTER PRESENTATIONS

Trevisan B, Hernandez JA, Rodriguez M, Shields J, Meares D, Farland A, Doering CB, Spencer HT, Atala A, Skardal A, Porada C, Almeida-Porada G. Using a Microfluidics Device to Evaluate FVIII and vWF Production Under Conditions of Physiologic Flow. Poster Presentation 23rd ASGCT Annual Meeting May 12 – 15, 2020
Trevisan B, Hernandez JA, Doering CB, Spencer HT, Atala A, Skardal A, Porada CD, Almeida-Porada G. Microfluidic Testing of a Cell Therapy for Hemophilia. Oral Presentation 2018 BMES Annual Meeting October 17-20, 2018