Wake Forest School of Medicine offers six Pain Medicine Fellowship opportunities every year. Pain medicine fellows perform procedures in a variety of clinical settings. They are also encouraged to participate in ongoing research opportunities and get exposure to regular conferences and didactics.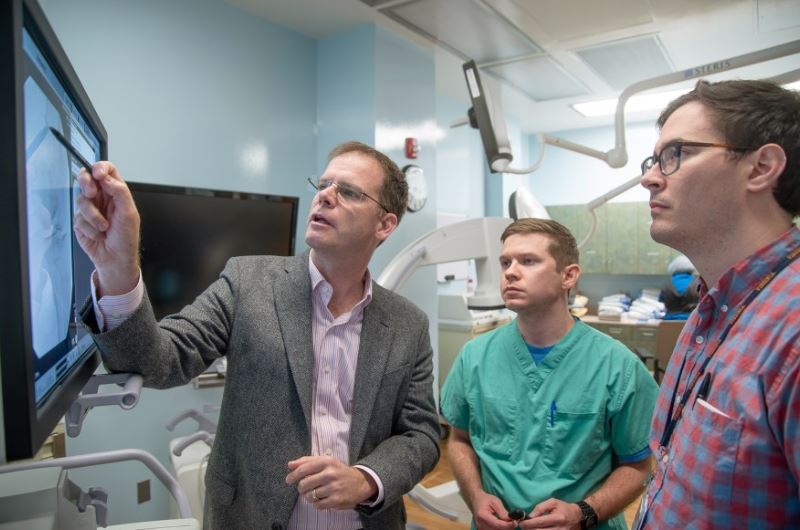 Photo: Dr. Robert Hurley, Pain Medicine Fellowship Director, reviewing a case with pain medicine fellows.
---
The pain fellowship program splits time between two main facilities, Wake Forest Baptist Health and Carolina Pain Institute.
Wake Forest Baptist Health has multiple outpatient Pain Centers where pain consultation and procedures occur. The main site is at Brookstown with other sites at WFBH Pain Management - Lexington, Medical Plaza - Miller, the Comprehensive Cancer Center at Wake Forest Baptist, and WFBH Spine Center - Clemmons.
Wake Forest Baptist Medical Center is an 885-bed hospital available for the treatment of acute, postoperative and cancer-related pain care. Medical Plaza - Miller, Ambulatory Surgical Center - Clemmons, and Davie Medical Center are also Wake Forest Baptist Health facilities, which house outpatient operating rooms where many of the device implantation surgeries are performed.
Clinical procedures may also be performed at Forsyth Medical Center. Associated with this hospital is the Medical Park Hospital and the Medical Park Fluoroscopy Suite (housed in the CPI facilities), where many of the pain procedures are performed.
Program Goals
Foster a thorough understanding of the breadth and depth of the specialty of Pain Medicine
Provide compassionate, appropriate, and effective analgesic care for patients suffering from acute or chronic pain
Prepare fellows to function as well-qualified, independent specialists in pain medicine.