Founded by the Department of Internal Medicine in 2006 to provide residents in Internal Medicine the unique opportunity for initial research training as a means of enhancing research career development. It is envisioned that trainees in this program will receive instruction and practical experience in either basic or patient-centered investigation in a resource-rich and mentored environment away from the demands of patient care and other clinical obligations.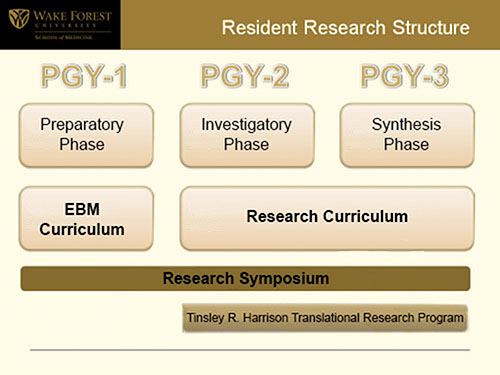 The pathway also provides an important mechanism for both basic scientists and fledgling physician researchers to interface with WFUHS's numerous clinical trials and clinical research endeavors. This helps overcome traditional barriers that hinder basic science application to clinically relevant questions.
"The Tinsley R. Harrison program is designed to offer a more in-depth research experience for residents who are considering academic careers as clinical researchers or physician scientists. Residents selected for the program are provided with additional protected research time and didactic research training in a small group setting," W. Jeffrey Petty, MD Director of Research, Internal Medicine Residency Program Professor, Internal Medicine - Hematology and Oncology
Program Goals
Goals of the program include:
Train the translational research faculty of the future from within our own ranks.
Provide residents the opportunity for a more formalized research experience and will provide training in fundamental techniques in a wide range of disciplines reflecting the ever increasing multi- and cross-disciplinary nature of biomedical research.
Provide a complete research experience for the resident in training or offer a preliminary phase of training for faculty at the Assistant Professor or Instructor level who are considering an extended research training program in a mentored environment.
Research Opportunities
The program reflects the dedication of the Department of Internal Medicine to fostering research career opportunities for our residents and for embracing a culture of inquiry. This program will develop from within our own multidisciplinary teams of researchers capable of solving the challenges of complex diseases and helping at a local level to prepare the Department to usher in a new era of participatory and personalized care.
Current Program Scholars
Academic Year 2018-2019
Safoa Addo, MD, MS
Mentor: Dr. Pierre Triozzi
Project Title: Circulating immune biomarkers as predictors of response to pembrolizumab and weekly low dose carboplatin in patients with recurrent or metastatic NSCLC and performance status of 2 or better
Caryn Brehm, MD
Mentor: Dr. Victor Ortega
Project Title: The Missing Heritability of COPD
Leila Famouri, MD
Mentor: Dr. Ramon Velez
Project Title: Effects of Medicaid Non-Expansion on Avoidable Mortality in North Carolina
Joseph Nicolazzi, DO
Mentor: Dr. Brandon Stacey
Project Title: Does Cardiac MRI Measurement of Apical Trabecular Volume Improve Prognostication in those with Potential Ventricular Noncompaction?
Max Nutt, MD
Mentor: Dr. James Pirkle
Project Title: Mind the Gap: A Study of the Osmolar Gap in Hemodialysis Patients