Bedside ultrasound is emerging as a necessary skill in modern medicine, and point of care ultrasound (POCUS) is embedded within the educational curriculum throughout Internal Medicine residency training at Wake Forest. Our residents develop skills to perform and interpret bedside ultrasound exams and learn to incorporate POCUS findings into their clinical reasoning.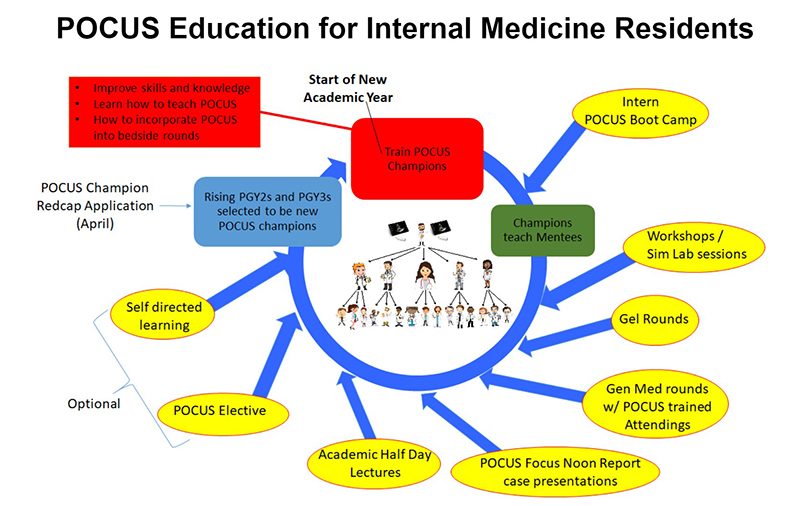 Residents receive ultrasound training through a multimodal educational approach involving hands-on workshops, lectures, POCUS Focus Noon Report case conferences, educational gel rounds on hospitalized patients, and encouraged use of POCUS in the clinical setting. New interns go through an Intern POCUS Boot Camp within the first two months of starting residency, where they learn fundamental ultrasound concepts and scanning technique. The supportive nature of the program fosters a mentorship-like mentality that enables residents to enhance their ultrasound skills while simultaneously taking excellent care of their patients. At the end of each academic year, interested residents can apply to become a POCUS Champion. Our upper level POCUS Champions undergo additional, more rigorous ultrasound training to become POCUS instructors for interns and medical students during workshops, on the wards and in clinic.
We have top-of-the-line ultrasound equipment located throughout our clinical workspaces, including both handheld and cart-based machines. Additionally, our residency program has a strong partnership with the Center for Experiential and Applied Learning (CEAL), which gives us access to a Vimedix ultrasound simulator on which residents can fine-tune their POCUS skills and learn to recognize pathology in a stress free educational environment.