The section of Regional Anesthesia and Acute Pain Management (RAAPM) was founded in 2003 and is made up of 6 board certified anesthesiologists with special interest or fellowship training in regional anesthesia and acute pain management who work with four CA-2 or CA-3 residents rotating on service each month. The RAAPM section is responsible for the provision of regional anesthetics and acute pain management throughout our 800 bed inpatient hospital as well as our ambulatory surgery areas. We perform about 2400 peripheral nerve blocks, 1800 neuraxial blocks, and 550 continuous peripheral nerve blocks yearly in our 40 bed OR suite.
Our routine practices include the use of
Nerve stimulation catheter techniques
Ultrasound guidance
Epidural infusion therapies
Ambulatory peripheral nerve block pumps
We currently deliver anesthesia for 8-20 total joint replacements every week using either single shot blocks, continuous peripheral nerve catheters or combined spinal-epidural techniques without general anesthesia. Approximately 5000 orthopedic procedures were performed at WFBMC last year and regional anesthesia was used for the majority of the inpatient procedures.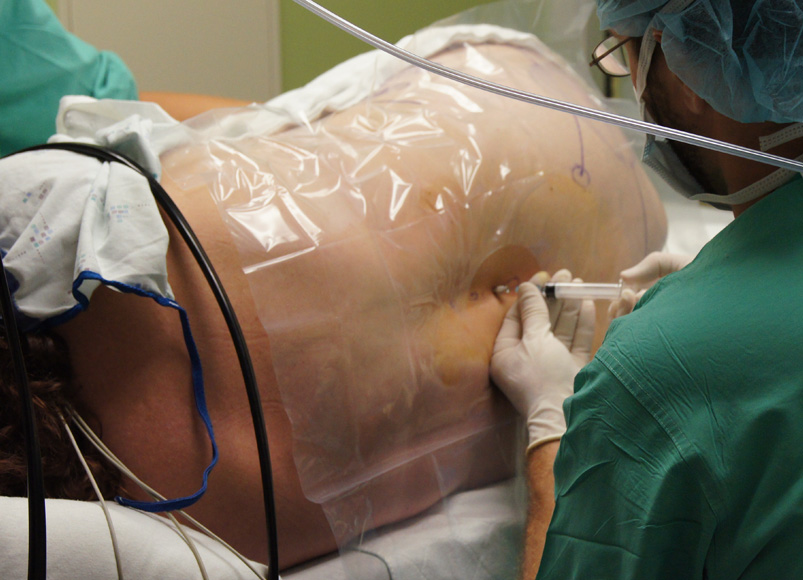 With regards to the breadth of regional anesthesia topics and procedures that are covered during a resident's 3-4 months of RAAPM rotations, an abbreviated list is of blocks include:
Interscalene
Supraclavicular
Infraclavicular
Axillary
Forearm/wrist,
Rectus sheath
Transversus abdominis (TAP)
Quadratus lumborum
Ilioinguinal/iliohypogastric
Lumbar plexus
Femoral
Obturator
Lateral femoral cutaneous
Adductor canal
Popliteal
Anterior sciatic
Labat and sub-gluteal sciatic
Tibial
Ankle
Paravertebral
Spinal
Spinal catheter
Epidural blood patch
Thoracic
Lumbar epidural
Acute pain topics include:
Acute and chronic opiate management
IV PCA optimization
Methadone therapy
Cancer pain
The opiate tolerant patient
Peri-neural and epidural catheter management
Multimodal analgesia
Trauma analgesia
Complications of acute pain management
Pediatric pain therapies
Resident education and hands-on involvement is the cornerstone of patient care in our section and every month each resident performs 70-100 regional anesthesia procedures.


All of these regional anesthetics are initiated in a dedicated, 6 bay Regional Anesthesia Area staffed by specially trained nurses. Medical direction is covered by either of the two Attending Regional Anesthesiologists assigned to the Block Area each day. Postoperatively, the On Call resident manages patients using a foundation of multimodal analgesia and regional techniques. In addition, members of the section are well versed in managing patients with chronic pain using the same regional analgesic techniques used for acute pain and by providing consultation to medical and surgical services in the medical management of in-patients with chronic pain. Most patients undergoing major thoracic or abdominal general, plastic, urologic, gynecologic, and oncologic surgeries at WFBH also have their pain managed by RAAPM using thoracic epidural analgesia. In addition to providing care for inpatients recovering from surgery, the RAAPM section also maintains an active census of outpatients managed with continuous peripheral nerve blockade at home and a small subset of chronic pain patients managed in the hospital.

From a scholastic perspective, regional anesthesia and acute pain management are a standard part of departmental conferences. For the entire month of November, the RAAPM Section controls the entire didactic lecture series for the residency. This immersion into the subspecialty includes simulation sessions, a two-day cadaver lab, 6 lecture topics and 2 case conferences that rotate biannually. While on rotation, our didactic curriculum includes a weekly subspecialty conference and a monthly Journal Club review of the literature at a local restaurant. Anesthesia residents at WFU have at their disposal the resources necessary to leave their residency capable of providing consultant level patient care in sophisticated techniques for acute pain management such as thoracic epidural analgesia and continuous peripheral nerve blockade.