The Wake Forest University Graduate School of Arts and Sciences is known for world-class scholarship fueled by an interdisciplinary, collaborative environment. Whether you're seeking a traditional

liberal arts approach or cutting edge training in biomedical innovation, our small size ensures that you will have individual attention, tailored advising, and research opportunities well-matched to your interests. As a student here, you'll be part of a team of researchers and educators working on important, world-changing problems.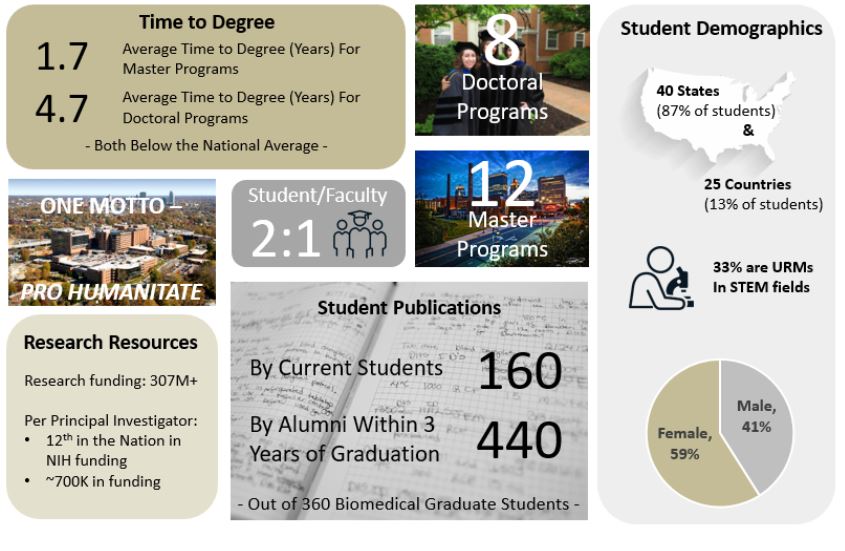 Why Wake Forest?
Our mission is to train and mentor future leaders in research, teaching, and innovation for serving humanity. This embodies the Graduate School's vital role as an engine of discovery that fuels the nation's scholarly and creative enterprise.
The WFU Graduate School of Arts and Sciences consists of four campuses located in Winston-Salem, NC:
Arts and Science Programs
Reynolda and Historic Brookstown Campuses
Biomedical Programs
Small Class Sizes - Personalized Education
With approximately 400 master's and PhD students and 190+ graduate faculty, students receive plenty of one-on-one time with faculty and mentors.
Diverse Student Body - Well-Rounded Education
Our students are from 40 states and 20 countries, with 26% of students from under-represented minorities and 13% international. Student inclusion is encouraged and diversity is celebrated through programming and events throughout the year.
Strong Academic and Career Advising - Successful Outcomes
The average time to graduation is 1.9 years for biomedical master's students and 4.9 years for biomedical PhD students – well below the national average. Our current students have authored 160 publications, and our alumni within 3 years of graduation have authored 440 publications. These impressive outcomes exemplify the rigorous educational foundation provided at Wake Forest as well as the strong academic and career advising.
Mandatory Ethics Training - Integrity and Professionalism
All biomedical graduate students undergo extensive ethics training which begins with an Ethics Boot Camp attended within their first 2 weeks of classes. Producing scientists with a high degree of integrity and professionalism is an important tenant of a Wake Forest education.
Highly Collaborative Environment - Dynamic Research Opportunities
With a multitude of ongoing translational studies, the research culture at Wake Forest School of Medicine is highly-collaborative. This offers students the opportunity to learn multiple research approaches and diversify their research portfolio.