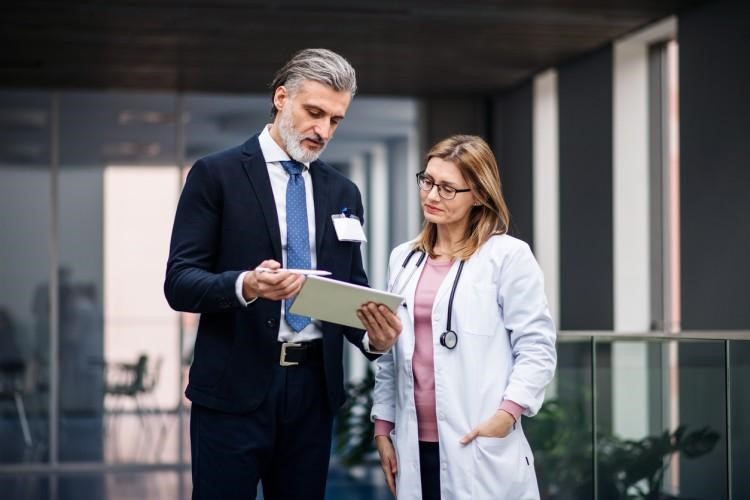 A clinical trial is the investigative phase in the development of a new treatment. Quality assurance is a vital component of this process. It consists of a system of checks and balances designed to preserve patient safety and data integrity and to ensure that clinical research adheres to ethical standards and industry regulations.
A lack of quality assurance in clinical research can have many negative consequences, ranging from regulatory violations to inaccurate data, both of which can ultimately cause costly delays in the clinical trial process.
Quality assurance managers oversee quality assurance throughout a clinical study's life cycle. By maintaining an optimal level of effectiveness and efficiency, they can ensure that clinical trials proceed smoothly and are completed in a timely fashion. An effective quality assurance manager can help bring a new life-saving drug or piece of medical equipment to market sooner.
With employment in the health care industry likely to grow significantly over the next decade, now is a great time to explore a career in quality assurance.
What Is a Quality Assurance Manager?
Quality assurance managers are crucial to the clinical research process. Managers and their teams rely heavily on data — including patient consent forms and other important documents — to assess the quality and integrity of clinical trials and are responsible for identifying errors and other issues.
A quality assurance manager's job entails making sure trial data is accurate and that research adheres to ethical standards, particularly when it involves human subjects. Quality data is essential to ensure that research teams interpret the results of a clinical trial correctly. Inaccurate data can cause misleading conclusions, jeopardizing the entire research process. Delays in a clinical trial can be expensive, in terms of both time and money.
Managers are responsible for instilling a culture of quality assurance and developing strategies to ensure that it takes place at every step of the clinical research process, from the initial data collection stage to the final trial report. These audits allow for the identification and resolution of issues in a timely manner, and they also help improve the research process for future studies.
The work of the quality assurance team has numerous benefits, including:
Ensuring regulatory compliance
Protecting patient safety and confidentiality
Verifying the accuracy of trial data
Having a solid quality assurance strategy — with a focus on assessing quality early and often at every stage of a clinical trial — yields better and more accurate data, which can help speed a new product through the approval process with fewer hiccups. This ultimately benefits patients who are in need of these treatments.
Despite challenges presented by lockdowns and social distancing, quality assurance was critical to the development of COVID-19 vaccines, for example, allowing vaccine development to proceed swiftly and smoothly without compromising safety.
Steps to Become a Quality Assurance Manager
To succeed, quality assurance managers need a solid foundation of technical knowledge and leadership capabilities. They have to understand clinical practices, industry standards and regulations, and they must be able to effectively communicate them to others.
Aspiring quality assurance managers can gain the knowledge and skills they need through a combination of education and work experience.
Education
The path to a career as a quality assurance manager typically begins by earning a bachelor's degree. Those seeking a quality assurance career in clinical research may benefit from a degree in a health care-related field, such as clinical research management or health sciences. Degrees in fields related to quality control, such as business administration or engineering, are also fairly common.
Work Experience
Experience in the field is also advantageous. Quality assurance managers must have in-depth knowledge of clinical research standards and regulations, so employers tend to look favorably on candidates with several years of industry experience. Prior experience working in a clinical trial setting as a quality assurance monitor or a related position is especially valuable.
In addition to technical expertise, the role also requires management and leadership skills, so previous work experience in a supervisory capacity is beneficial.
For job seekers with limited experience, an advanced degree, such as a master's in clinical research management, can help level the playing field. Similar to the skills gained from work experience, these programs help students enhance their knowledge of clinical trial processes and develop leadership capabilities.
Earning an Advanced Degree
An advanced degree can help candidates stand out in their job search. A graduate degree, such as a master's in clinical research management, demonstrates a professional's commitment to the field and indicates to potential employers that they have extensive subject matter knowledge.
Earning a master's or other graduate degree also will prepare current quality assurance managers for leadership roles, promotions, and other advancement in their career.
Skills for Quality Assurance Managers
A number of skills are considered essential for quality assurance managers:
Leadership: A quality assurance manager typically oversees a team and is often responsible for hiring and training new employees, so leadership skills are vital. Strong leadership ensures that employees execute their jobs correctly and follow the appropriate processes.
Communication: In addition to supervising and training employees, managers need to communicate with other department heads and frequently present their findings.
Analytical: A big part of a quality assurance manager's job involves analyzing data from the organization's processes and identifying quality issues and making recommendations to improve them.
Technical: Quality assurance managers involved in clinical research must possess a wealth of technical expertise, such as:

Knowledge of drug discovery and development
Knowledge of ethical principles and regulatory requirements
Technical writing skills
Quality Assurance Manager Salary
According to PayScale, the median annual salary for quality assurance managers was about $81,300, with a salary range from $53,000 to $124,000, as of June 2021.
The amount a quality assurance manager can earn varies widely depending on a variety of factors, including education level, work experience and location.
Education: A bachelor's degree is typically a requirement for quality assurance manager Many employers may prefer candidates with an advanced degree, which can lead to higher earnings and senior roles.
Experience: Many employers also require candidates to have some work experience in a related field. In general, professionals with more industry experience will command a higher salary. According to PayScale, quality assurance managers with one to four years of experience made around $67,000 annually on average, while those with five to nine years of experience earned nearly $79,000, according to June 2021 data.
Location: Quality assurance managers who work in metropolitan areas — which usually have a higher concentration of health care facilities and therefore more demand — generally earn more. PayScale reports that managers in Boston, Los Angeles and Denver earned more on average than their counterparts nationally.
Industry: The size of their employer and the amount of responsibility they have are additional factors that can impact a quality assurance manager's salary. Large organizations where managers have a lot of responsibility generally pay more, while smaller organizations with less strenuous demands may pay a lower salary.
Job Growth
While the U.S. Bureau of Labor Statistics (BLS) doesn't provide employment projections specific to quality assurance managers, it projects employment in health care occupations overall to grow by 15% between 2019 and 2029. This indicates the health care industry will experience more job growth than any other industry, adding about 2.4 million new jobs.
The BLS projects the employment of medical scientists — who conduct research, such as clinical trials, aimed at improving health — to grow by 6% over the same period. Drivers of this growth include the country's aging population and a corresponding increase in the rates of chronic conditions, along with a growing reliance on pharmaceuticals to treat them. Increased demand for medical scientists may also lead to a need for more quality assurance professionals.
A Quality Career in Health Care
Quality assurance managers are essential to the clinical trial process. By preserving the integrity of data and patient safety, they can help ensure that clinical research proceeds smoothly and efficiently, paving the way for innovation and allowing new treatments to reach patients sooner. An advanced degree, such as Wake Forest University's online Master's in Clinical Research Management, can help students gain the knowledge and skills they need to succeed in this growing field. Explore the program curriculum, including courses such as Quality Systems and Risk Management and Ethical and Participant Safety Considerations, and start on the path to a career in quality assurance today.
Sources:
BioMerieux, "How Quality Control Testing Helps Ensure Vaccine Safety"
Biosphere, "The Role of Quality Assurance in Clinical Trial"
Drugs for Neglected Diseases Initiative, "Clinical Quality Assurance Manager"
Indeed, "How to Become a Quality Assurance Manager"
NIDA, Quality Assurance — Good Clinical Practice
PayScale, Average Quality Assurance Manager Salary
Society for Human Resource Management, Quality Assurance Manager
Society of Clinical Research Associates, "Quality by Design for Clinical Trials"
U.S. Bureau of Labor Statistics, Healthcare Occupations