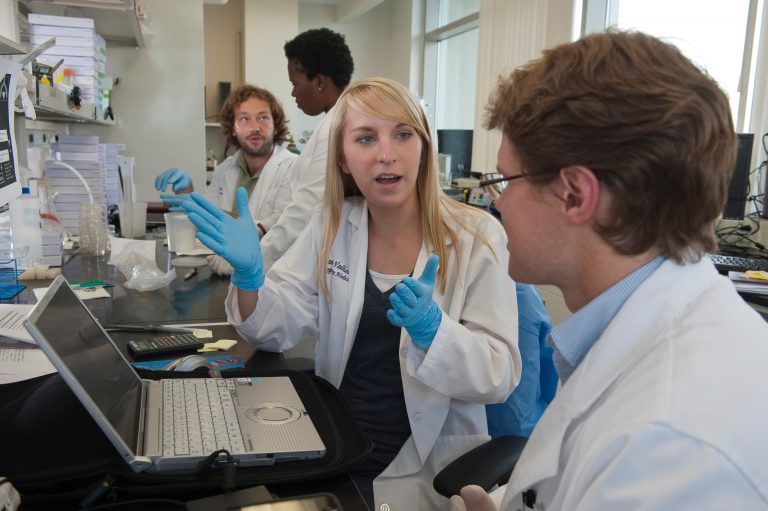 Patients have regulatory affairs managers to thank for prescriptions made with safe ingredients, medical devices that fit and work properly, and other health care products whose quality we may take for granted. These professionals continually refine their organizations' regulatory processes — for example, leading efforts in a clinical trial process and maintaining quality records — while ensuring that each step complies with federal regulations.
In short, a regulatory affairs manager in health care, as in any field, assists an organization in following the laws and regulations impacting the industry. Professionals who earn an advanced degree can empower organizations to establish better regulatory processes.
What Does a Regulatory Affairs Manager Do?
Regulatory affairs managers work in a variety of industries, including pharmaceutical and medical device manufacturing. The responsibilities may vary depending on the industry. For example, those who work in the manufacturing of medical devices oversee each step of the manufacturing process, following local, state and federal laws.
Regulatory affairs managers in clinical trials and clinical research ensure that their organizations follow the requirements outlined by the Food and Drug Administration (FDA) and the EU directives (only if the organization has a market share in Europe).
Alongside FDA regulations and EU directives, many regulatory affairs managers in clinical trials and clinical research also follow the guidelines outlined by the International Council for Harmonisation of Technical Requirements for Pharmaceuticals for Human Use (ICH). The ICH consists of leaders in the pharmaceutical industry from around the world.
Another important role of regulatory affairs managers in clinical trials and research requires them to develop operating procedures and standards in order to achieve ISO 13485 and ISO 9001 registrations. This only occurs if the organization has not done so already. Moreover, these professionals monitor databases to determine the efficacy of pharmaceuticals on various demographics. They then can leverage this data to develop supporting documentation to help earn FDA approval.
Regulatory affairs managers in manufacturing also understand the regulations outlined by the FDA. They collaborate with their teams to ensure that their health care products remain safe and efficient.
Regulatory affairs managers in health care inform themselves continuously on the changing legislation that may impact regions where they ship their products. For example, the taxation on medicine or medical devices in a specific region may reveal that the shipping costs outweigh the efficacy of the medication or medical device.
These professionals also analyze data in real time to help mitigate any disruption in the manufacturing process. For example, they may analyze data that reveals that a heart valve device their organization produces needs replacement every 10 years. From there, they can produce the documentation to obtain approval from the FDA.
Other responsibilities include maintaining relationships with the regulatory agencies that oversee their industries. They serve as a liaison between regulatory agencies and their organizations. Lastly, they ensure that all their documentation remains accurate to prevent their organizations from being fined.
Education Requirements and Skills of a Regulatory Affairs Manager
An aspiring regulatory affairs manager would do well to earn a bachelor's degree in a field suited to their interest in clinical research or health care. Students interested in clinical research can decide to earn a bachelor's degree in chemistry, biology or a related field.
For students interested in health care, they can decide to earn a bachelor's degree in any science-related subject. Those who want to develop medical devices can choose to earn a degree in biomedical engineering.
Professionals who earn an advanced degree in clinical research management have the opportunity to broaden their knowledge and refine their skill sets. With this knowledge may come more job opportunities. Though prospective employers may not require a graduate-level education for the position, an advanced degree earner's knowledge and skill set may align more with an employer's goals. Furthermore, prospective employers also prefer candidates with relevant work experience.
Skill Set
Regulatory affairs managers in clinical research and health care have a developed skill set and a knowledge base that helps them excel in their field. Efficient regulatory affairs managers have refined their leadership, analytical, technical, communication and critical thinking competencies.
Leadership: The role itself requires the individual to oversee the regulatory process to make sure the organization remains within the regulations outlined by the FDA, EU or ICH. They may also oversee a team of regulatory affairs professionals.
Analytical skills: This skill set remains one of the most important in the field. Regulatory affairs managers analyze data from clinical trials or from the research and development process and determine the efficacy of a pharmaceutical drug or medical device. They must ensure that an organization's product abides by the regulatory standards outlined by the FDA or ICH.
Technical skills: They have an understanding of how technology impacts their industries. Moreover, they understand the various technical steps that make up their manufacturing processes. They utilize their technical skills to ensure products remain safe and efficient by meeting all the regulatory standards.
Communication: When dealing with regulatory agencies, these professionals must be effective communicators, both orally and in writing. One of their responsibilities entails responding to regulatory agencies with documentation pertaining to potential oversights in the manufacturing of pharmaceutical or medical devices.
Critical thinking: Regulatory affairs managers must have a deep knowledge of their specific industry. This requires them to utilize their critical thinking skills to help their organizations pivot if clinical trials or particular products fail.
Professionals who earn an advanced degree can further develop their skills to meet the growing demands in clinical research and health care. Though not required, an advanced degree signals to employers that an individual wants to become a leader within their chosen field.
Regulatory Affairs Manager Salary
The median annual salary for a regulatory affairs manager was about $104,700 as of June 2021, according to PayScale. Professionals with more experience and an advanced degree may earn more than those just starting out in the position.
A manager's industry can also factor into their salary. Certain industries may pay more than others. For example, a regulatory affairs manager overseeing research and development efforts may make more than their counterpart who works in the manufacturing of medical devices. An individual's geographic location may also impact their salary.
Discover a Fulfilling Career as a Regulatory Affairs Manager
Regulatory agencies continuously update and reevaluate governing regulations. To avoid regulatory fines, organizations need efficient and detail-oriented regulatory affairs managers to effectively navigate the regulatory process.
Professionals interested in pursuing a career in regulatory affairs should consider earning an advanced degree, such as Wake Forest University's online Master's in Clinical Research Management, to prepare for a management role. Wake Forest offers students the opportunity to pursue one of two tracks: Strategic Leadership/Communications or Operations.
Discover how Wake Forest University's online Master's in Clinical Research Management can help prepare you for a rewarding career as a regulatory affairs manager.
Sources:
ASQ, What Is ISO 9001:2015 – Quality Management Systems?
Journal of Pharmaceutical Care & Health Systems, Regulatory Affairs Importance
The Organisation for Professionals in Regulatory Affairs, What Is Regulatory Affairs?
PayScale, Average Regulatory Affairs Manager Salary
Regulatory Affairs Professional Society, "The Changing Role of Regulatory Professionals"
Society for Human Resource Management, Regulatory Affairs Manager