During the COVID-19 pandemic, students of all ages have struggled with the isolation that is a byproduct of virtual classes. Wake Forest PA students are no exception, as they have been unable to realize the benefits of learning and socializing among their peers.
Lexi Talbert, a first-year PA student in the Wake Forest PA Studies program, came up with a solution. She started a run club, which has not only allowed students to get some exercise but also provided much-need opportunities for classmates to get to know each other.
Pushing Each Other
Talbert enjoys running as a way to stay active and get outside, but said she often needs encouragement from others to keep on a regular schedule. "Sometimes I don't hold myself to the standard of getting up and doing it," she admitted.
So she sent a text to her classmates to see if any would be interested in meeting up to run on a weekly basis. "I asked if anyone would be interested in running to keep [themselves] accountable," she said.
With that, the run club was born. The group meets informally every week when the weather is favorable. Talbert says it's a casual group, with some people running as far as 5 or 6 miles, and others just going for a short walk, even with their dogs.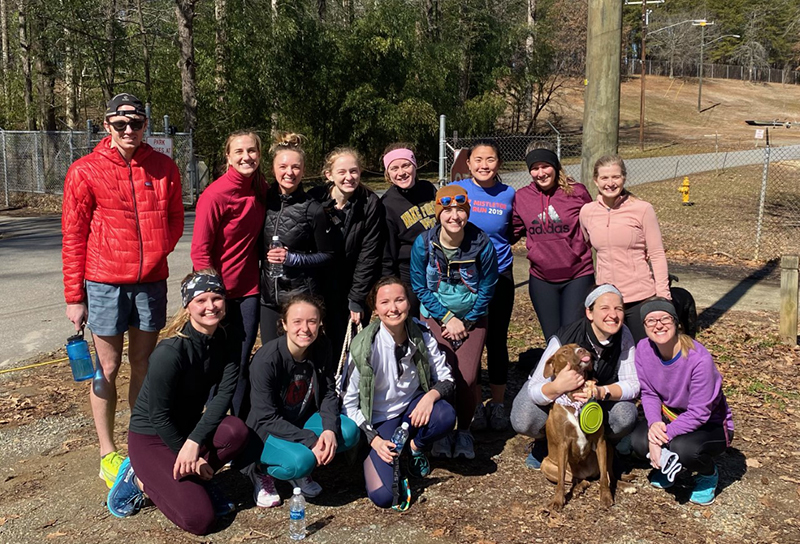 Talbert said the group helps keep everyone motivated, so they are less likely to skip runs. "You can find someone else who runs around your pace and who can push you a little bit," she added.
More importantly, the club is a way for students to meet gather socially and safely. "It's nice to hang out and not talk about school and just enjoy each other," she said. "It's fun to meet up with other students, being normal human beings and really feeding your body and your soul."
Mood-Changer
The isolation of the COVID-induced lockdowns is difficult for almost everyone, and first-year students have it especially hard. Having started school in the fall, this year's first-year cohort has had little face-to-face interaction with each other. Most classes are being held virtually, with rotating groups being able to physically meet on a limited basis.
"It's been a huge challenge," said Talbert. "It's hard not to be on campus. It's hard not to interact with people."
"It's difficult to make friends," she continued. "It's not sustainable to do things on your own forever, and it's just kind of wearing [on us]." The run club, she added, helps serve the purpose of making friends and building relationships among classmates who might not get together otherwise.
Beyond the obvious health benefits of running, Talbert said the run club also provides a refreshing break from the rigors of attending school online. "We sit inside and stare at our computer screen all day," she lamented. "Getting outside and running is such a mood-changer. You're stimulating your brain in a different way and giving yourself a well-deserved mental break."
And, Talbert adds that the run club is just plain fun. "Just being able to use your body in a different way, it's very joyful movement," she said.
Finally, as a student studying medicine, Talbert knows there must be physiological reasons behind why running outdoors makes her and her classmates feel so much better. "I don't know the science behind endorphins yet," she laughed, "but I'm sure that's coming."