Alzheimer's disease is a type of dementia and is NOT a normal part of aging. It is a neurodegenerative disease, which means that it progressively gets worse over time. Once the disease damages the brain, it is very difficult to overcome the loss of memory and mental function. Early diagnosis and intervention is needed to improve quality of life and either slow or halt the course of the disease. Our researchers are trying to understand the causes and early signs of Alzheimer's disease.
The Wake Forest Alzheimer's Disease Research Center (ADRC) focuses on research, education and potential treatments aimed at preventing or slowing Alzheimer's disease. Our ADRC has a special focus on early intervention and understanding the role of disorders such as hypertension and diabetes in Alzheimer's disease. We also work to increase clinical study enrollment of people who are at increased risk and not adequately represented in clinical research. The Center benefits our region by providing education to health professionals, researchers, clinical study participants and their families, and the community at large.
Clinical Research Study Participation
Voluntary participation in clinical research studies is needed to help researchers find better treatments and possibly a cure for Alzheimer's disease. There are many reasons to participate in a clinical research study. Participants may want to help others who may be at risk for Alzheimer's disease or to learn more about their memory and health. Clinical study participants receive a thorough cognitive assessment and follow-up over time. Participants also learn about interventions for the prevention and treatment of Alzheimer's disease that are being tested in clinical studies. We are seeking all kinds of volunteers to participate in our research studies, including people who are concerned about their memory, are at risk of developing memory problems or have family members with memory problems, as well as people from different ethnic and racial backgrounds.
Learn more about participating in one of our clinical research studies.
Scientific Research at the Wake Forest ADRC
The Wake Forest ADRC was awarded by the National Institute of Aging in 2016, joining a national network of Centers of Excellence at leading academic institutions. The mission of this network is to promote translational research to prevent and treat Alzheimer's disease and other late-life neurodegenerative disorders. Our ADRC has a special focus on understanding the role of vascular and metabolic contributions to Alzheimer's disease and on enhancing participation of underserved populations who are at increased risk.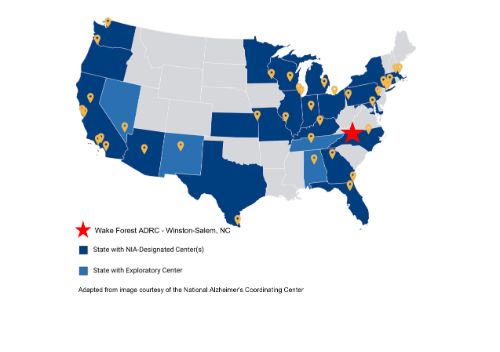 The goals of the ADRC are to:
Establish a comprehensive research infrastructure to identify the causes of Alzheimer's disease and potential prevention or treatment of the disease.
Provide specialized resources to accelerate research into the role of metabolic and vascular factors in the causes of Alzheimer's disease, while also encouraging research into the development of novel interventions.
Improve the recruitment of African-American adults in research and educational programs to better understand and treat the causes underlying the increased risk of Alzheimer's disease and dementia in the African-American population.
Provide education regarding Alzheimer's disease and related dementias to health professionals, researchers, patients and their families and the community at large.
Learn more about Alzheimer's disease research at the Wake Forest ADRC. Learn more about Wake Forest ADRC resources that are available to scientific collaborators through our WakeSHARE platform.