Mobile Patient Technology for Health (mPATH™)
A digital health platform that identifies, educates and assists patients to receive needed services.

Used by patients on their own devices, mPATH™ is a digital health navigator that identifies those who need a preventative service, educate those about their options, and assist those patients so they may receive needed services. This technology can be implemented in a variety of settings, including in-clinic, on-site or web-based.

This technology helps health systems save time and improve care ultimately lowering the cost burden both on the system, insurers and the patient. This all adds up to saving more lives through increased care efficacy and better diagnoses.


mPATH™ for Routine Office Visits
In busy primary care practices, patients can use mPATH™ on an iPad in their provider's office immediately before a medical visit to answer standard screening questions. As of July 2022, mPATH™ has been used in over 50,000 patient encounters in Atrium Health Wake Forest Baptist.
"Compared with verbal screening, self-administered screening with a tablet-based app detected more than twice as many patients with concerns that could warrant immediate clinical attention," Miller stated in the March 8, 2022 issue of Jama.
mPATH™ for Colorectal Cancer Screening
With a patient-friendly self-survey interface, mPATH™-CRC assesses patients' need for screening, displays a multimedia colon cancer screening decision aid, helps patients make screening decisions, and allows patients to "self-order" a colon cancer test. In Atrium Health Wake Forest Baptist, mPATH™ has identified over 3500 patients who were overdue for routine colon cancer screening.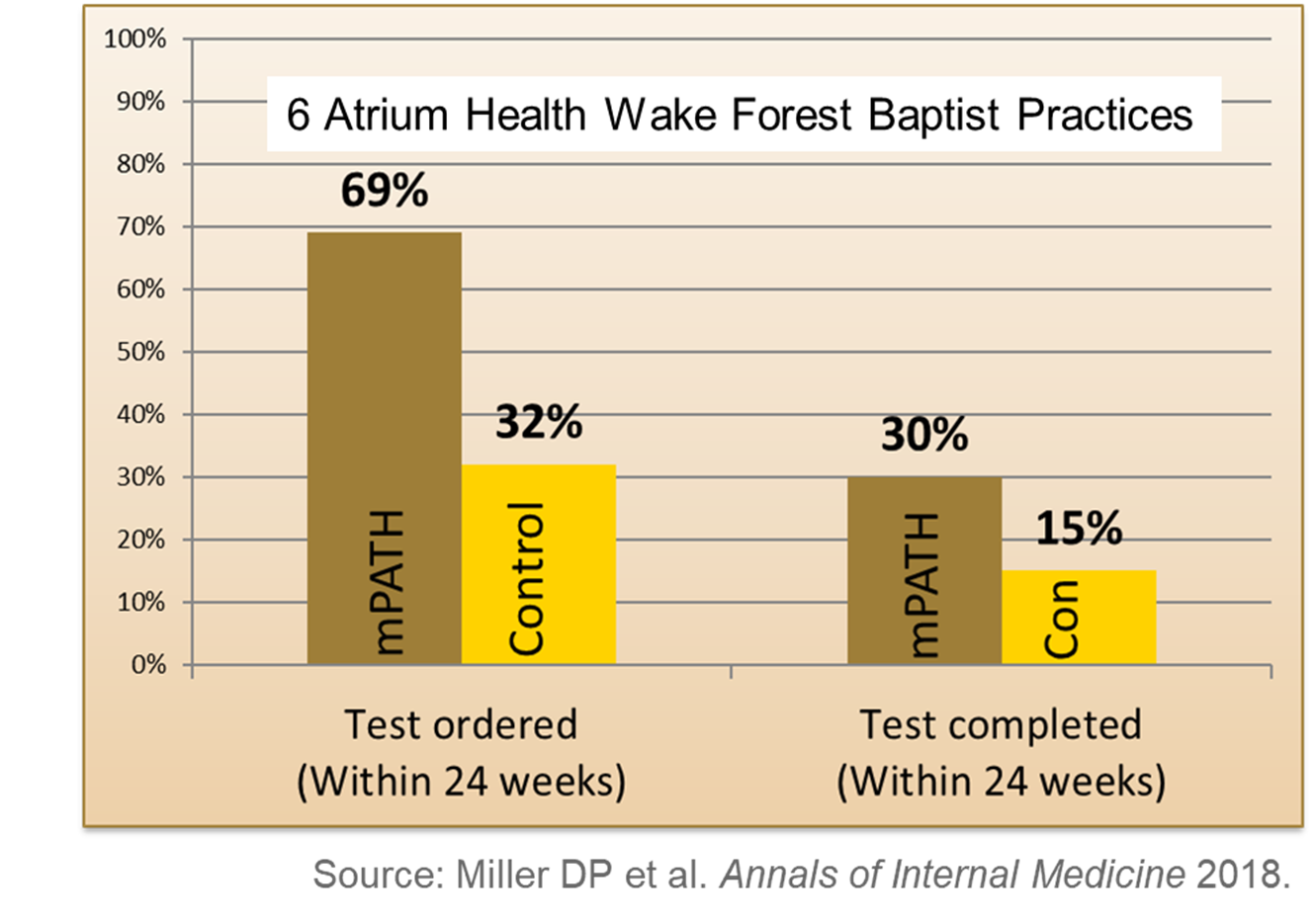 mPATH™ for Lung Cancer Screening
mPATH™-Lung helps people learn about and receive screening for lung cancer, the leading cause of cancer death in the United States. A few weeks prior to a scheduled primary care appointment, patients receive a link to mPATH™, which teaches them about lung cancer screening, determines if they qualify, and provides them with their personalized risks and benefits of screening to help them make a screening decision.
mPATH™ in the future
Atrium Health Wake Forest Baptist recently licensed mPATH™ to Digital Health Navigation Solutions, Inc. DHN Solutions will be developing additional mPATH™ modules for other preventive and chronic care needs. The goal is to grow what has been developed and proven at Atrium Health Wake Forest Baptist and make it widely available, expanding its impact on healthcare quality.