Interested in Our Program?
We will be holding a "Meet Wake Forest" webinar on the evening of August 15, 2023.
The Ophthalmology Residency program at Wake Forest University School of Medicine is a high-volume clinical program known for its hands-on approach and excellent preparation for the real world, building on the foundations of the Ophthalmology residency program mission and aims.
Our program is an ACGME-accredited residency, with four residents at each level. We are a four-year integrated ophthalmology training program that incorporates the PGY-1 internship. This first year of training will include 9 months of internal medicine and 3 months of ophthalmology at Atrium Health Wake Forest Baptist Medical Center and the VA, followed by 3 years of dedicated ophthalmology training at all sites. A separate application through ERAS is not required.
All major subspecialty areas of ophthalmology are represented by full-time, on-site faculty, including: Retina and Vitreous, Uveitis Cornea/external disease, Refractive surgery, Glaucoma Ophthalmic plastic surgery, Pediatric ophthalmology, Neuro-ophthalmology, Comprehensive/cataract specialists. Our faculty members are distinguished experts in their fields. We are also frequently involved in national clinical trials and international associations.

More importantly, we are committed to training the next generation of residents so that they can function at the highest levels of our profession, nationally and internationally.

The training program is based primarily at Wake Forest Baptist Medical Center in Winston-Salem. Some of the clinical training takes place at the Veterans Administration hospitals in Salisbury, Kernersville and Charlotte, North Carolina and the Wake Forest Davie Medical Center. We have an international experience available to residents, historically at the Lions Eye Hospital in San Pedro Sula, Honduras.
---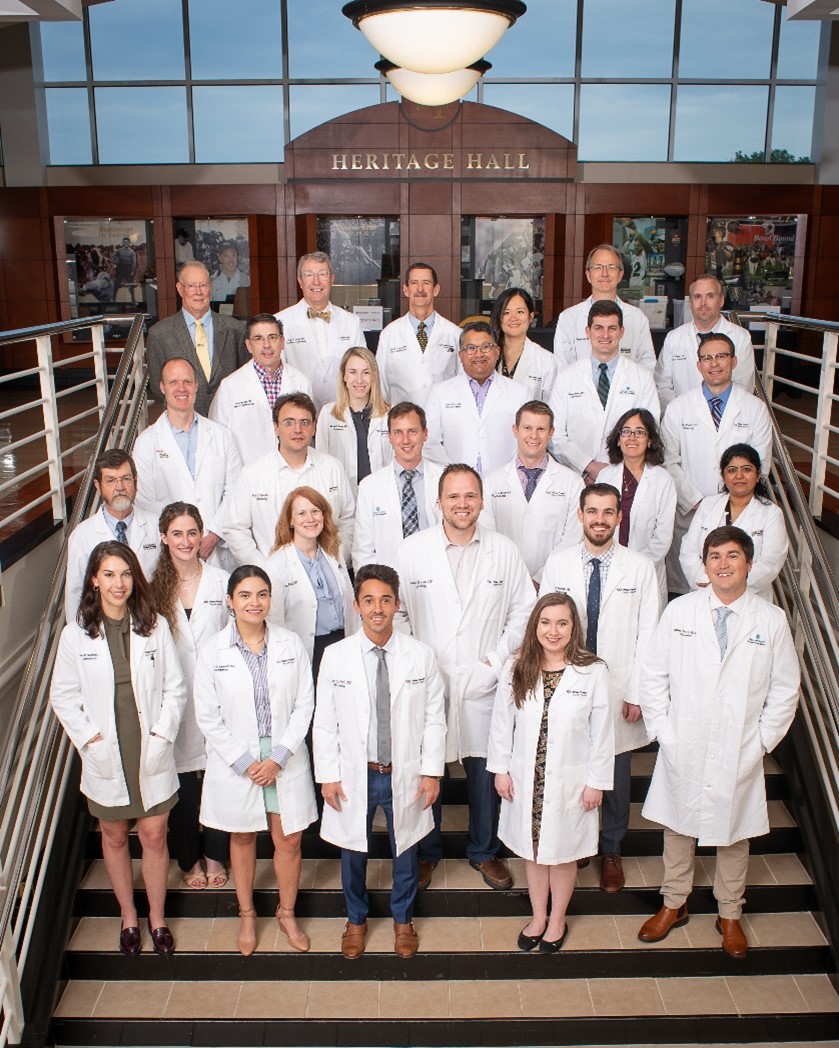 Why Train at Wake Forest?
We are highly competitive for the best resident applicants for a number of reasons:
The commitment of the faculty to resident education
The high full-time faculty-to-resident ratio
A busy medical and surgical resident experience
Your own comprehensive clinic, providing continuity of care for the same patients for 3 years
Four distinct state-of-the-art operating venues for surgical training
A 2-year lecture cycle, which covers the material in the American Academy of Ophthalmology Basic and Clinical Science Course
Our culture of inclusivity
Eyesi Simulator
32,000 major ocular surgeries are performed by faculty, residents and fellows each year
250 to 300+ cataract procedures as primary surgeon during training
Over the past 10 years, our graduates have a 100% pass rate on the written and oral boards
Almost two-thirds of our graduates have gone on to pursue fellowship training at the most prestigious institutions in the nation
Our residents have gone on to practice in a variety of settings: academic, private practice, urban, suburban, and rural
Wake Echo, our international outreach partnership for eye care
Wake GO, the Wake Forest Global Ophthalmology program
Competitive resident benefits
"Our educational content, clinical experience, and surgical training are top notch. But what truly distinguishes Wake Forest from all the rest, is our commitment to educate the next generation of ophthalmologists to be kind, humble, and fantastic team players, who wish to make a real difference to those in need, either in our own community or internationally."

- Susan Burden, MD, Program Director